Australia 2017
After the year of living dangerously in 2010/11 I decided if I made the two milestones, two years, and five years I would go to New Zealand and Australia to celebrate breaking the tape. So this year I was given a clean bill of health and discharged from the Freeman hospital hopefully never to return. I had done the New Zealand trip and it was now time to go to the land down under. As usual I wanted to combine this with as much steam as I could fit in and also met a number of model engineers in the real world that had been virtual friends as well as a couple of flesh and blood ones
So the two main events I would be calling at would be the 2017 convention at Lake McQuarry live steamers near Newcastle NSW and the Hunter valley steam festival just up the road. . Also you cannot go all that way and not do any touristy things so I was also going to take in a few sites of wonder and a trip on Ghan train from Adelaide to Perth..
I flew in to Sidney which was my base for the first week, so I could tick of a few tourist spots and also hit some steam highlights. So first job was a few tourist highlights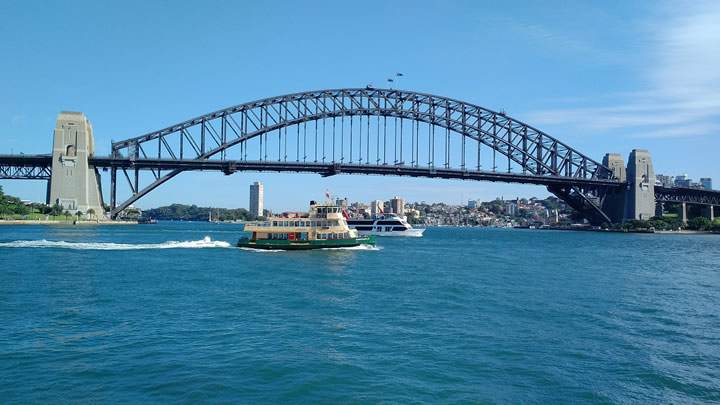 Sidney Harbor bridge and the opera house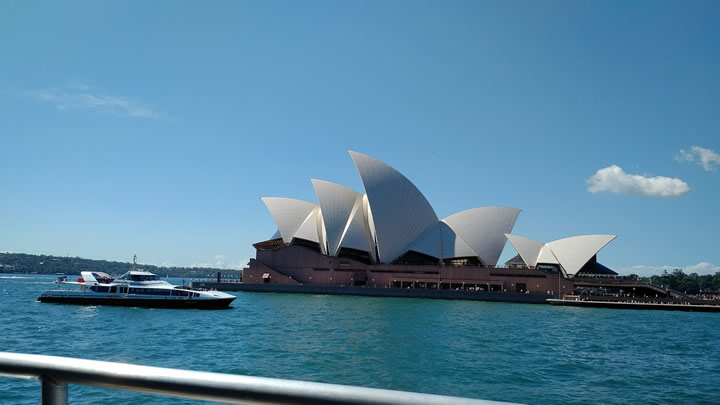 . Next stop was a trip out to the blue mountains don't be fooled by the pictures Sydney was cold and wet for most of the week I spent there. Not something I had packed for I must admit.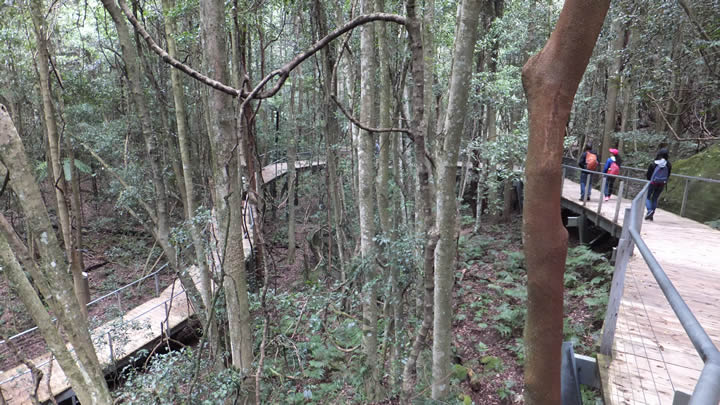 Forrest walk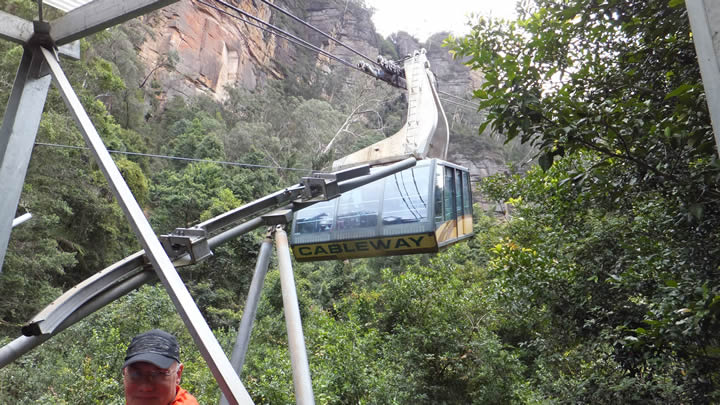 Cable car back up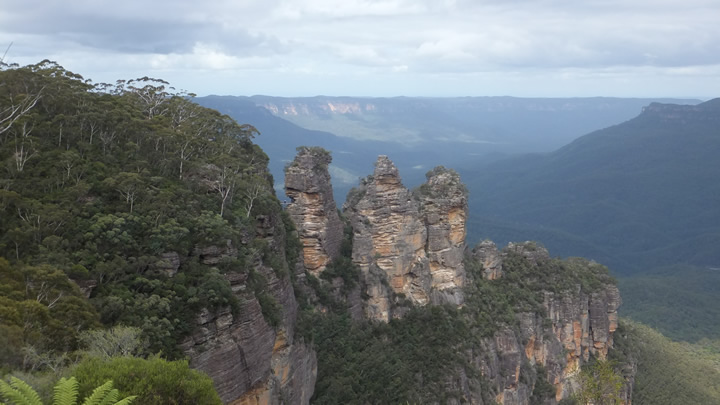 Three sisters
From Sydney I drove down to Canberra the capital city, to have a look at the war memorial and museum..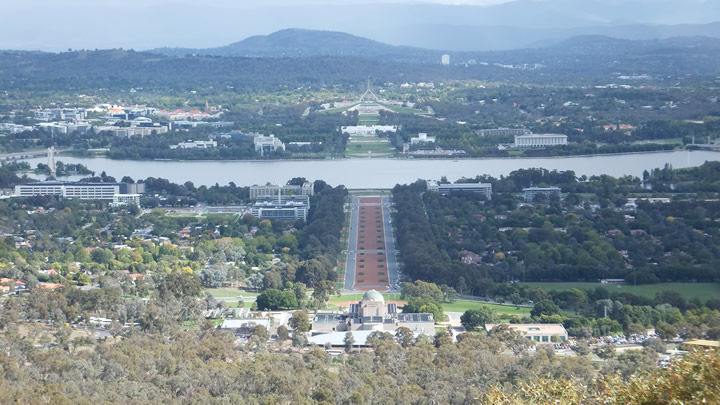 Canberra with the war memorial in the foreground
The war memorial in Canberra was outstanding, the museum was one of the best i have seen. With the first world war section being a standout..
On the way back to Sidney I chanced on the Goulbourn Railway museum, it had an extensive selection of cars and diesels along with a few steamers.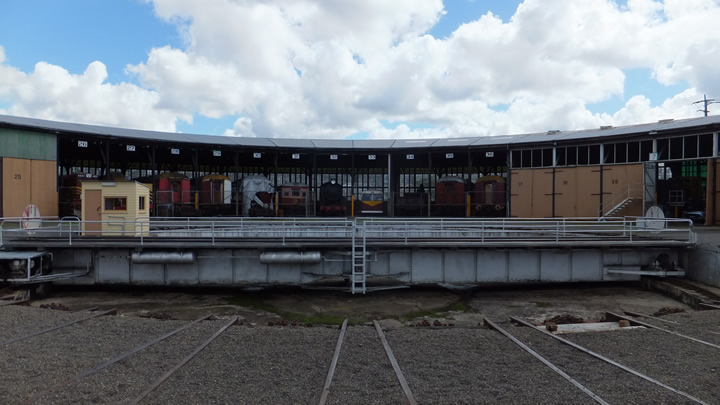 Part of the roundhouse and turntable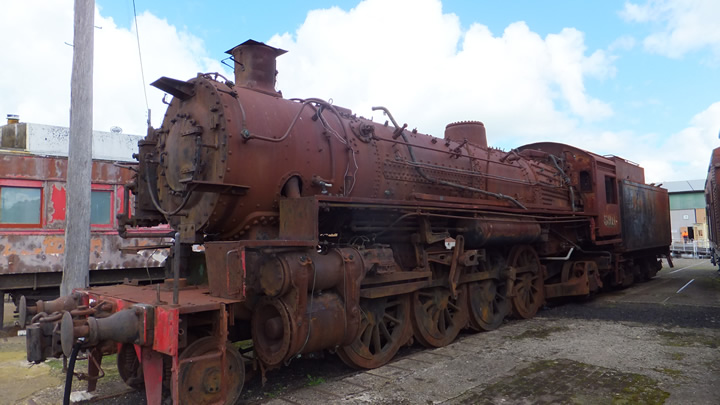 A Baldwin Mikado converted from oil to coal firing. In pretty poor shape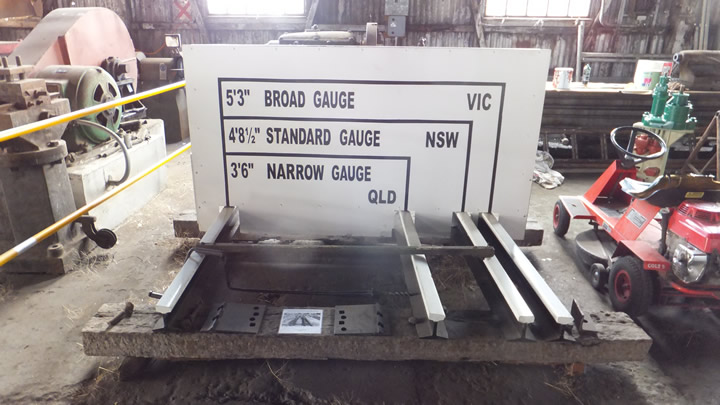 A handy reference aid for the track gauges in Australia.
So now I had ticked a few tourist icons and Canberra off the list it was time for a trip to a bit more steam and a 2 hour drive to Thirlmere and the NSW Railway Museum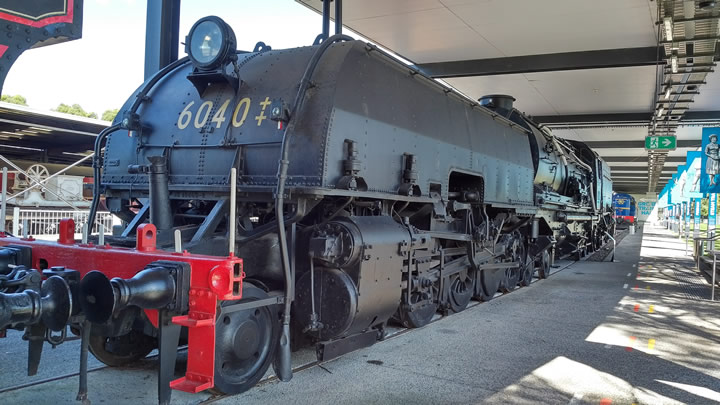 The main reason for going was to both AD60 Garrett locomotives were there both the operational 6029 and 6040. A friend of mine wanted some detail snaps of the location of the blow downs and the pipe work out from the valves to air.. Used as I am to museums being in or very near big city's the location of this one seemed to be in the middle of nowhere. You can see though a lot of money has been spent on creating a fine extensive museum of locomotives and rolling stock.
After thirlmere my thoughts turned to traveling north. I would be basing myself in Newcastle as it was convenient for both the Hunter valley steam festival and the 2017 convention. This move north also coincided in a welcome improvement in the weather.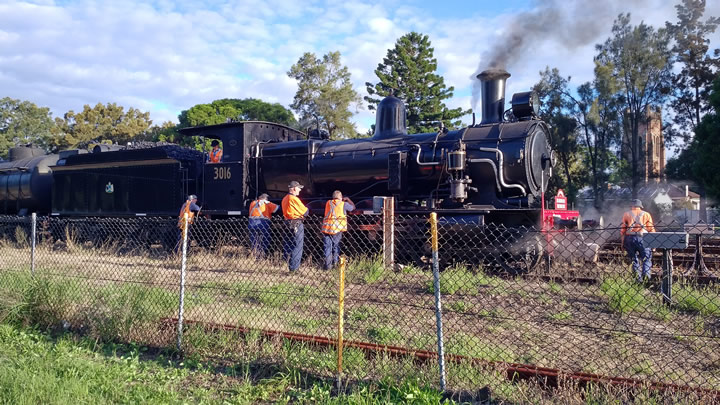 The two loco's rostered for the fan trips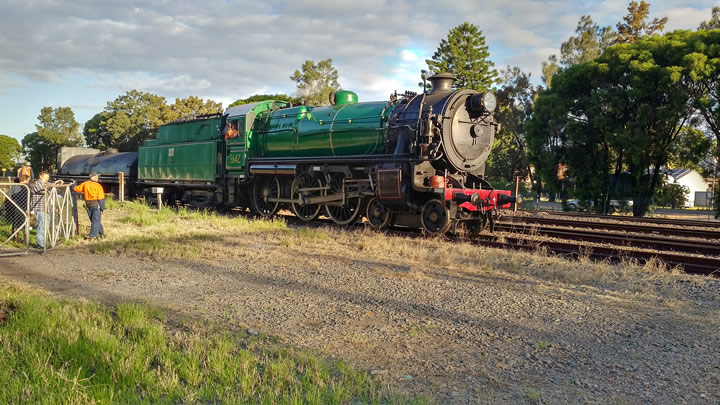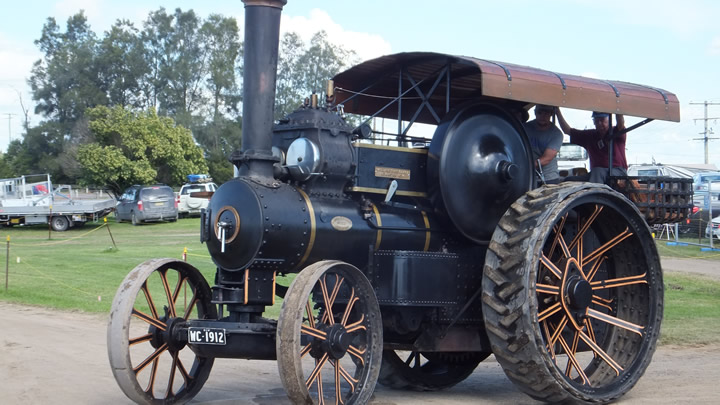 Classic Fowler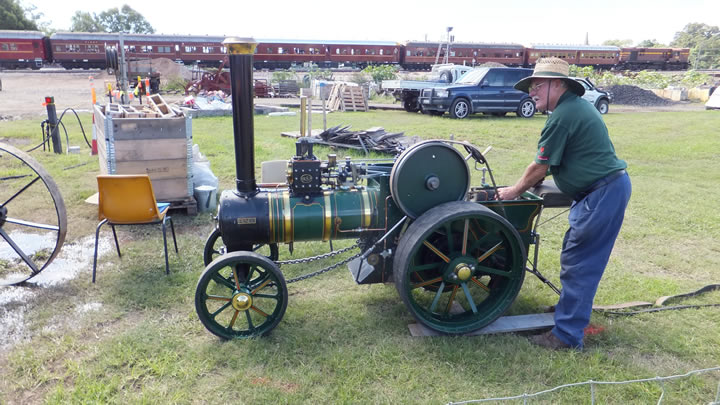 6" scale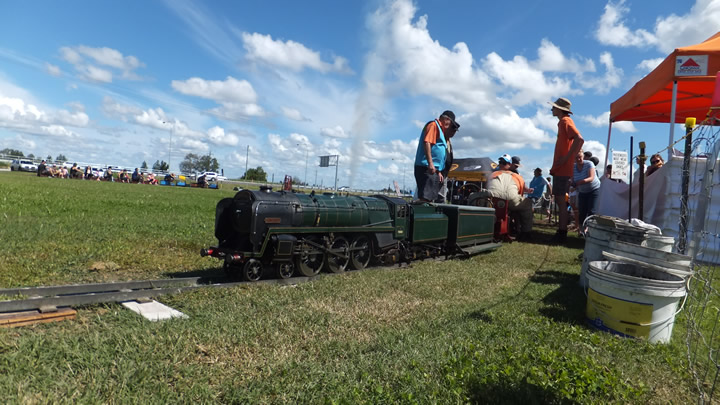 Ground level Britannia just coming off as I took this snap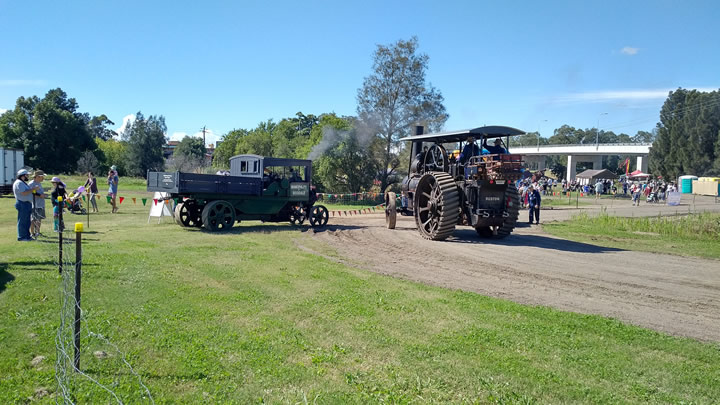 There were a few examples of steam traction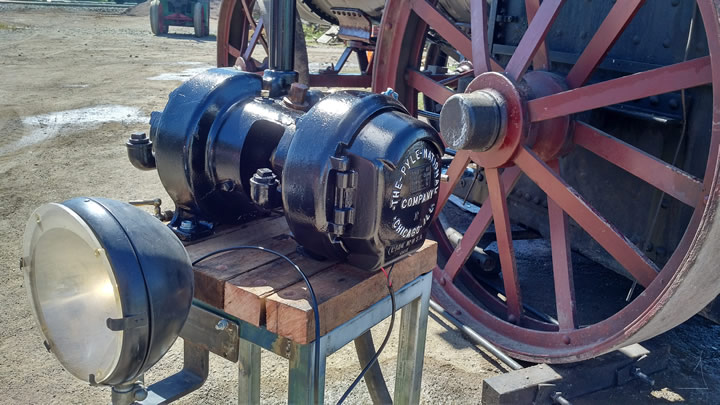 Nice working example of a Pyle steam generator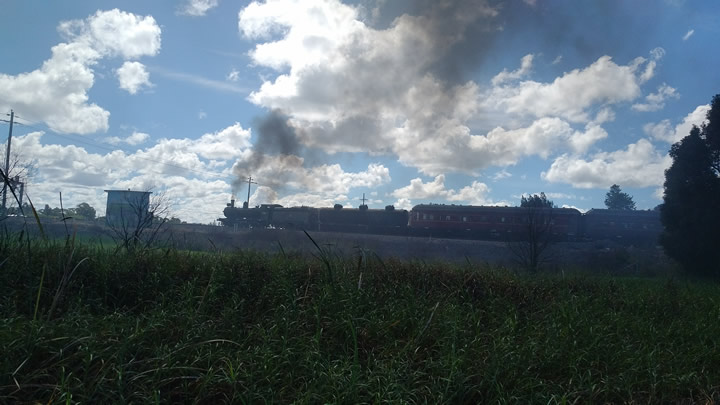 Plenty of clag on the fan trips
After the steam festival weekend I had a week before the 2017 convention so planned to fill some of the time in with a trip to Brisbane and a visit to see a real world friend of mine Lloyd Dannenberg. I met Lloyd and his son at a Train Mountain Triennial and we hit it off as we had mutual interests the 25NC and Berkshire. Lloyd's been scratch building a C&O Berkshire for the last 25 years so I was eager to see the almost finished product.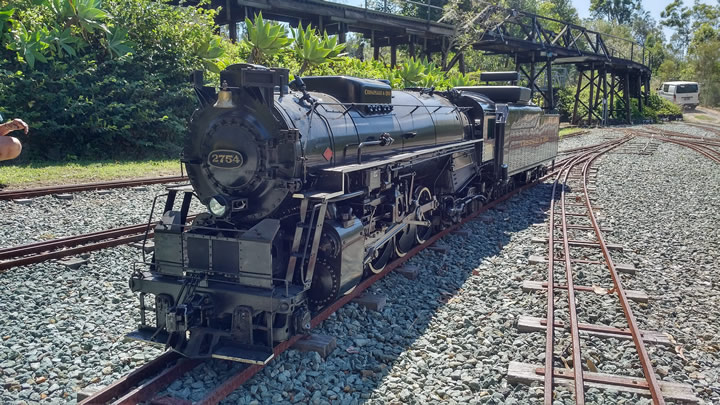 Lloyd's C&O Berkshire better known on that road as a "Kanawha"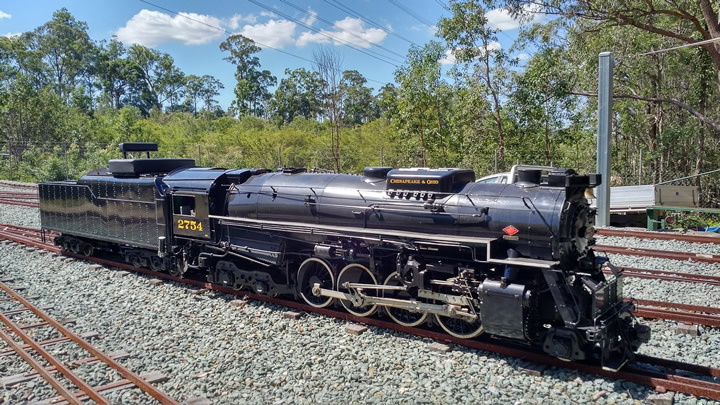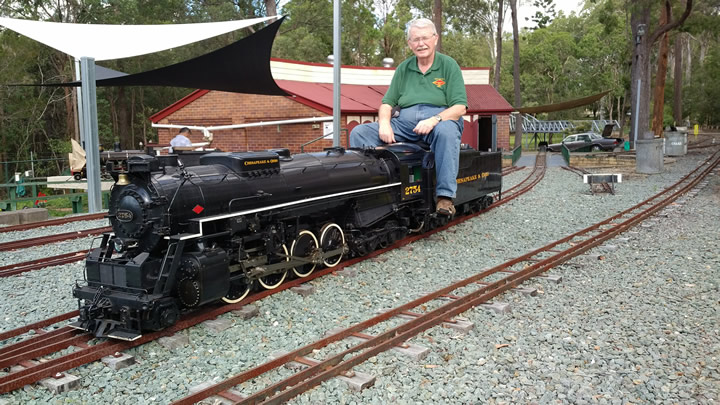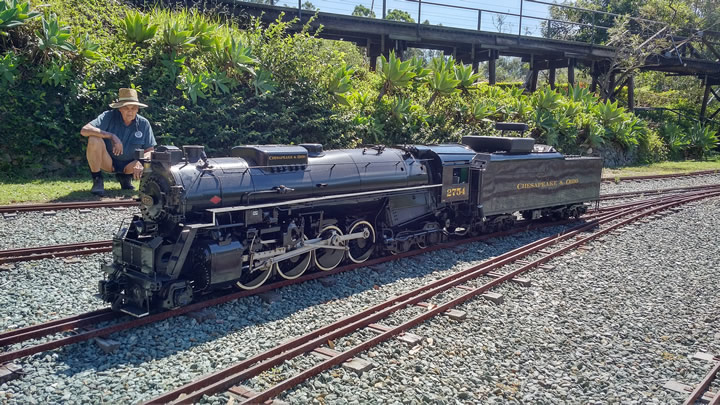 Lloyd in the background surveys his superb work
As an added bonus Lloyd took me to see one of his relations who has also built some spectacular C&O power a 7.1/4 gauge Allegheny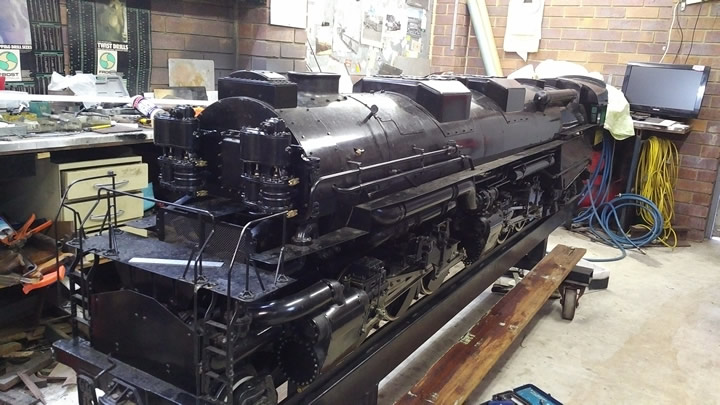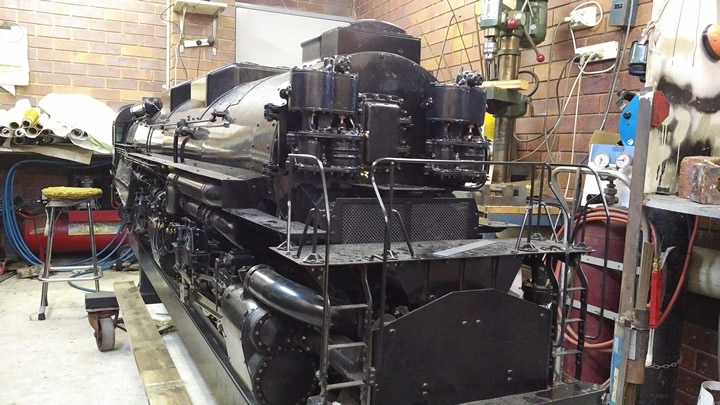 After The spectacular visit to Brisbane I headed back South to Newcastle and the 2017 convention. The weather had cheered up and I was looking forward to a long weekend of steam.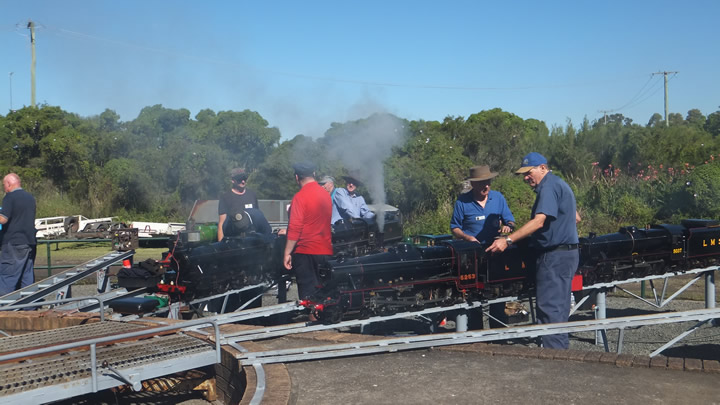 The 7.1/4 steaming bays, it seemed I had come 1/2 way round the world to see black fives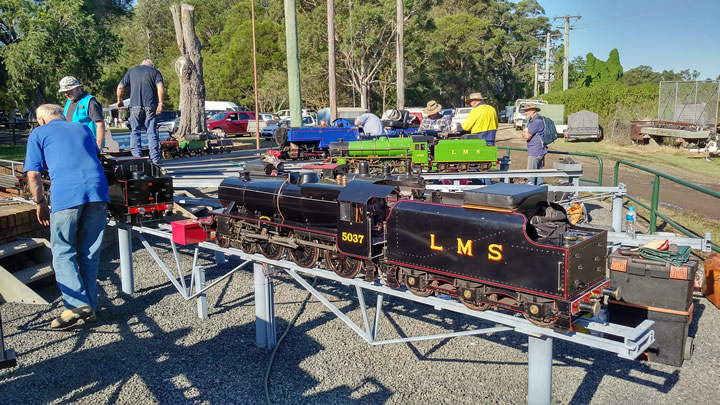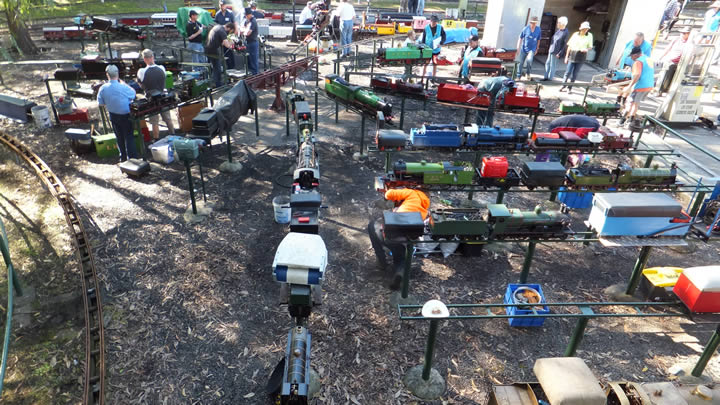 The 5" steaming bays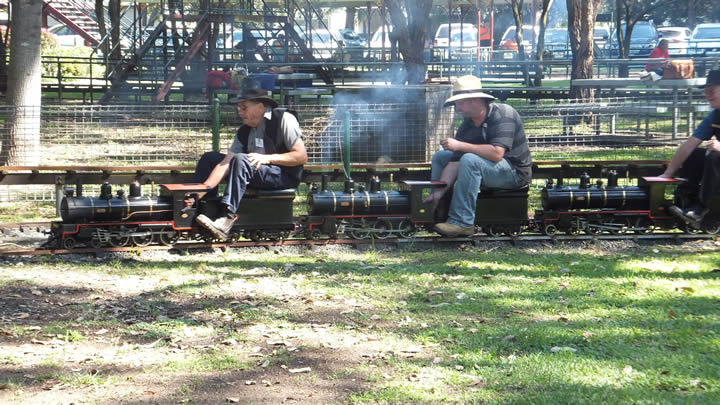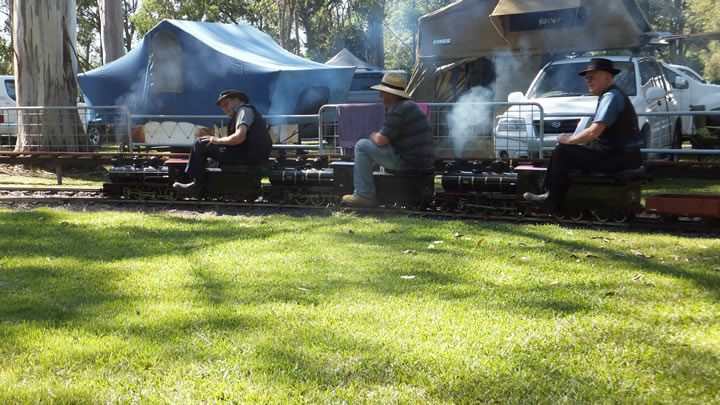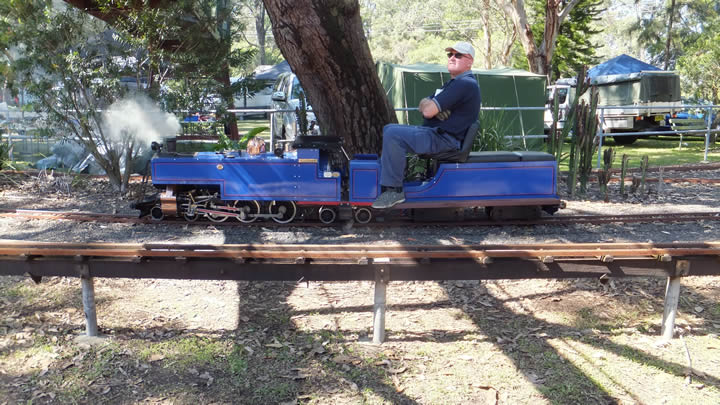 A fine triple header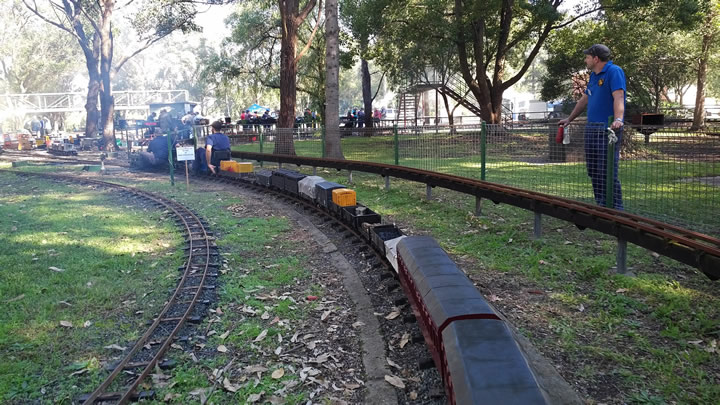 A nice long 5" gauge rake with me on the end it was surprisingly comfortable.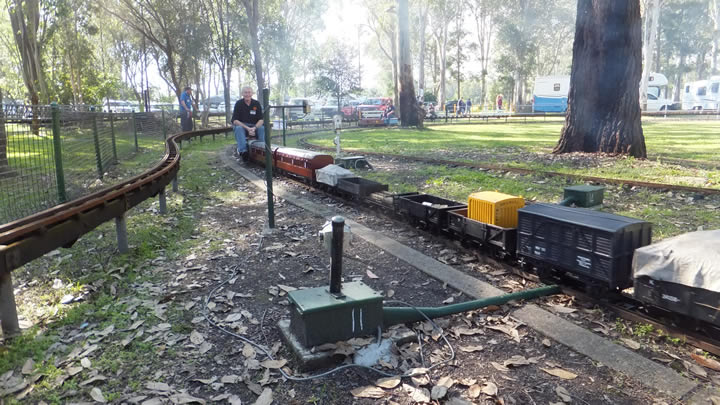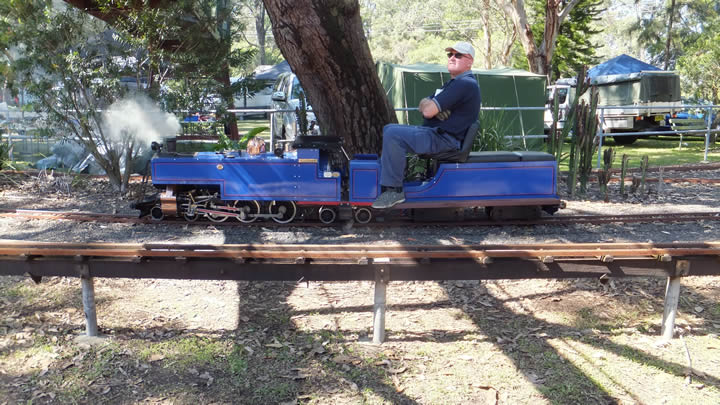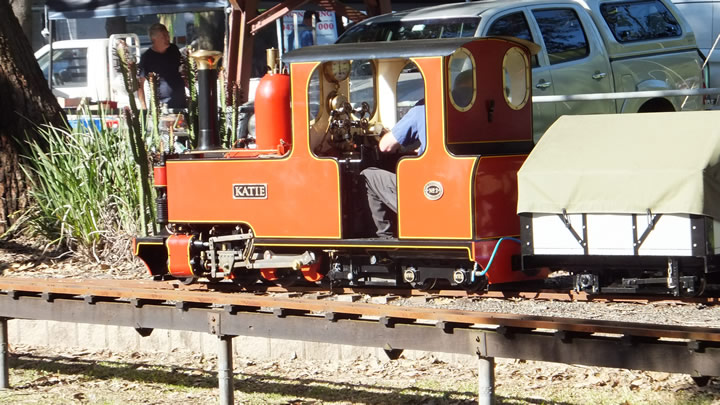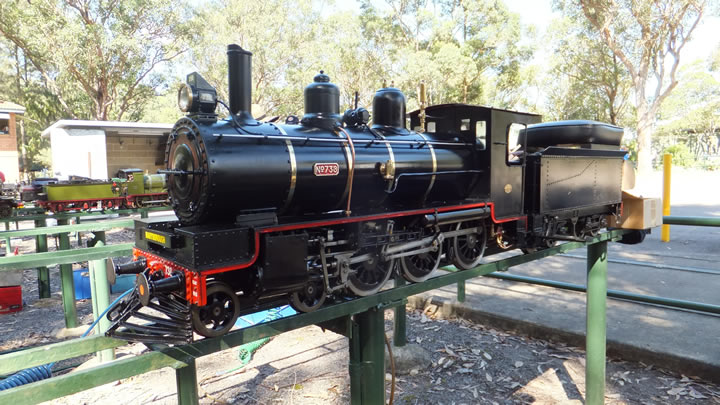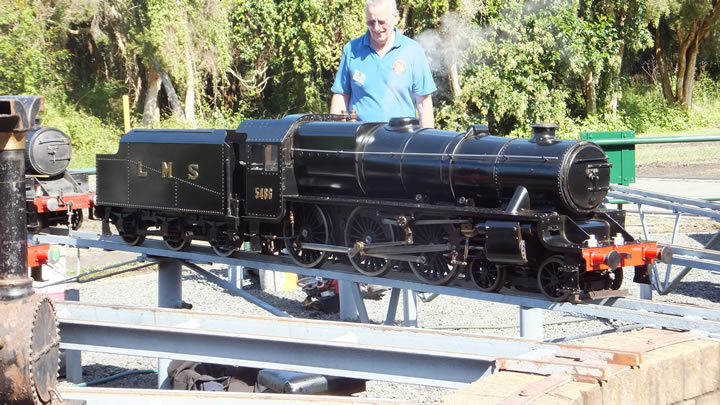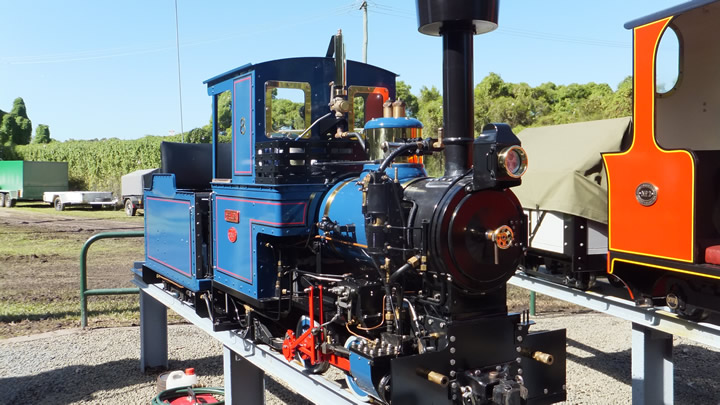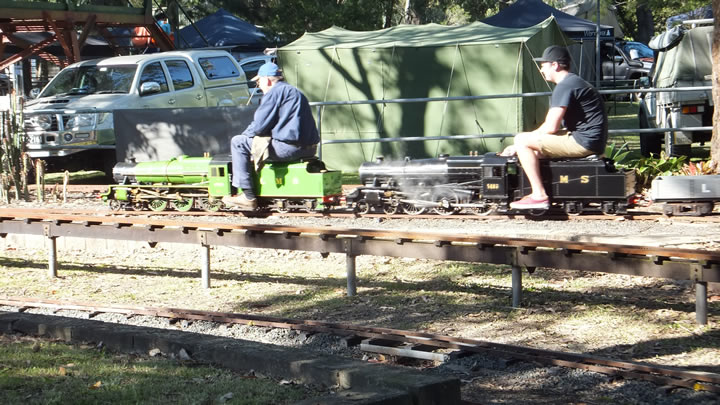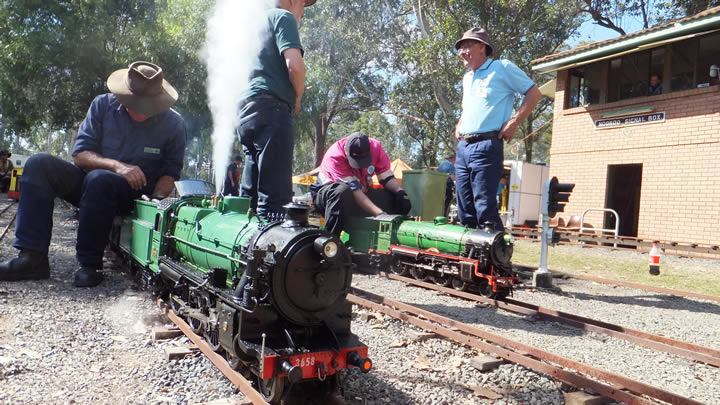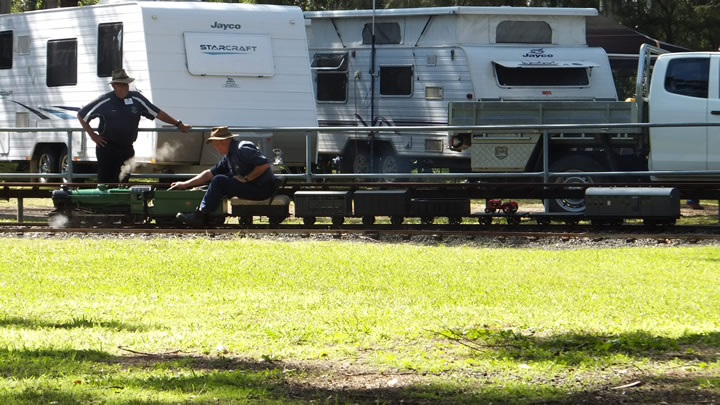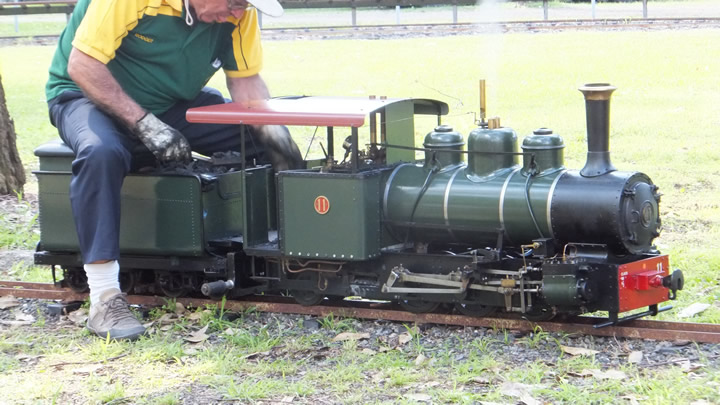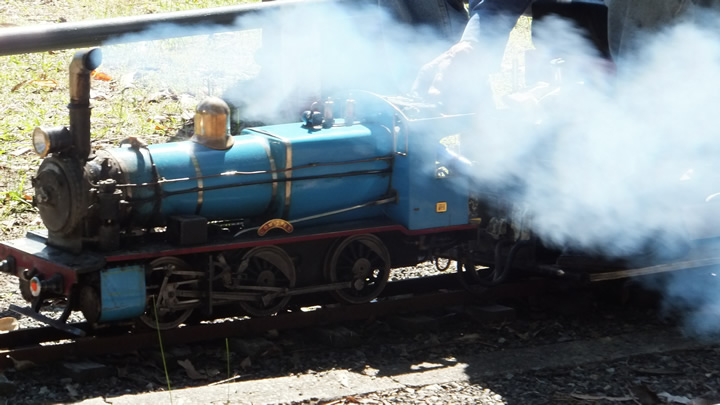 One of the pleasures of being in Australia was the fine model engineers I met. Gary Gillam who I had met when he visited over here. Was kind enough to introduce me to Ron Hardinge and off we went to his workshop that contained a fine stable of built and part built 38 class locomotives along with other types and what seemed to be his new love making cars for the locomotives to pull.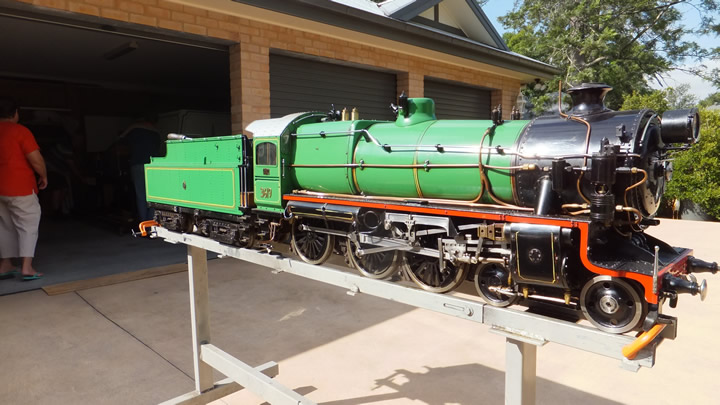 ?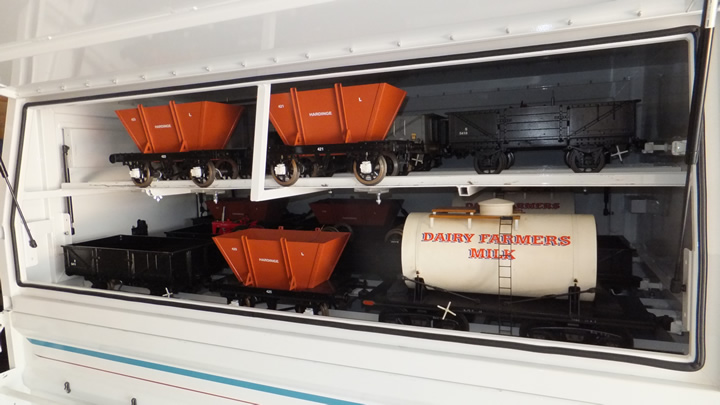 As i said a fine selection of cars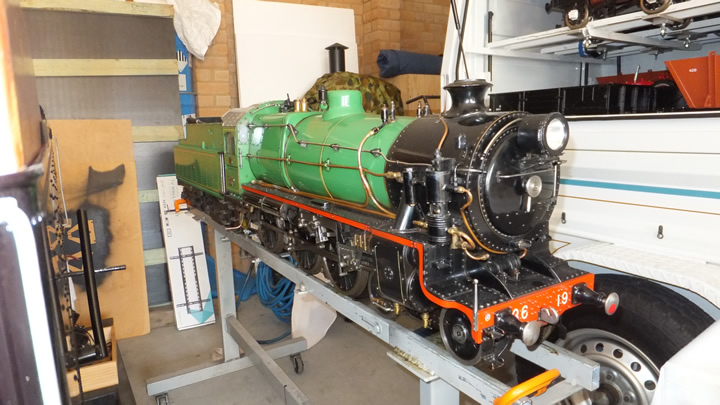 ?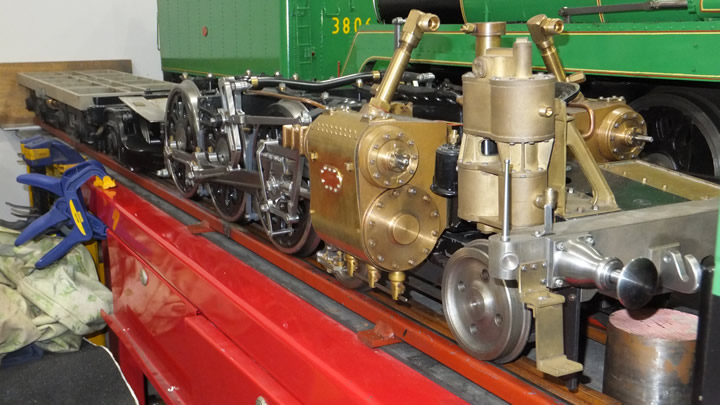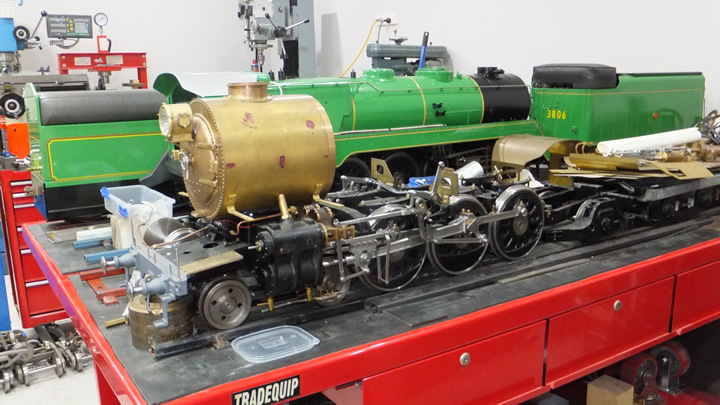 Ron was busy with the construction of two 36 class locomotives when i was in his workshop.
So that was the end of the Newcastle visit but before I returned to Sydney for my flight to Adelaide, i arranged to meet up with Gary at his home to see his progress on the fabled R class.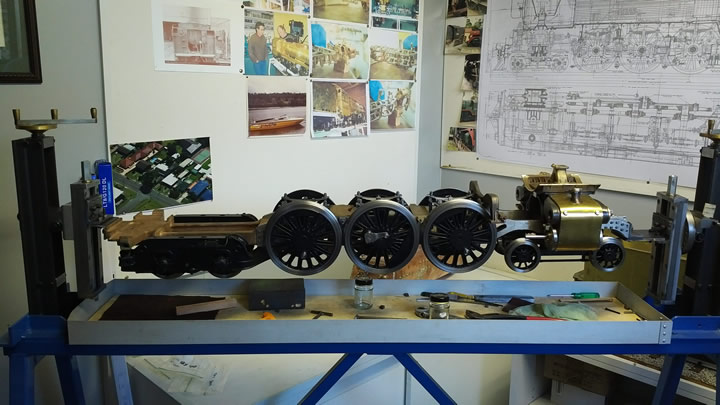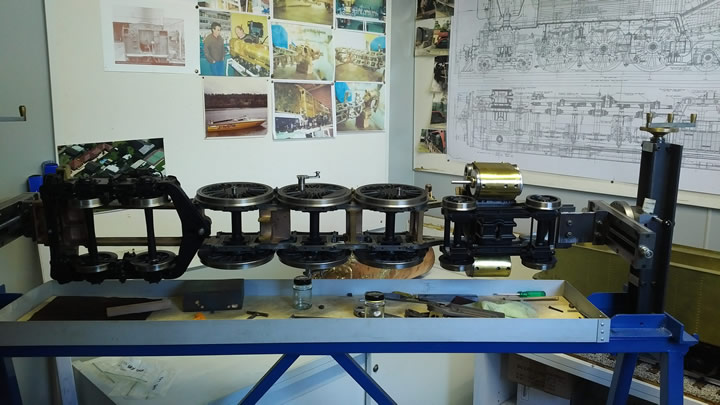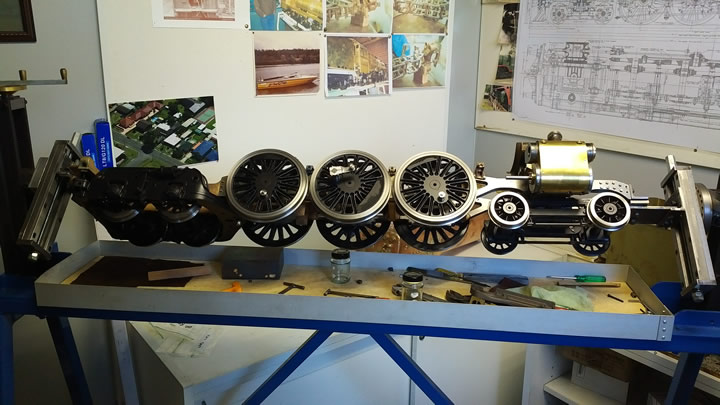 Saps of the chassis of Gary's superb R class the photographs are too far away to pick up the exquisite scratch built detail.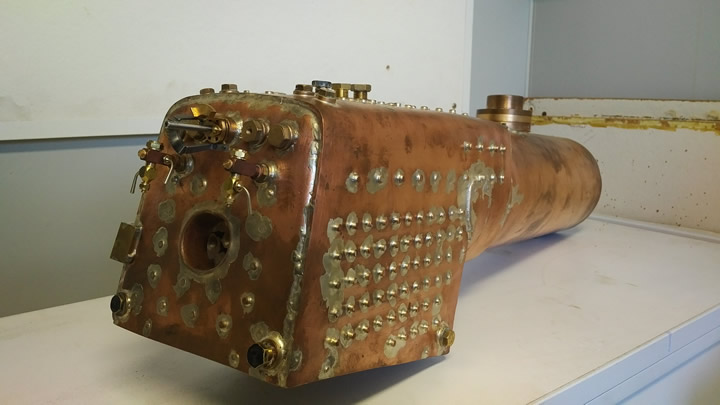 Boiler ready to fit all Gary's work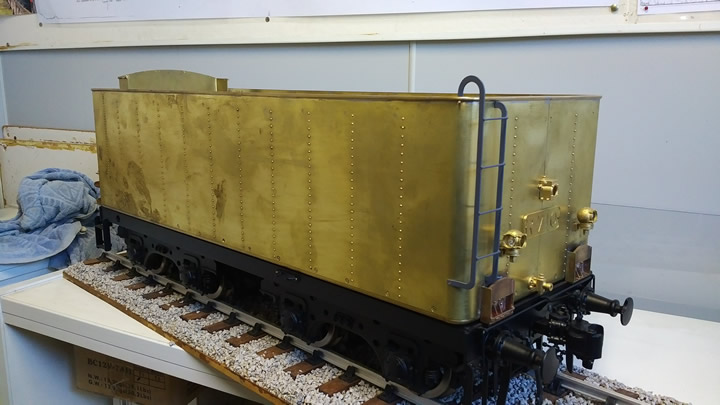 The superb tender, Gary is modeling one of the R class locomotives that were converted to oil and has the tank that fits into the coal space ready to fit.
Now it was time to return to Sydney for my flight to Adelaide, you might be wondering why fly and not take the hire cars, well one way rentals in Australia turned out to add about 400% to the cost of a rental so it was cheaper to fly and hire locally.
I was going to meet up with Andrew Mathews as i had some castings to drop off for him . Andrew had designed the boiler for the 25 and was doing some more work on the superheater elements that i wanted to agree on. He is also going to build a Berkshire so i had a few spare castings i was dropping off for that loco as well.
Adelaide was also the southern terminus of the Ghan and i would be boarding there for my trip to Alice Springs and later onwards to Darwin. There was also the Victorian railways museum to catch up with .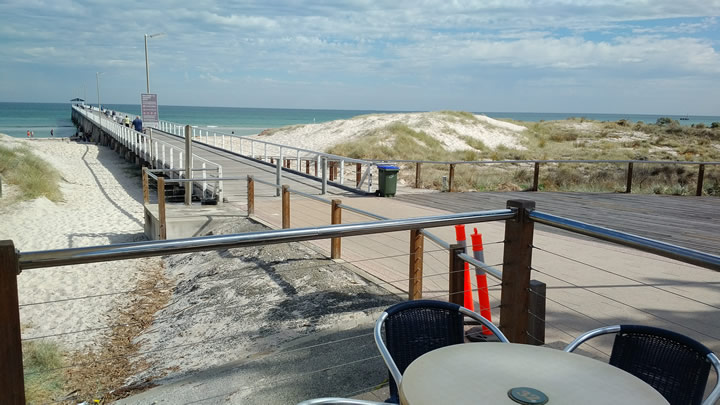 I really liked Adelaide much slower paced than Sidney, i had breakfast here every morning and got right into the lazy start to the day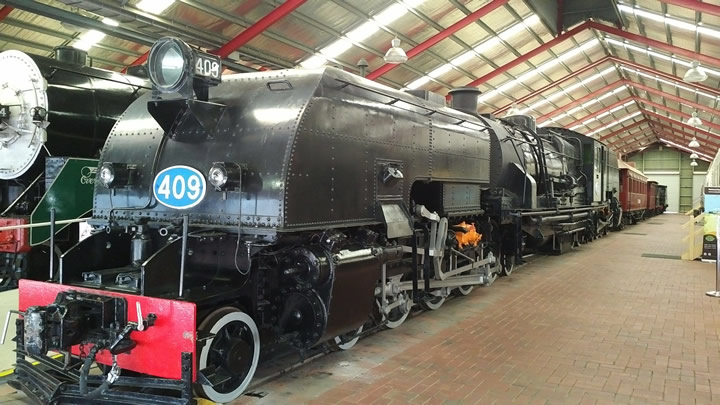 .
Built under license by Societe Franco belge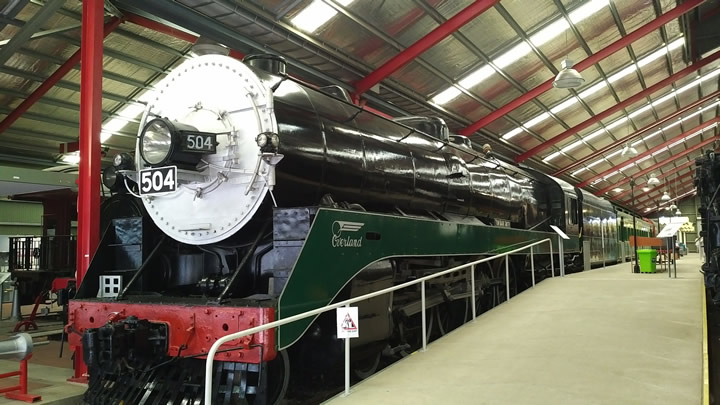 Built by Armstrong Whitworth just down the road and not something you see every day fitted with a duplex stoker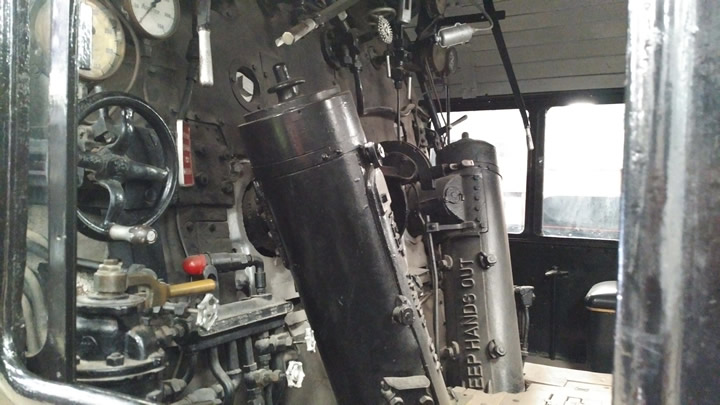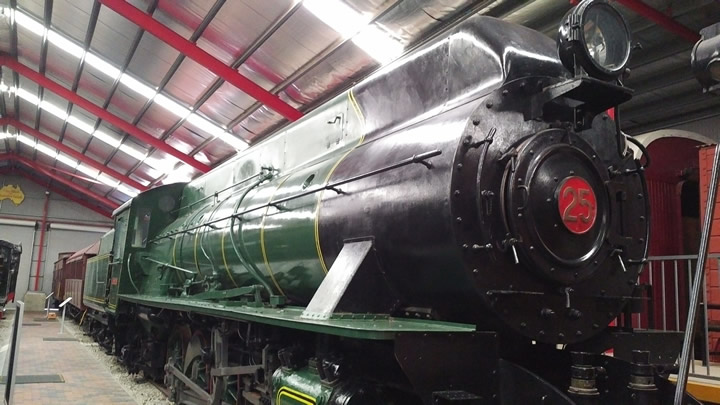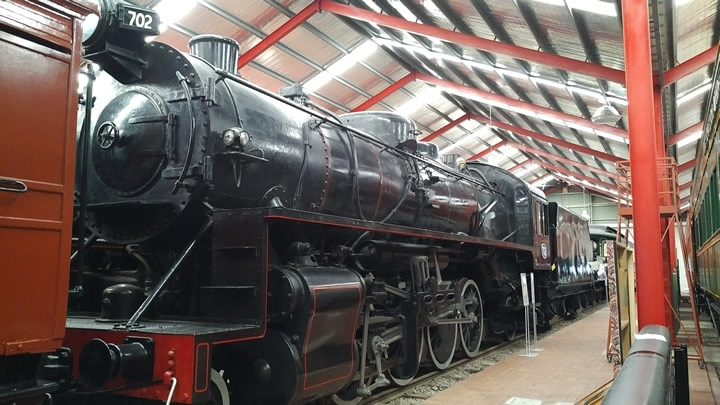 702 was another Armstrong Whitworth build Mikado at the time South Australian railways had an American chief engineer which may explain its this copy of an American engine that would have rolled out of any American shop.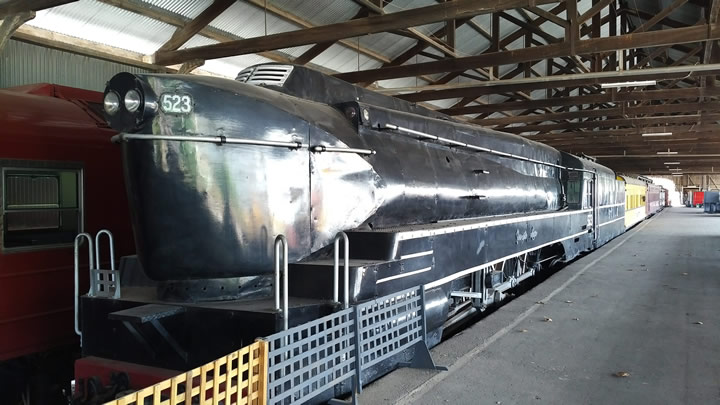 Seemingly lost and forlorn in a covered siding adjacent to the main museum is this spectacularly streamlined 4-8-4. As you can see there is a lot of Pensy T1 one in the genes.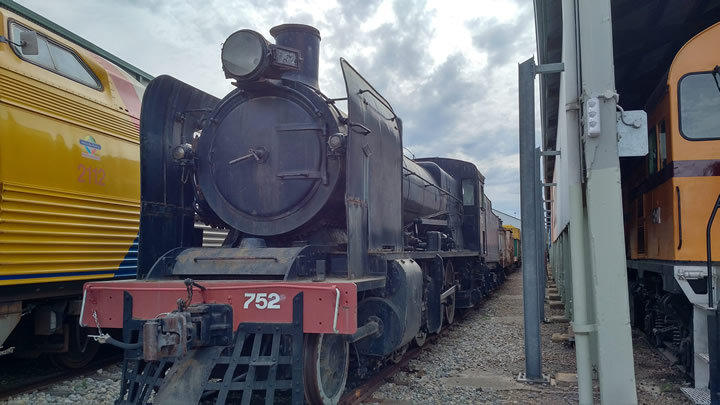 The only North British loco I found and with a face like that possibly only loved by its mother.
Now it was time to connect with the Ghan and start my red center journey to Alice springs and Ayres Rock. I had seen this on great railway journeys of the world and put it in the book for later. You can go direct to Darwin but i was going to break my journey in Alice springs to do a bit of rock hopping.
But before i boarded that train I had a day out on the old Ghan line with the Afghan express, This was a full day trip on the old line that was abandoned when the new Stevenson gauge track was laid.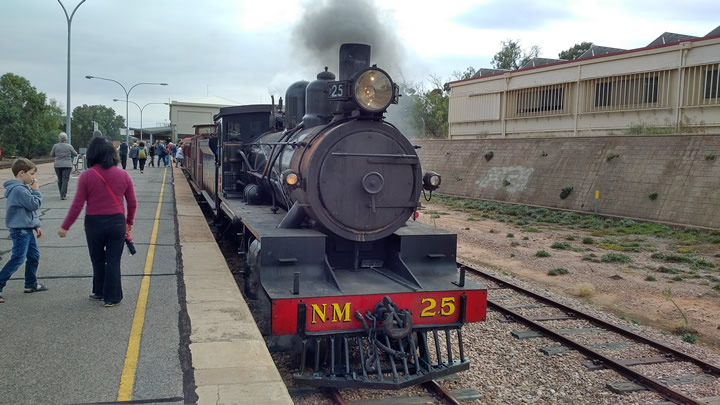 Interestingly the Ghan passed on the other side of the platform as the line took its new standard gauge route.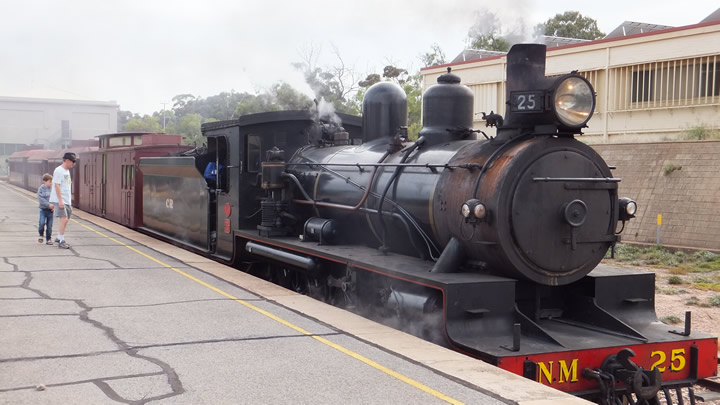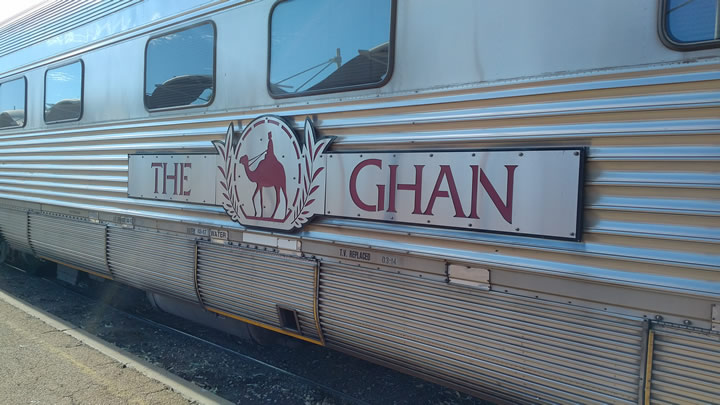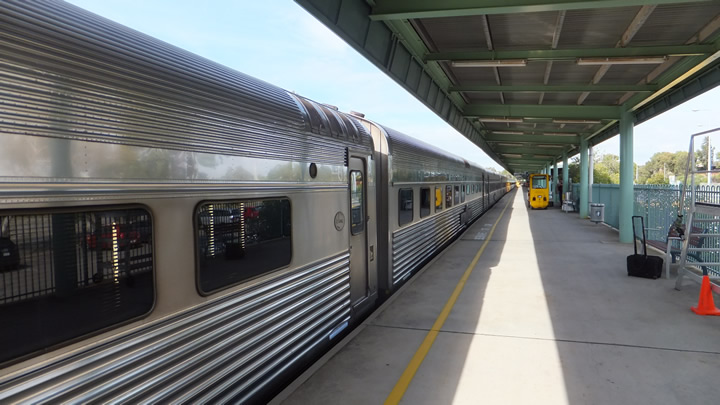 In Sidney the train was parked over two platforms and we pulled out then reversed for the hook up. Once all together the rake was 42 cars including two locos and over a kilometer long. As i was traveling as a single, the Billy no mates car was right at the front so that was 1/2 a K of exercise when I got off at Alice,
As everything was free I spent a lot of time at night in the club car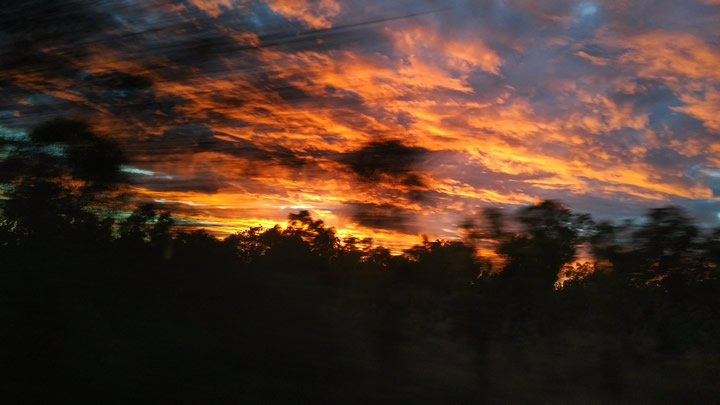 No this is not my blood shot eyes but sunrise from my bed on the first morning.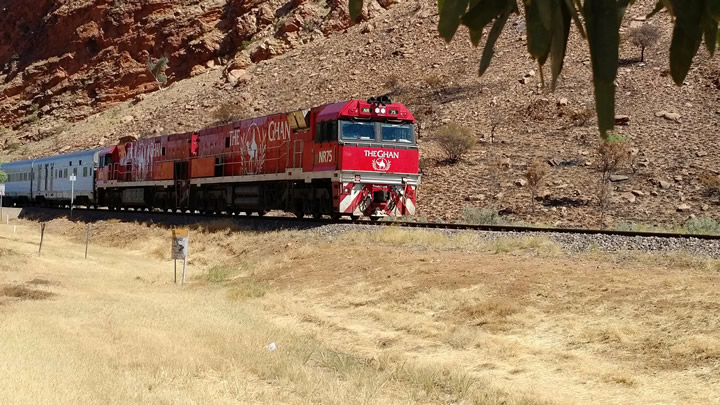 On the day of departure from Alice i went out to meet the incoming train this is the Ghan arriving in Alice
The object of the stop in Alice was to take in the red center and do a bit of rock hopping. With the biggest rock of all being Ayres rock. To get there I hired a car for a few days and it was the only place i can remember in the last twenty where the car had a mileage allowance and you were charge so much a K over it. Sadly after hiring the car on line months before. In the tourist information office in Alice you get cars from the same hire company's with no excess on the K's, pro tip there pop pickers.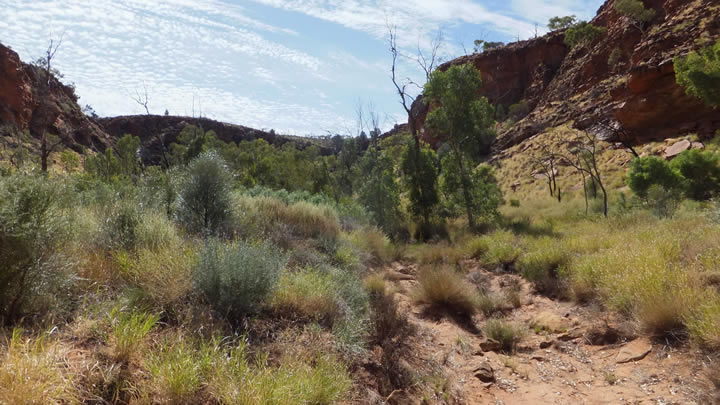 A wander in the bush you would never think there was water here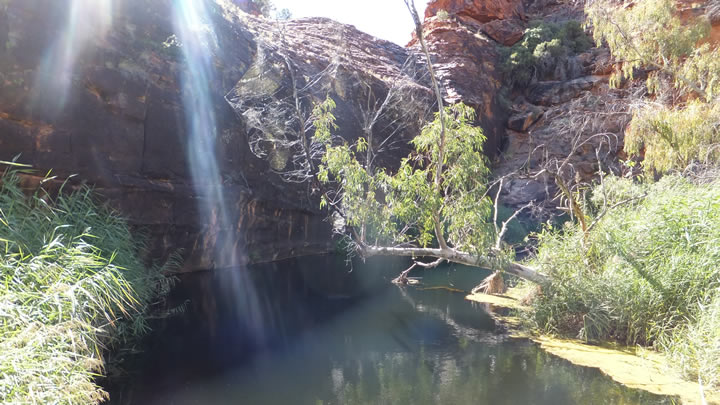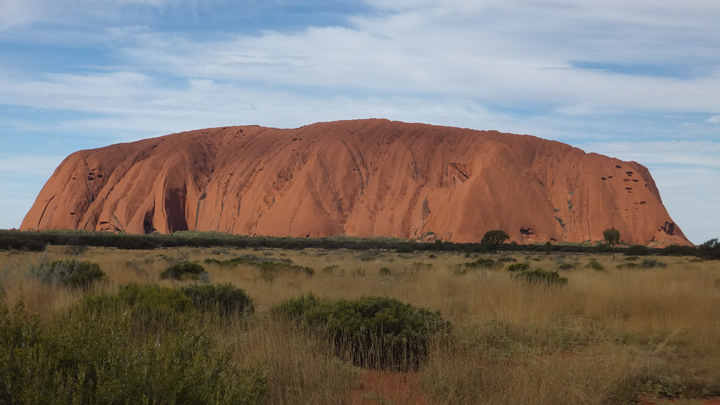 A spectacular site well worth the journey to get here.
From here i rejoined the Ghan to continue up to Darwin, then flying to Melbourne via Perth. Not much to report in Perth or Darwin as they were only short stays and I washed up in Melbourne for just over week before i caught the flight home.. So first off was a trip up to the Murray river and some paddle steamer action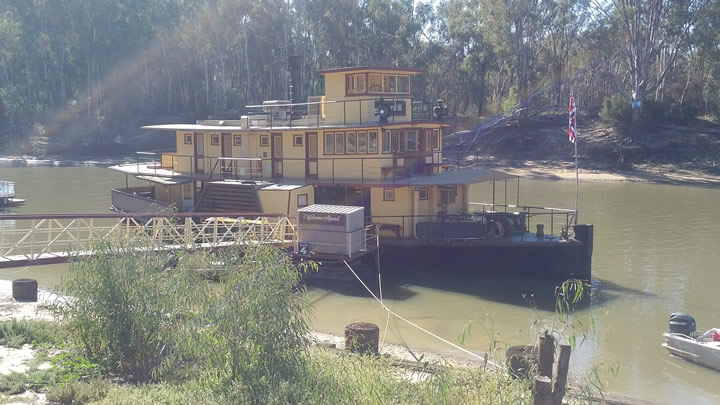 My ride for the day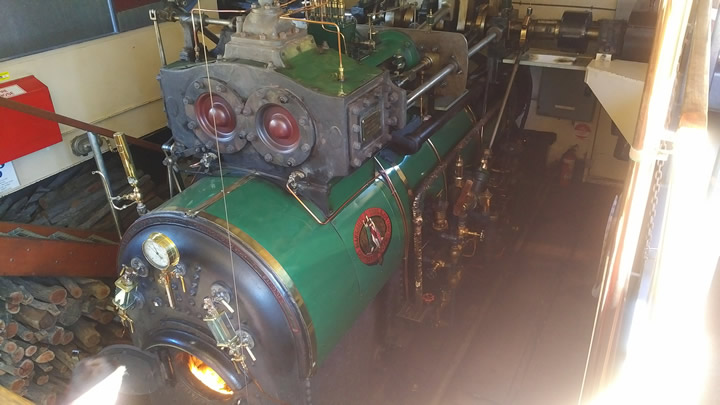 Interesting use of a stationary engine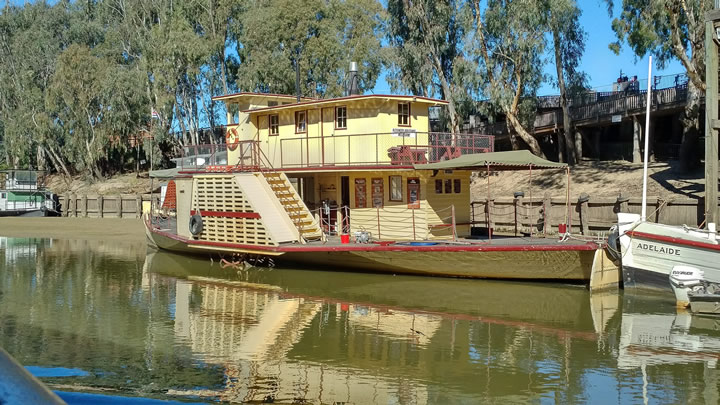 Some of the steamers along the bank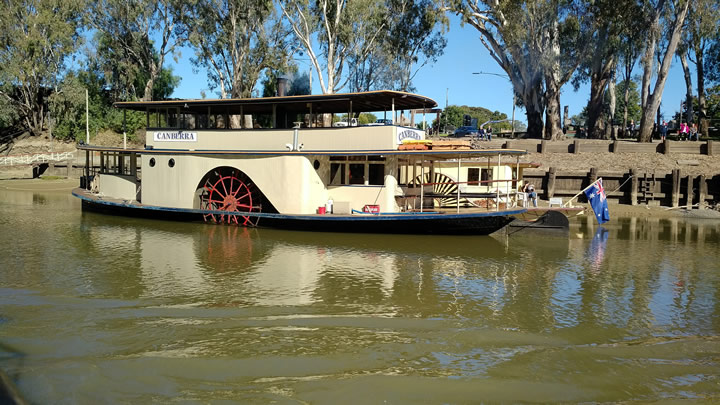 After Murray river I was off to meet yet another virtual friend Dan Smoley. Dan is building a Challenger in 7.1/4 from Roger Goldman's castings. Dan was kind enough to invite me over for a look at his progress.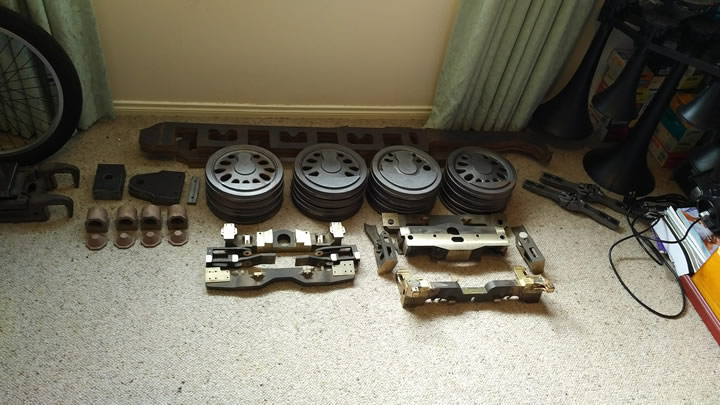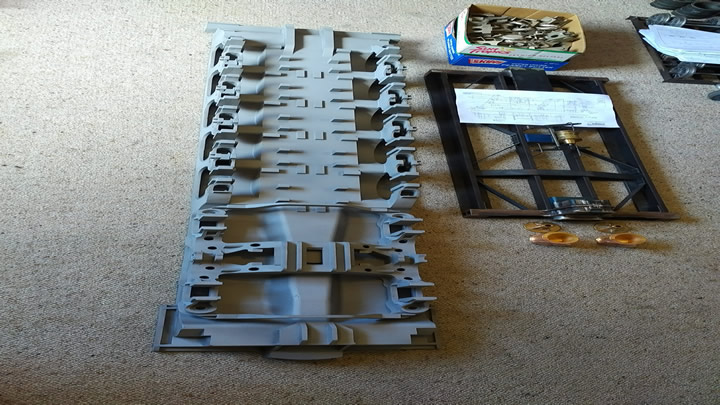 Only a small selection of the parts Dan had for the challenger.
Next up was a visit to the Puffing Billy Railway, to have a look at the operation and the NG16 they were restoring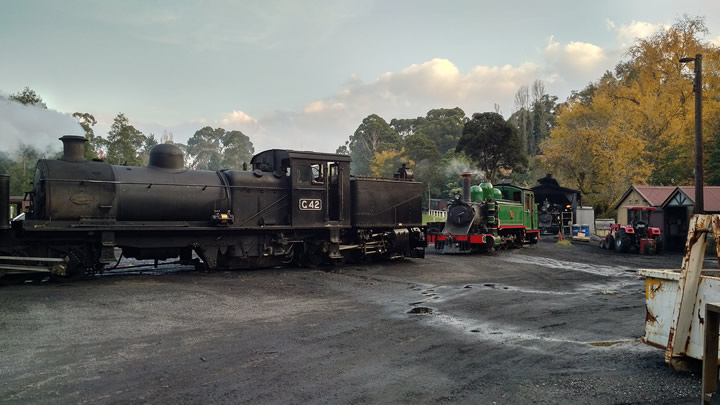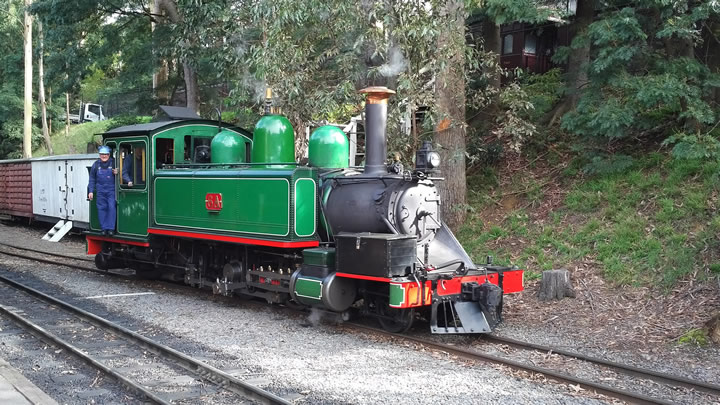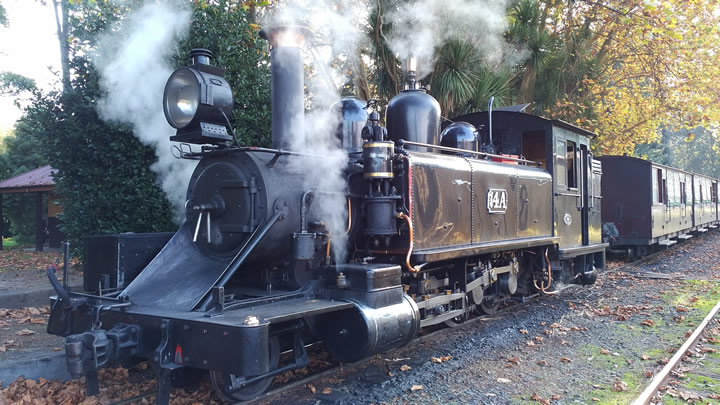 Thee railway also has a museum that is not open yet normally to the public. But thanks to Peter Jenkinson I was able to slip in.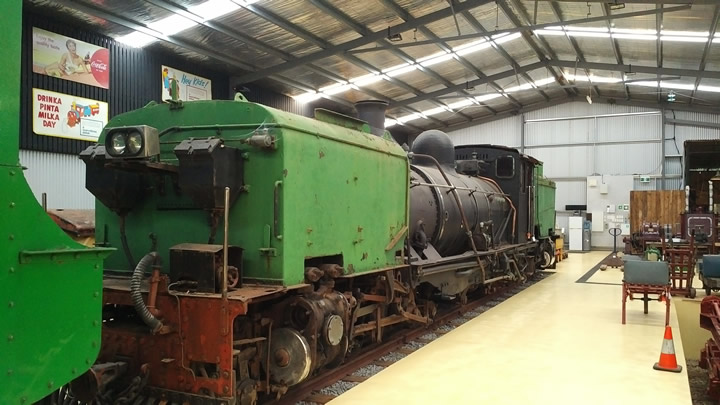 I was not able to snap the NG16 under restoration but they also have a second one in the museum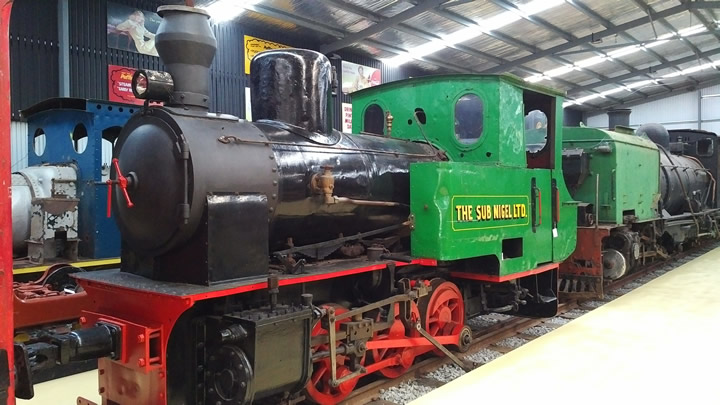 I remember when there was a South African meet in the UK a model of this loco was flying round the upraised track
Next up was a visit to the Australian Historical Railway museum, which contained a fine selection of Victorian railways traction.. This is a private museum only open on a Saturday afternoon so not easy to get in to.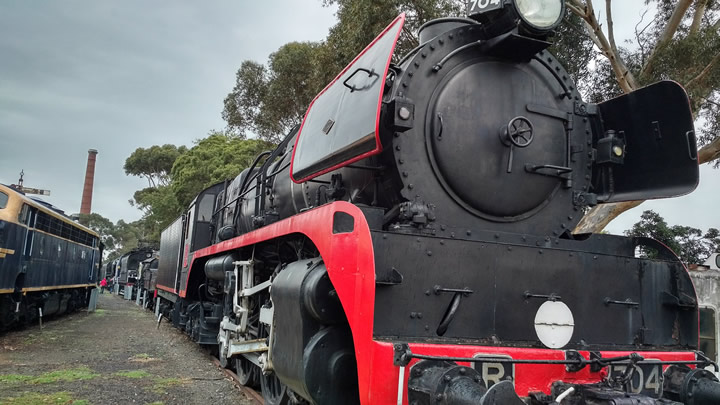 A fine product of the Springburn works the R class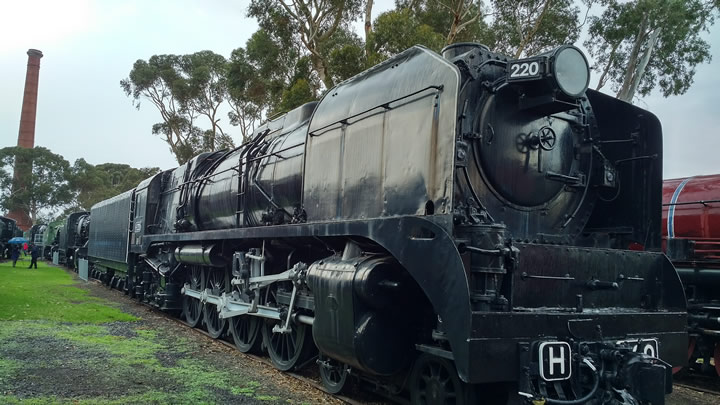 H class, a one off northern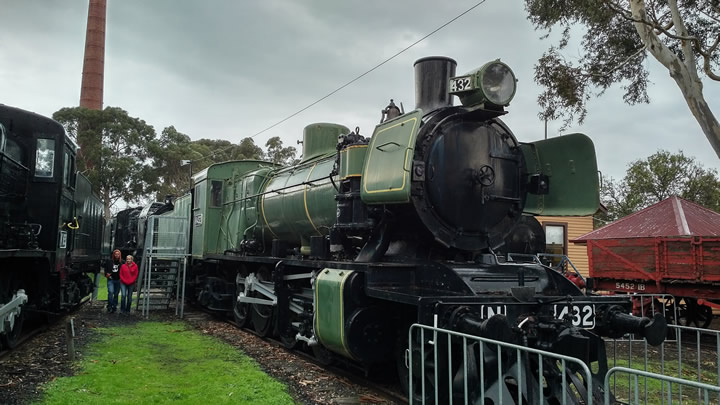 This museum is in part of the Melbourne railway works which also contains a number of preservation groups. Again through Peter's connections i was able to get a look inside at further examples of R class locomotives.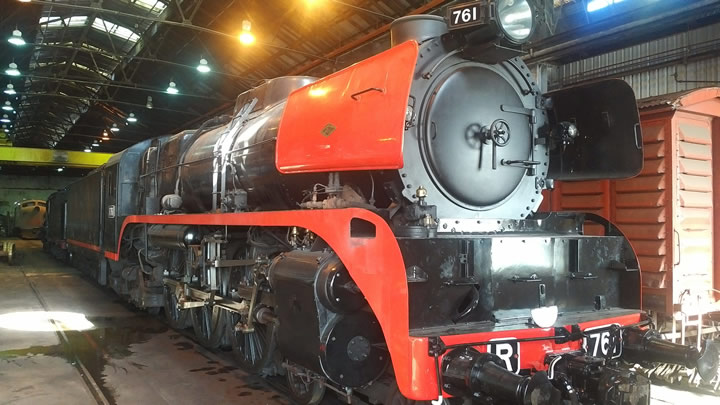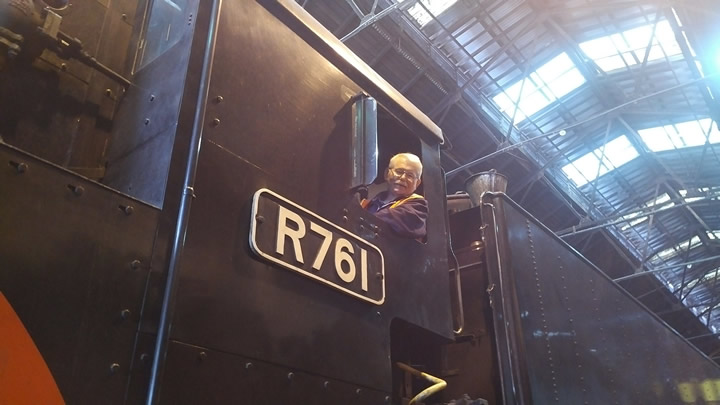 Two working R class
986 was being spruced up for a photo shoot next day and was also to be the star of a weekend fan trip.
Peter also invited me up to see his workshop and NG16 , he also had a superb 19D that needed a little work before getting back on the rails.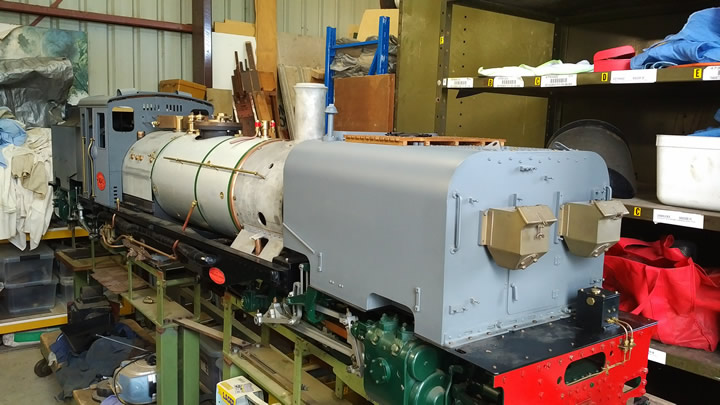 Peter's superb 5" gauge NG16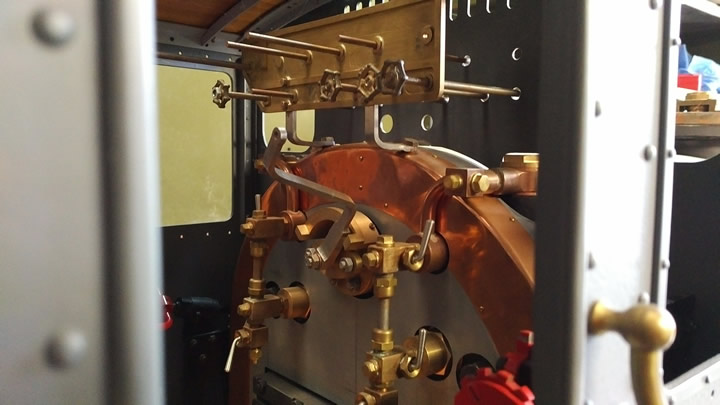 Fine back head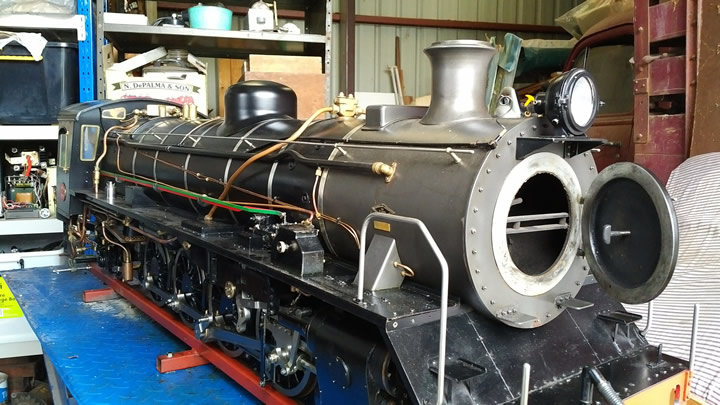 A very fine scale 19D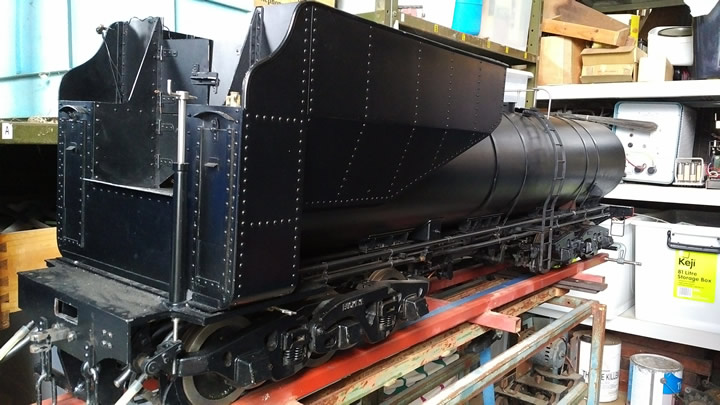 19D tender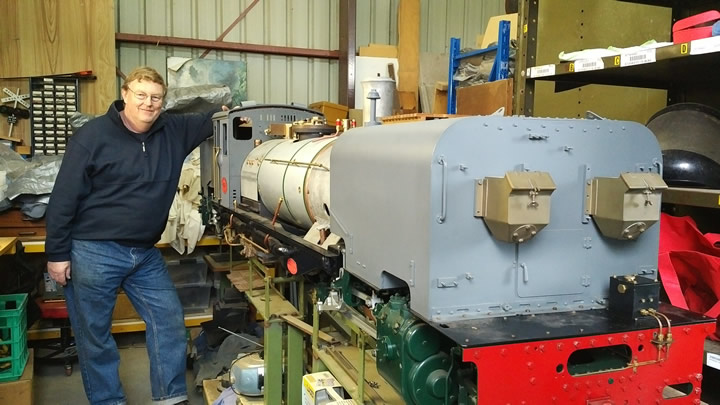 Peter relaxing next to the NG16
Peter also took me to see another master builder Mel Skinner, unfortunately we got to his workshop after dark so the snaps are not very good. But his 5" gauge AD60 was a sight to behold. The level of detail was astounding as was everything else i saw in the workshop.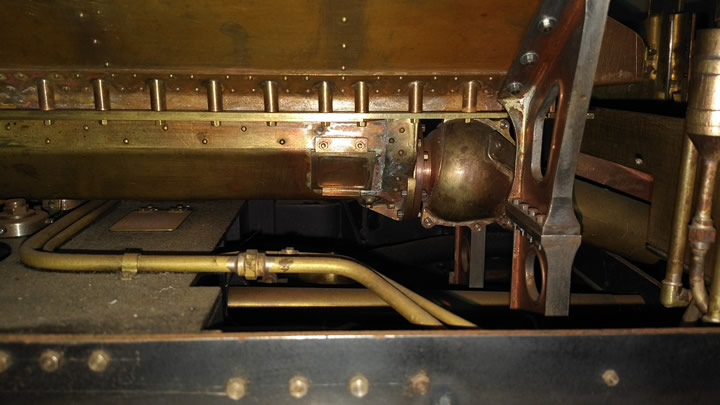 Fantastic detail on the stoker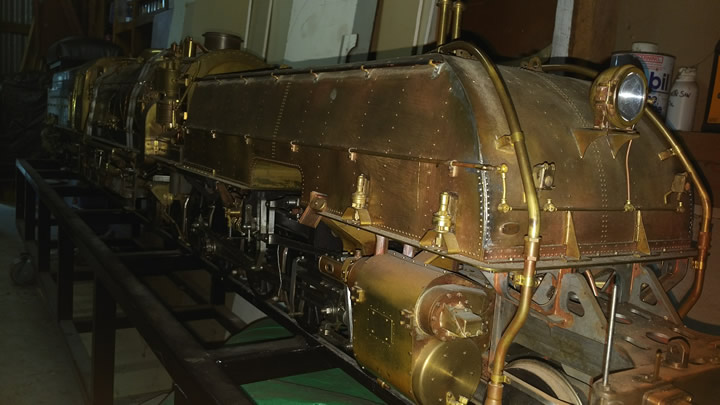 Front end of the AD60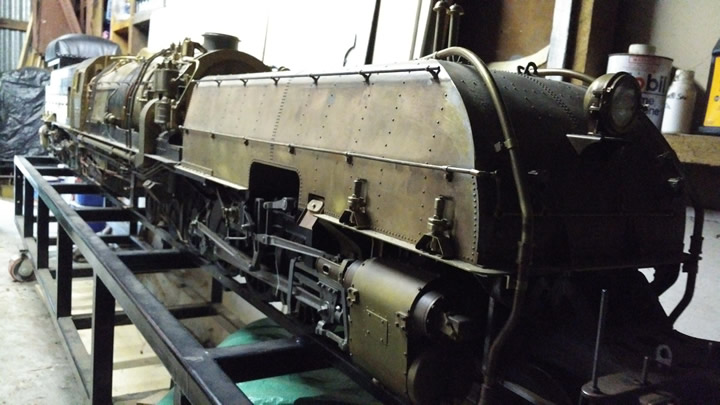 Full length of the AD60 huge even in 5" gauge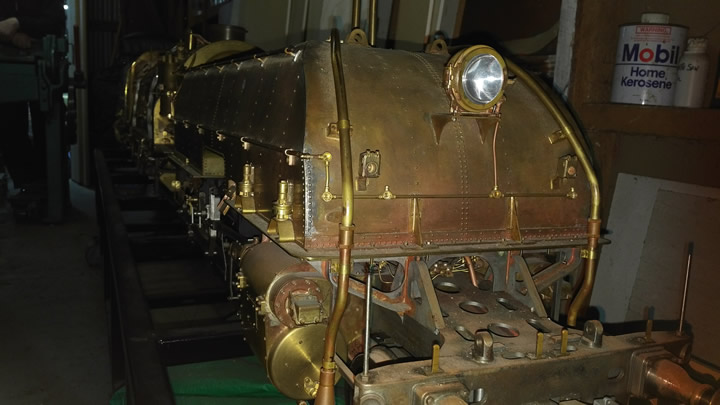 What a model just look at the level of detail, even the Stones headlight is superb.
So that was about it, there is more stuff in the photograph file but I think this section is long enough. Model engineering seems to be alive and well and of the highest quality. Thanks to everyone i met and who looked after me over the time i was there. Now its only three months till I'm off to America and the Buckeye meet and the Illinois live steamers 50th anniversary meet.
Given i was there for nearly seven weeks I am sure i have got names ranks and serial numbers wrong in this section, so please if you spot a howler let me know and i will update the offending piece.