Dean Smith and Grace 1307 lathe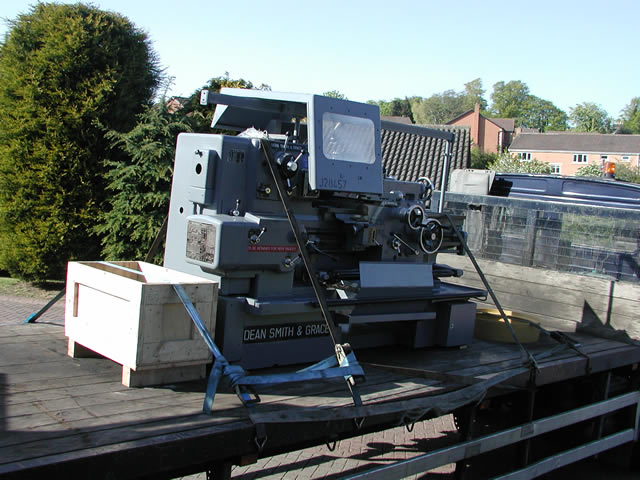 As the jobs I do have got bigger and bigger I always seem to be just short of machining capacity. Or lack just that little umph needed to plough a bit of rough steel to size. So my thoughts have been straying to getting a slightly bigger lathe. I was also aware that time is marching on and ideally I wanted to get all the big moves or changes done in the workshop before it became too much of a chore.
I had got my CNC mill and with it a small CNC lathe attachment so felt I was fairly well set up for new technology. My Bantam 2000 though was just a wee bit on the small size for some of the jobs I did. I had been looking around for a suitable (new) second hand machine and had generally been looking at something from the Colchester stable. I had also looked at new lathes from some of the Chinese importers but felt they were a bit too much coin. There was also the Toss lathes manufactured in Czech republic that were a good machine but again too costly for new.
Searching on ebay I came on a Dean Smith and Grace lathe which was far too big but got me interested in the possibility of finding a more suitable size one to meet my requirements. So after weeks of putting DS&G in google I was lucky enough to find one that I thought would be just the ticket.
Dean Smith and Grace were probably one if not the best lathe manufacture in the UK . Often described as the Rolls Royce of the lathe world. There is some interesting history of the company on this web site.
http://www.lathes.co.uk/dsg/index.html
Although now on a much smaller scale they are still in business and proudly boast spare parts for any machine built post 1950 which is a comfort.
http://www.deansmithandgrace.co.uk/
The thoughts of my lathe being built by guys in starched white made to measure overalls seems to set the right tone. Although it might be I need to smarten myself up as well to use it.
SO after seeing the machine I asked if it could be powered up so I could try it out. Just to make sure I was not making too much of a mistake i also asked John Dunn who some may recognize from his adverts in ME and Old Glory to accompany me. After an couple of hours of running and pulling and messing about we both agreed that it was in fair nick. It had, had a flash over with the spray gun which always makes things look better than they are but mechanically we could not fault it. So the deal was done but due to transport problems it was going to be a month or so before I took delivery.
This month gave me plenty of time to have second thoughts about buying such a big machine that weighed over 2T was nearly five foot wide and would need a total re-think of my workshop to accommodate it. Luckily I was also building a new shed in the garden for all the junk I never use but could just not bring myself to throw out. Once this was filled to bursting point I felt I might just have enough room to fit it in.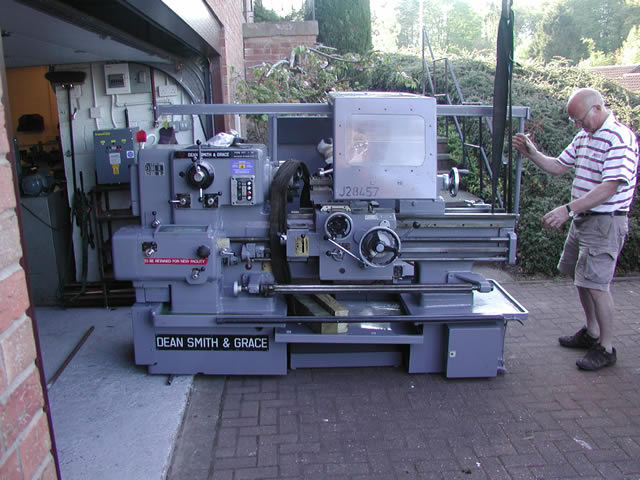 First job was to unload from the truck then move into the garage on 1" gas pipe which has been my roller of choice for many moves. Alan is providing inch perfect feed back as the highABB ease the machine through the door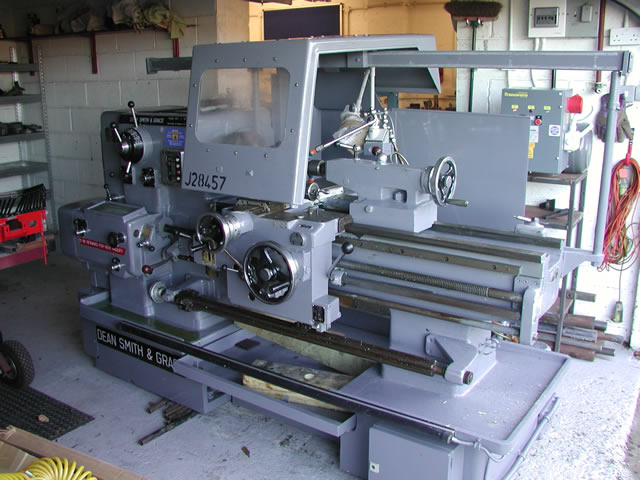 Once through the door and clear of the door that was that job done. Next day Steve Cox was arriving to skid the machine into position.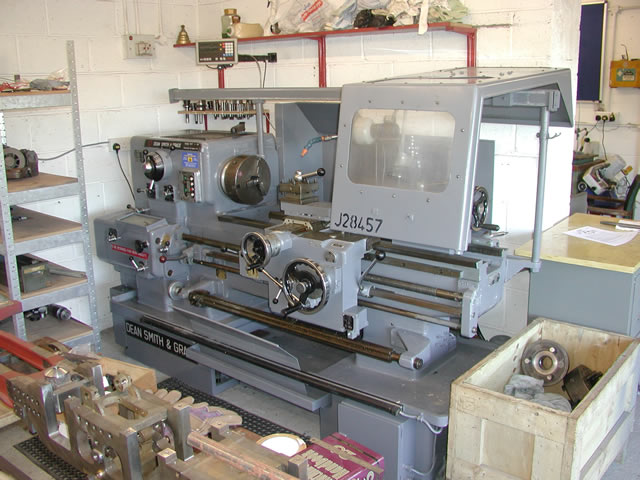 DRO back up and tool racks in place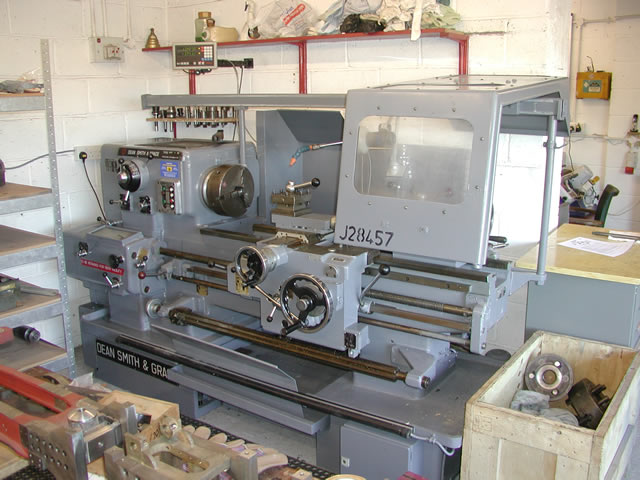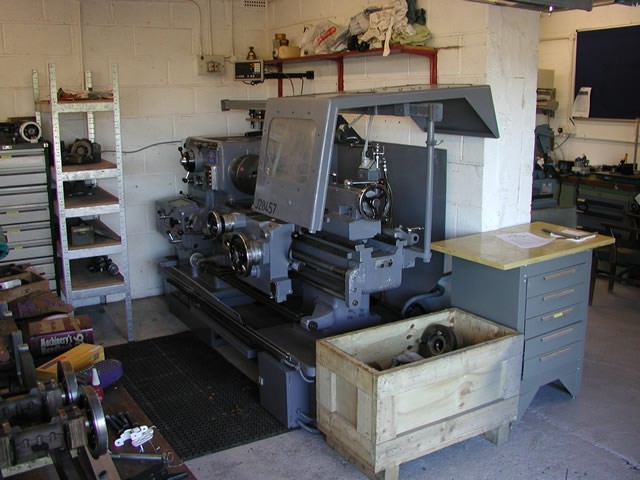 Bags of room
Once in place, surprisingly it looks like its been there forever, and once connect up to my new 10hp Phase converter, a tune out of it was the next order of the day. The difference between this machine and anything I have used in the past is huge. Everything just seems in the right place, all the controls just seen to be where you would expect nothing seems out of place and the build quality and no compromise design philosophy is self evident.
The only slight down side is the chucks, they weigh, a ton and I am already thinking that one of the cheap electric hoists that run on scaffolding poles will be a handy addition above the chuck area.
Well following my illness in 2011 an electric hoist became a necessity as heavy lifting especially in front of you is out. So I roped a couple of friends into fitting me a hoist track and I bought a small hoist off eBay. Only to have the local Lidle sell about the same thing two week later at 2/3's of the price. So there is still nothing wrong with my timing.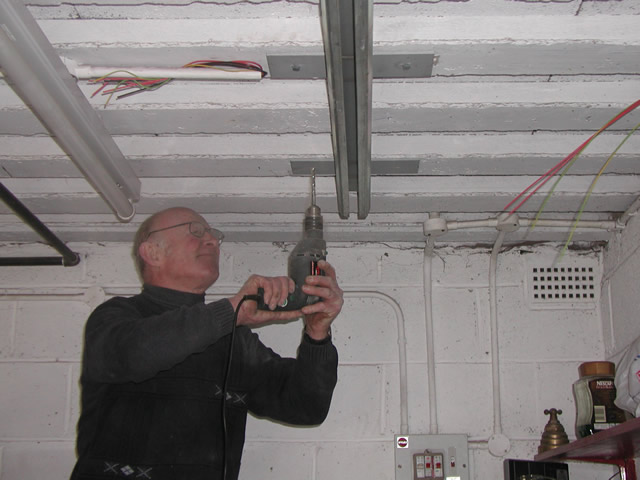 Alan drilling the roof for the crane track
I have a couple of 8" chucks I can handle with ease but the original fit DS&G's need a bit of mechanical advantage.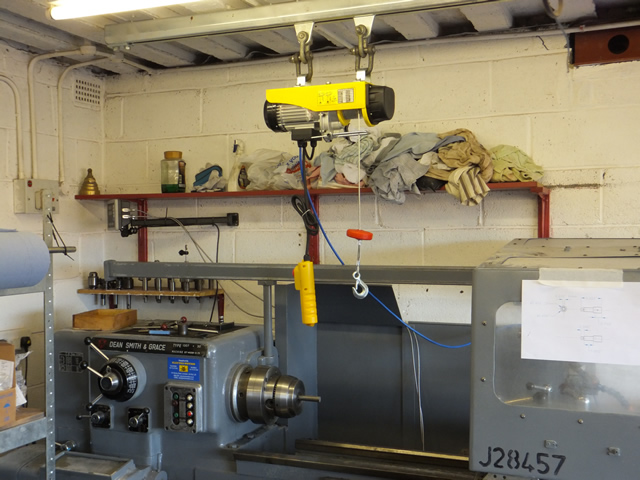 Hoist ready to go