Mill Creek and Illinois Live Steamers 50th meets.
Although I had not planned any more trips abroad in 2017 the temptation of two large meets on back to back weekends was too much to ignore.. As it turned out this became one of the best trips i have done to the states visiting 4 clubs and seeing two 2-8-4 full size steam locomotives in action.
So it just so happened that the Illinois live steamers and the Mill Creek Central Railroad were both having anniversary meetings in August 2017. I had initially booked my flights for the Illinois meet then Jim Kreider told me that the mill creek event was on the week before. So I changed my flights an added a week to the two already booked. I flew out on the Wednesday to be there for the long weekend meeting and first off was a bit of a drive from Chicago to Coshocton for the Mill Creek event.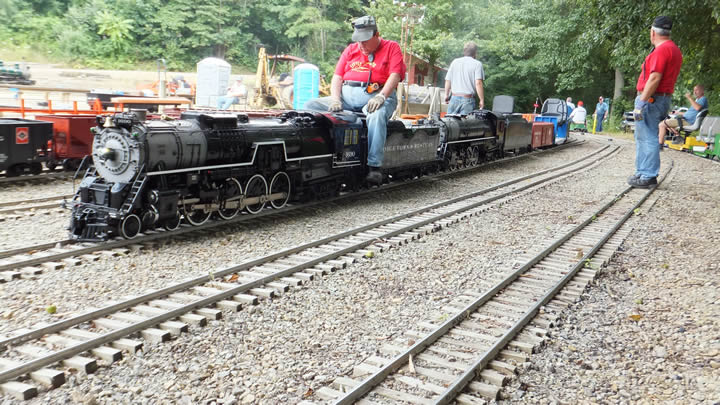 Mike Venesia on the right owner of one of the Northern and Paul Keiser on the lead engine. Paul built both engines.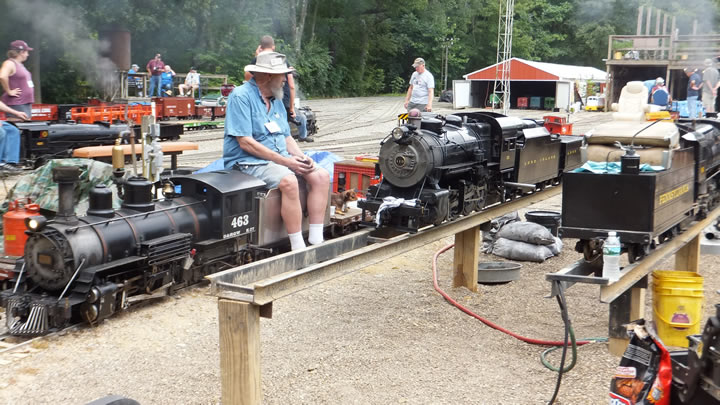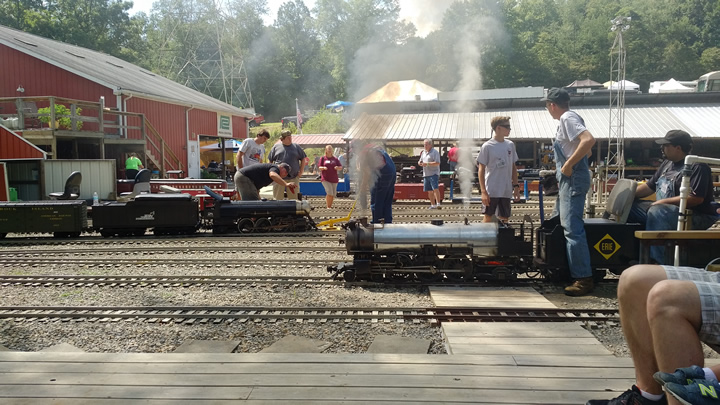 Two views of the busy part of the outside steaming bays with the station in the background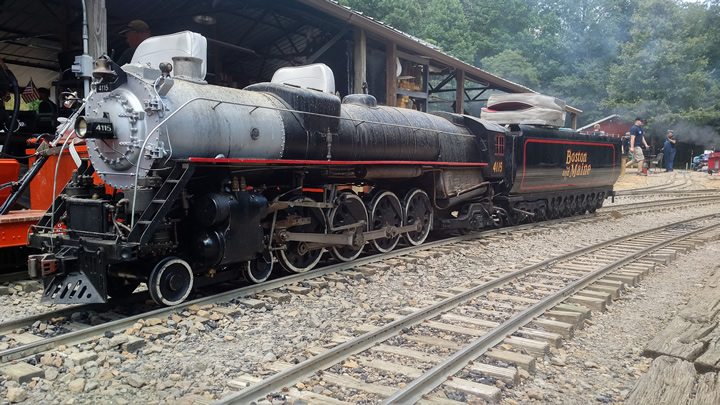 This reminds me of my flirtation with Klamath Machine works who were going to offer castings for this locomotive , of course it never happened.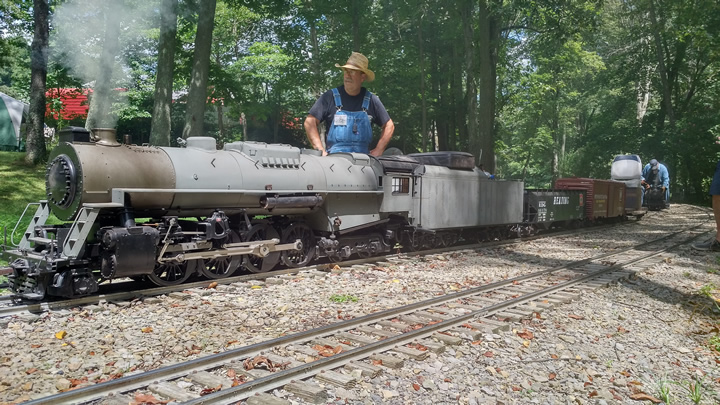 Wayne Godshall of custom machining fame with what was the first of Jim Kreiders baby's. Built almost concurrent with Jim producing castings the owner chose to fabricate some parts to speed up the build. Wayne is now detailing the locomotive for its new owner.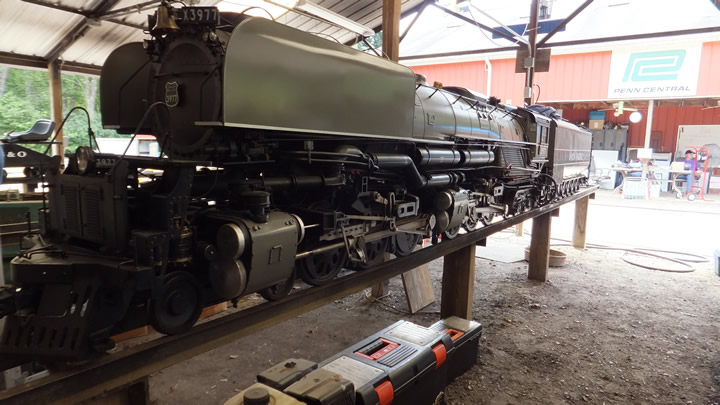 Another examples of Wayne's work, I thought Bruno was the king of detail but this is on a par with that.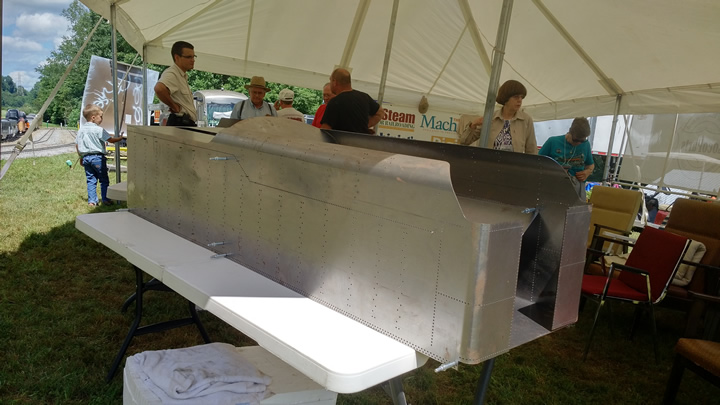 A superb CNC punched and folded tender for a C&O Kanawha build by Jeffry Duarte at locoparts.
There were many more locomotives on show but this was a superb meet where there were plenty of large main line steamers on show. I now had the best part of the week to go before the nest visit which was back the other side of Chicago.
So I decided to go on a bit of a full size safari to a couple of locomotives both in the throws of being overhauled with a view to running again.
While planning the logistics of the trip I found out the Fort Wayne Railroad Historical Society were having an open weekend at their depot. Not too far from the Mill Creek meet i decided this was an opportunity not to be missed. By coincidence the Berkshire I am completing is a model of 765. So i took the Friday off from the meet and motored down to their depot.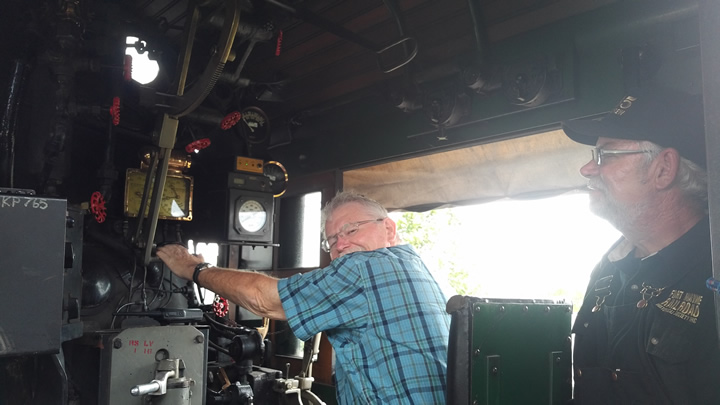 And why not !
After that blast it was back to Mill Creek and then I packed up for the trip south
So first was a drive down to Kentucky and the Kentucky Steam Heritage Corporation. custodians of Kanawha 2716. For some reason the C&O did not name their 2-8-4's Berkshires. I met Joe Nugent there who gave me a the full tour of this locomotive.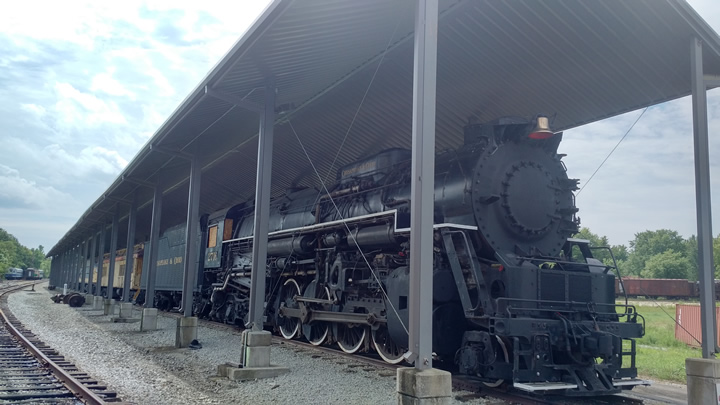 2716 at the Kentucky railway museum.
Joe explained the plans they have for the locomotive which crucially in the states has a line identified where it will be able to run. There is a strong business plan for the locomotive restoration. With the first job on the list to move it undercover for the majority of the restoration to begin. A lot of work has already been done on the appliances and boiler to establish its condition.
2716 has already had a second life in preservation and so is in very good condition prior to being parked up for static display. Looing round the locomotive you were immediately struck by what good condition it is in .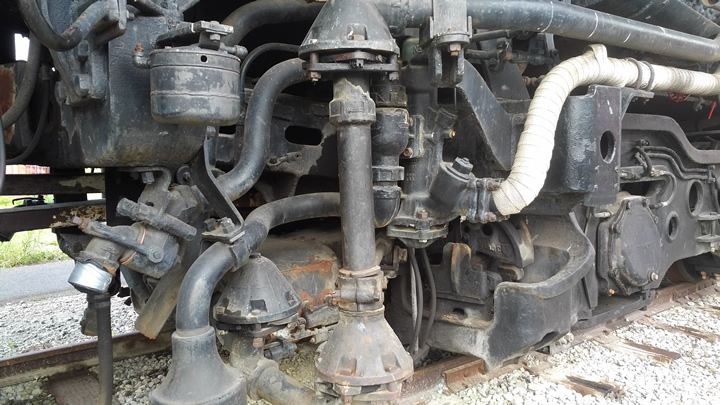 Booster
2716 was fitted with a trailing truck booster to provide additional tractive effort when starting heavy trains. Joe explained once they got to about 15mph it was shut off as it was not very efficient and a steam eater.
Next on the trip was a drive further South to Nashville and a visit to a 4-8-4 at the Nashville Steam Preservation Society affectionate know as the streak.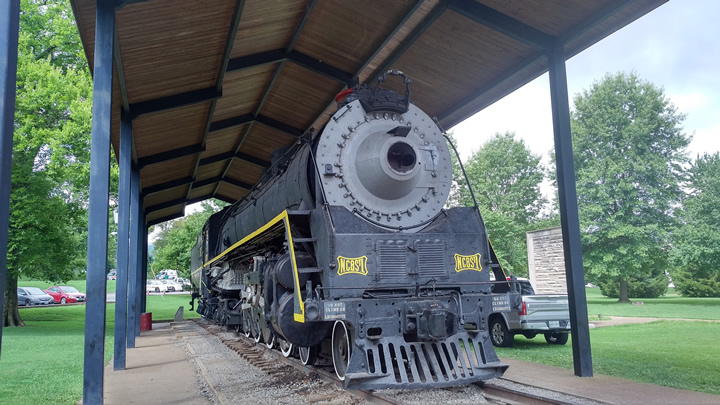 576 "The Streak"
Again this operation seemed to be well organized with a again access to a line it will be able to run on. This locomotive was also in relatively good condition for its age and was also going light refurbishment on site. This work was being done to facilitate a move to a covered workshop where the bulk of the work will be undertaken.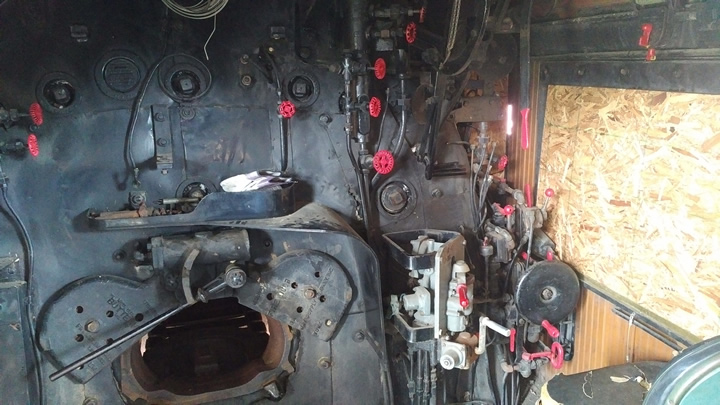 Cab drivers side, the fire door is open to allow access for NDT and welding work to be done.
Interestingly this locomotive is fitted with a precision screw reverser not the normal bar type. Still acting on a powered reverser. In later life it had been fitted with a small airmotor and operating valve next to the wheel to power operate the screw and ease the drivers work load.
It was now time to head back north for the Illinois live steamers meet an time to put a few more miles on the rental.
This was a slightly number of locomotives at this meet, but what impressed was the ground level 4.75 gauge track which was extensive and a bit of a drivers challenge. but that did not stop engineers running some very long trains.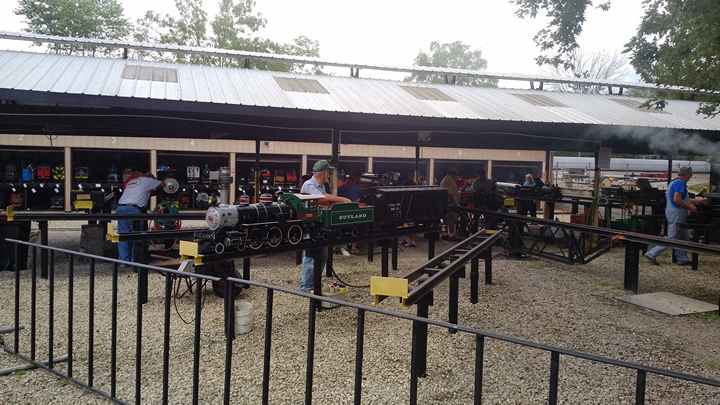 The steaming bays and in the background loco storage.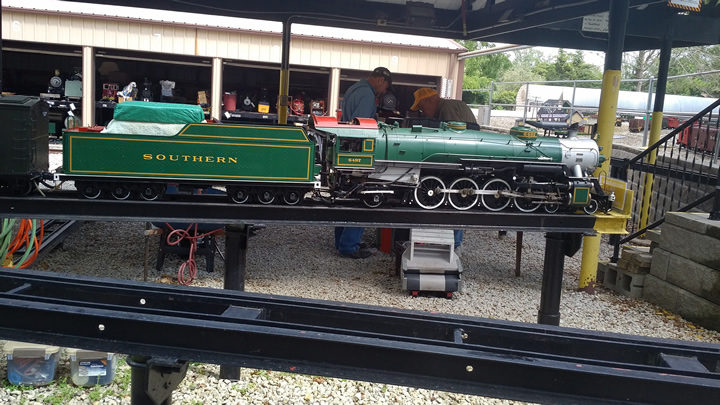 Superb 1" scale Pacific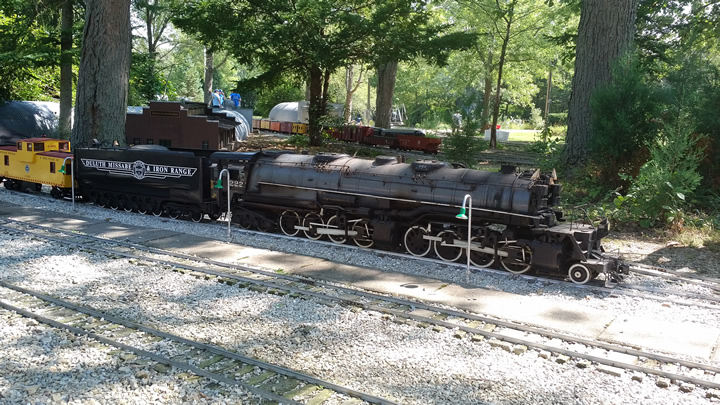 Another 1" scale masterpiece D&M this time.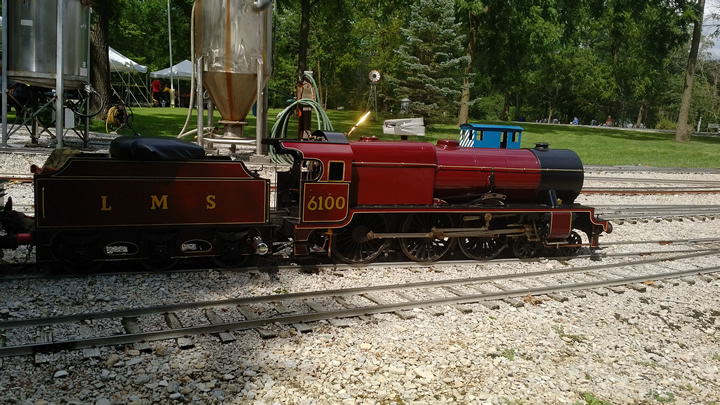 Imported and converted to 7.5" gauge many years ago and still running like a watch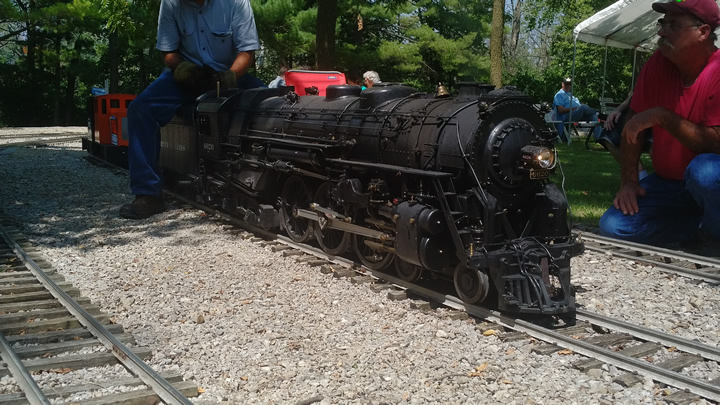 Superb NYC Hudson.
Again by a very happy coincidence i also found out prior to departure that another Berkshire would be running while i was in the states. But the icing on this cake was it was running a fare paying schedule. So i got myself booked up for a ride in the caboose leaving early on the Sunday missing out on the last day of the Illinois meet.
The Steam Railroading Institute would be running excursions with the Pere Marquette 1225 another Berkshire at the Howell Melon festival.
I cannot believe on the one trip to the states I was able to see two Berkshire locomotives in steam and also to get to ride behind one. I think i should have put the lottery on that week.
So that was two weeks of the trip done, and what to do next. I had arranged to meet up with an old friend who lived in PA. But first I had heard good things about the Canadian Railway Museum in Montreal. I had also met up with Howard Gorin who told me his clubs fall meet was on the next weekend so I decided to drop in there for a couple of days.
I had not quite bargained for just how French the French Canadians were or how expensive Montreal was so once I had been to the museum high tailed it back to the states.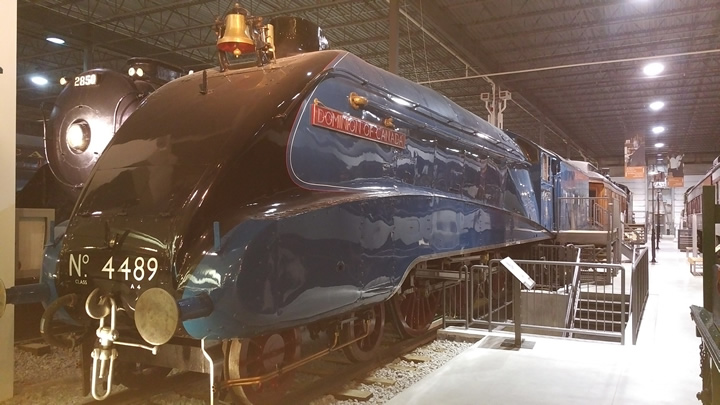 Dominion of Canada nicely refurbished by the National Railway Museum here in the UK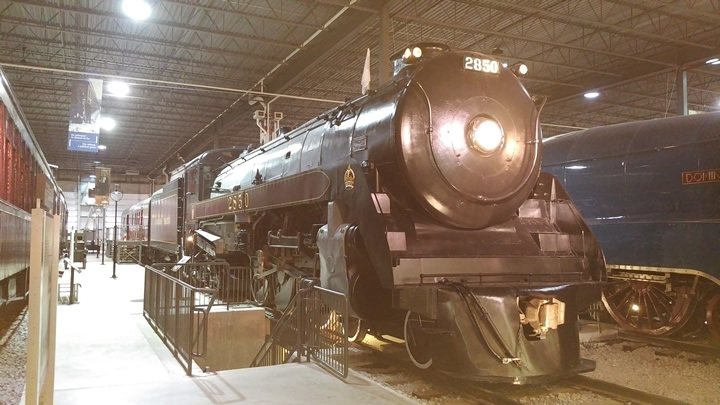 Royal Hudson
I need to buy a better camera for museums they always seem to be a challenge for lighting these days. Now it was time to head South again over the border, not without its drama's as The American agents were a bit troubled by my passport full of stamps to questionable Middle eastern countries I had been too back in the day for work.
Next stop was a drive towards Boston and the Waushakum live steamers, Howards home club. I was reliably informed this is pronounced Wa-shake-um, the track was in a very wooded area and a pleasure to ride round. Not so easy to find mind but Google and the sat-nav did the business.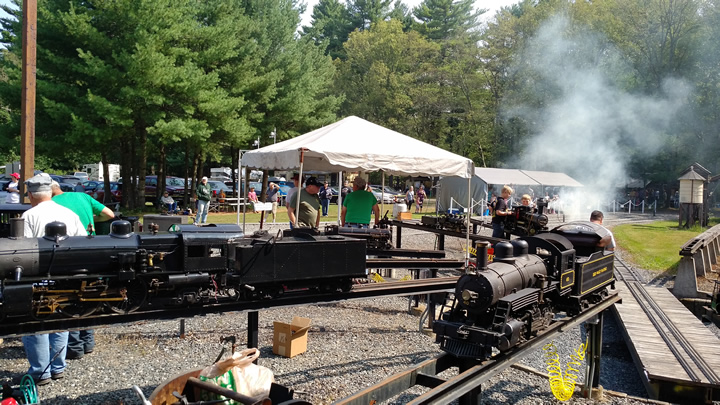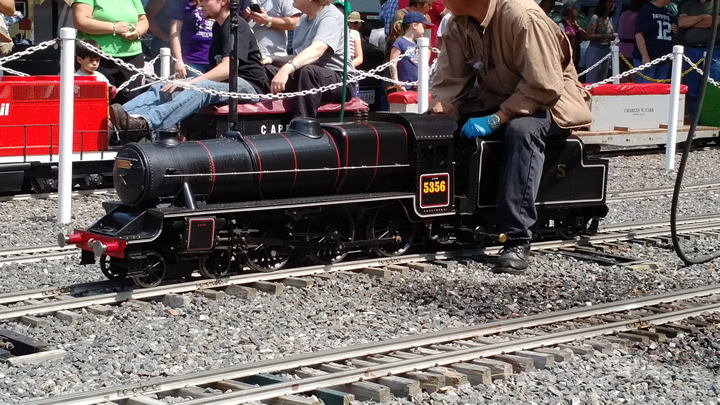 These things are about as common as teeth.
I stopped at the meet until Saturday afternoon then headed of toward Philadelphia. My friend lives not that far from the Pennsylvania live steamers, so i had arranged to meet Dave Sclavi of Trainman fame who was going to get 1361 out for us to run on the Sunday.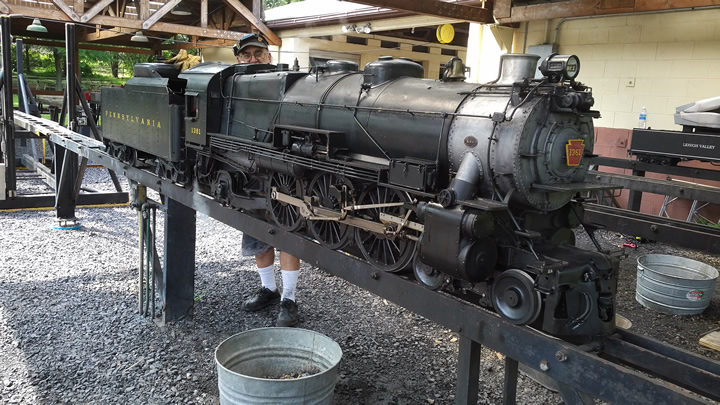 Dave getting 1361 ready for the track.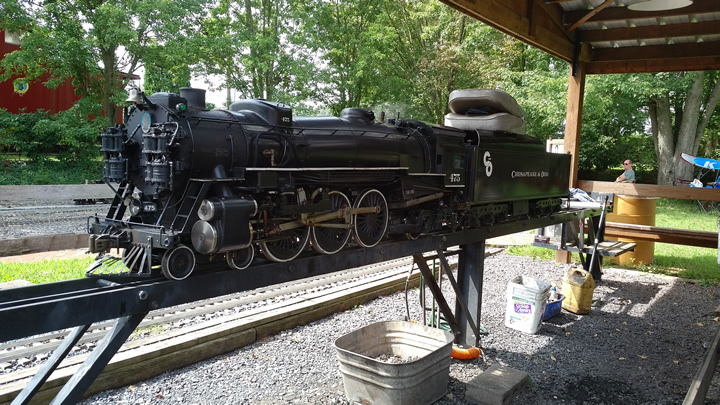 A superb C&O Pacific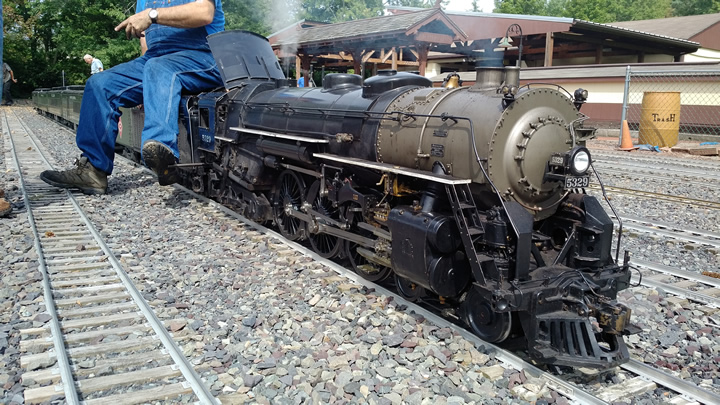 The second fabulous NYC Hudson of the trip.
Well that was it I spent a couple of days with my mate in Wayne, then made a slow drive back to Chicago and the evening flight home. This has got to have been one of the best American Holidays i have been on for visiting tracks with something happening. But the icing on the cake was the two Berkshires in living breathing colour.
Best ride in the BA fleet plenty of room and still queen of the sky's, far better than being shoehorned in an A380.