Click on the logo to return to the Home page
Workshop latest
RP models ready to go to the foundry of Berkly fire door and Standard HT-1 stoker tube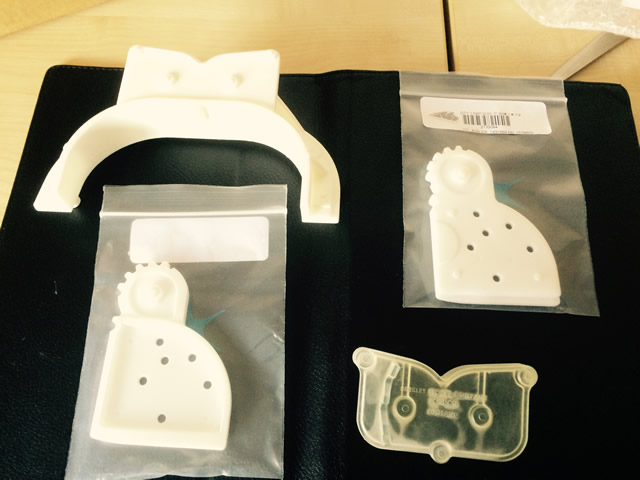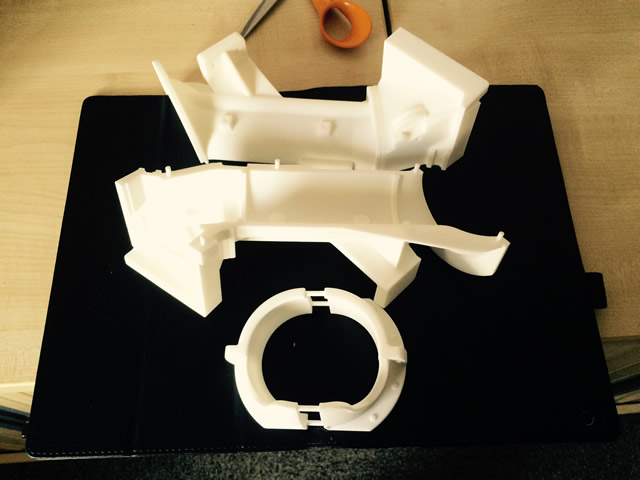 June 14
First pour of Stones headlight in 2" scale done.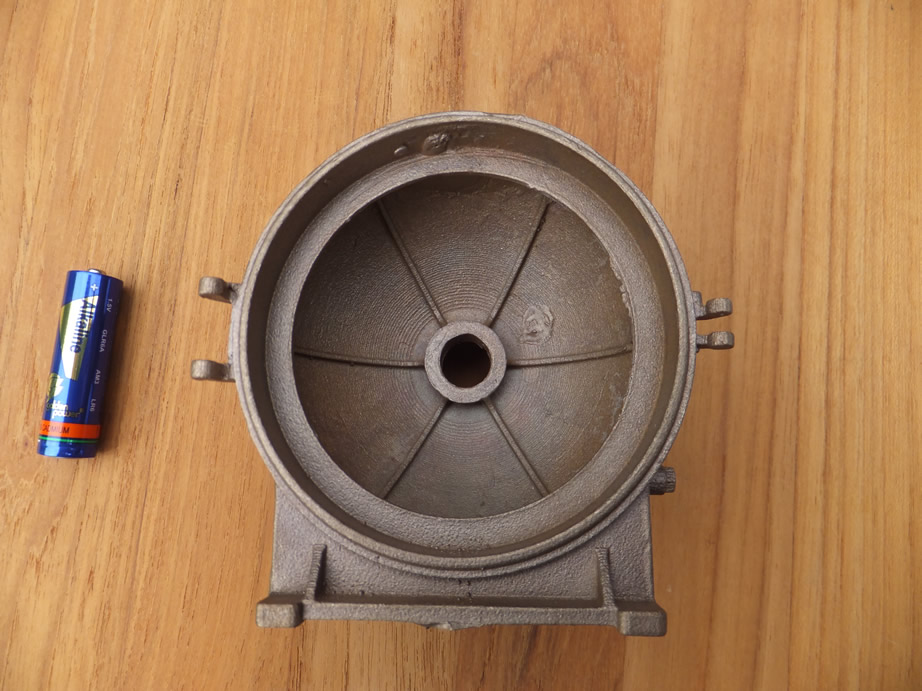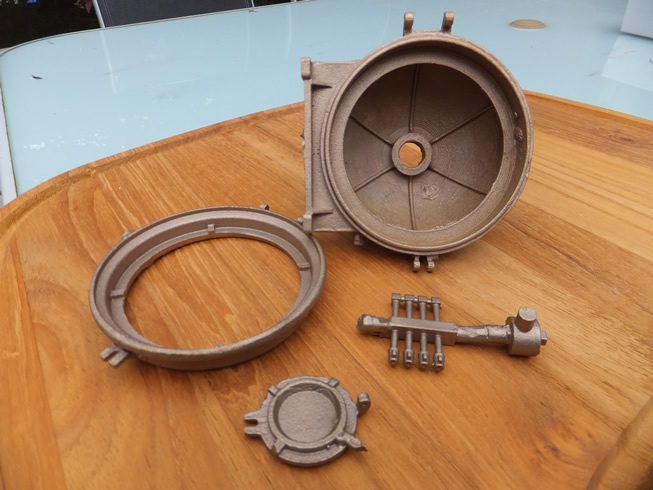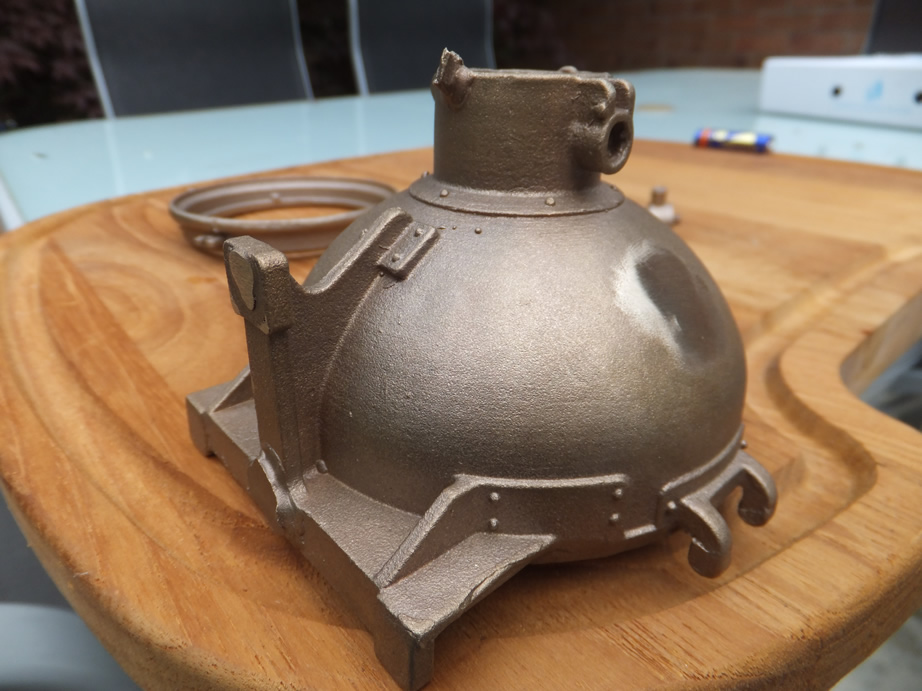 All above are in 2" scale I may produce a 1.5" scale version for the 5" gauge guys let me know if your interested.
December 13
As the internet is a wonderful place though a variety of miss chances I came across a guy who's Solidworks skill not only eclipses mine but probably shunts it into the siding of no idea. Yet another Australian the other good news was at the time he was out of work so had plenty of free time to work on some outstanding projects I need to get done.
Following the building of the boiler the only expensive item I have left to do is the trailing truck This was the first part of the locomotive I drew in 2000 and it has been through dozens of redraws due to its complexity and probable cost. By 2013 I just could not face another bout of redrawing and re design so I decided to pass the poison pill over to my new best chum Philip Monsbrough. In about a day Phil had the basic shape nailed and eventually did a full work up of the truck and brake rigging what a fantastic job he did, words cannot explain what a weight it took of my shoulders.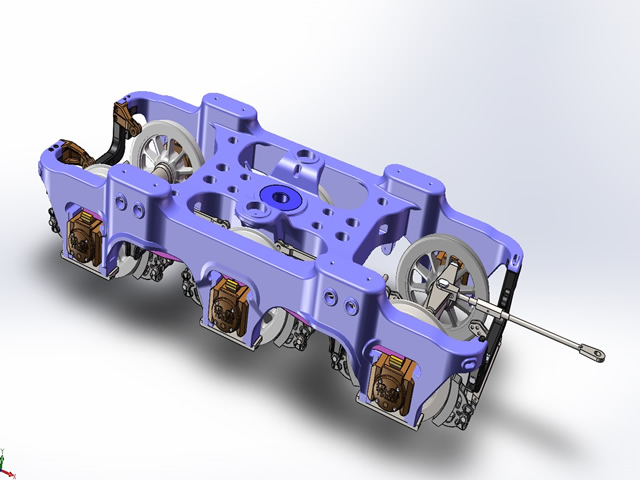 So not being shy and well aware that when your on a good thing keep milking it I also got him stuck into some other parts I needed developing. The Stones Generator and Stones Tonus headlight. As of now the truck is off for costing to make a pattern from and the headlight is currently being Rp'd for casting. I am going to make a few spare as the Tonus wa used extensively in the parts of the globe that used to be colored pink so might have a life outside the 25NC. I may also develop an 1.5 " scale version for the narrow gauge gus working in 5" gauge.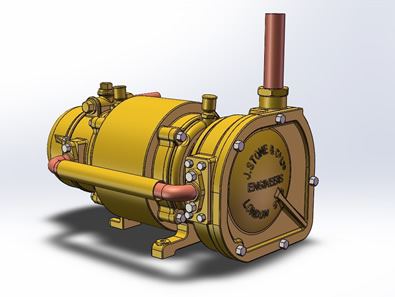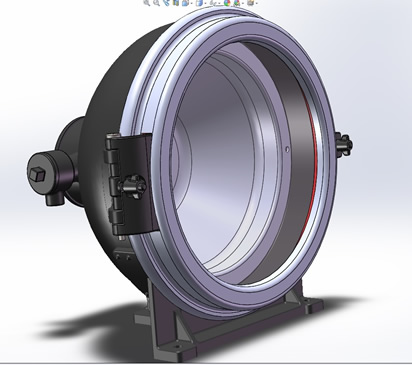 April 2012
The boiler has been commissioned with an expected delivery time of 12 months. The boiler was designed by Andrew Matthews in Australia. Andrew is also intending to build a 25NC and we have been working together on some of the design work for the locomotive. It's a standard fire tube boiler not a BRIGGS type made in steel. A. J. B. Boilers are constructing it. The long delivery being due to the amount of work Tony has on the go at the moment, all traction engine or locomotive boilers in various scales.
Andrew has designed a substantial number of boilers for model engineers and if you are looking for a boiler design he is able to provide a bespoke design service for you. Please email Andrew here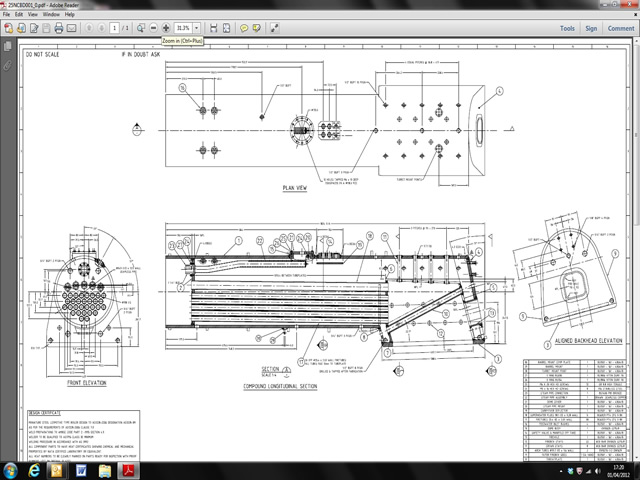 The boiler is 13.5" (343mm) dia X 71" (1824mm) overall length, it should be an interesting lift when it gets here.
February 2011
One of the issues I had with the cylinder blocks was core sand still in the steam passageways. No amount of prodding was getting it out so chemical cleaning or baking was the only solution. In late 2009 I gave the three blocks to a casting guy I was using, to get the blocks cleaned out. Long story short he went bust, went to ground and it took me a year to catch up with him and doorstep him for my blocks. Eventually I was told where the blocks may be and sped of too see if they still existed. Luckily Lestercast had not thrown them out and I now have two of the blocks back. Of the third to date there is no trace I have been told it was sold to someone in the trade so if your offered one buyer beware.
January 09
Well after nearly a two year wait I finally received the first pour from the cylinder block pattern. As you would expect after this length of time its no surprise their have been some challenges. However the casting looks fine although I have a fair bit of sand still to extricate from some hard to get at nooks and crannies. The pour also included the cylinder covers front steam chest cover and pistons. The rear steam chest cover was cast last year and is shown further down this page.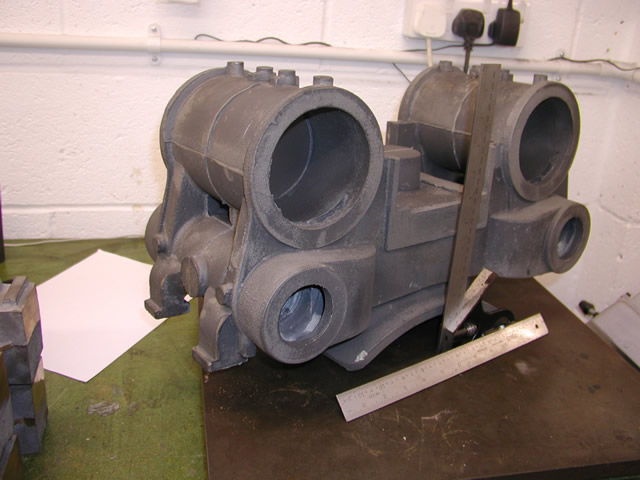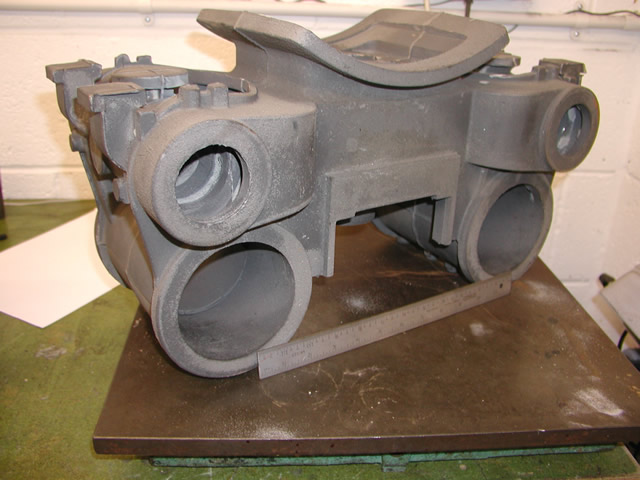 All steam inlet and exhaust passageways have been cored in which should mean that the amount of machining should be reduced. Its a bit daunting seeing something I drew probably four years ago finally in the flesh. All I can say is I thought the springs on the front truck were a bit heavy ... not any more.
December 08
The rapid prototype cast form wax's for the boiler supports arrived from America this week. Hopefully I will get them cast in the new year
January 2008.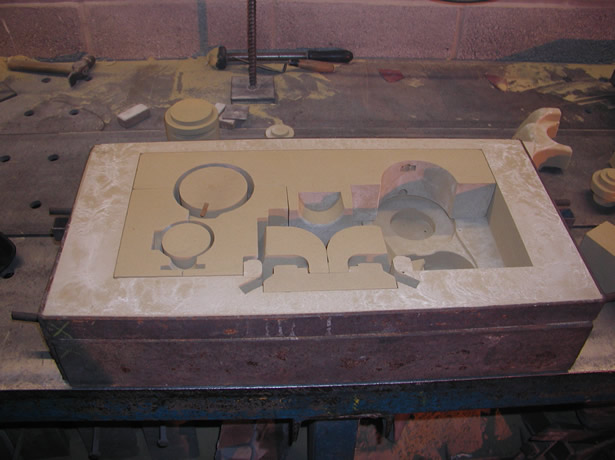 This month the good news is that things are starting to move on the cylinder block front. The patterns have been with the foundry since April 2007. Not a problem though, as its hardly something i need at the moment, but regular casting keeps the cost down so i like to do at least one major pour every year.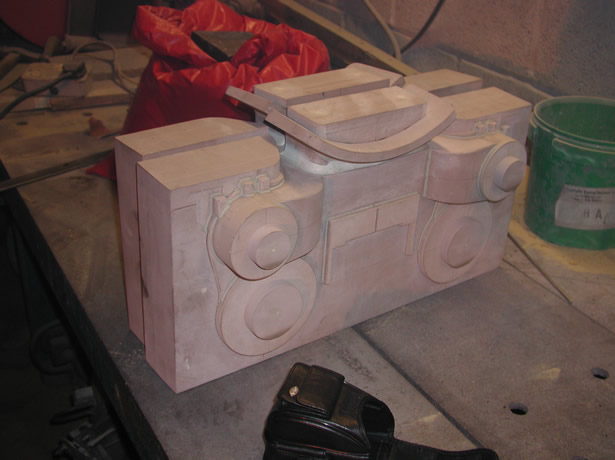 This tends to coincide with the latest pattern i have commissioned, in 2007 that was the cylinder block. This year its the tender truck but that's for another time. On this visit i also picked up 4 lost wax cast iron castings of the cross head guide cover.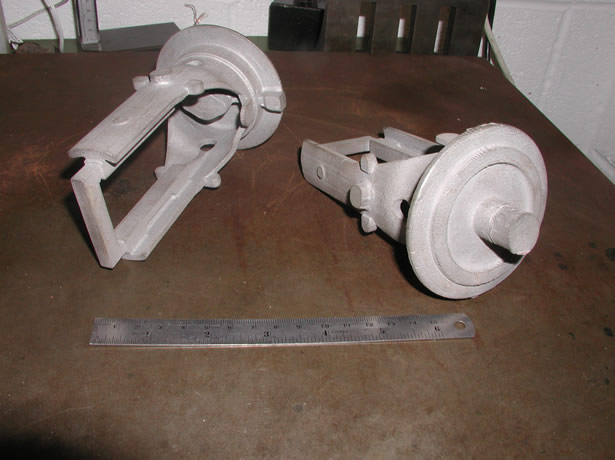 I had these castings done using thermojet printing which is described in the frame bracket section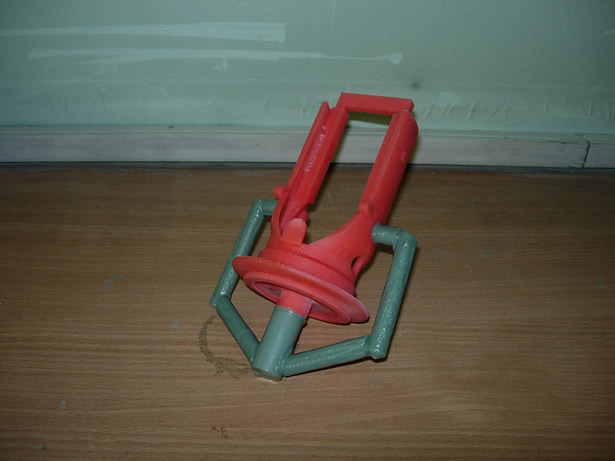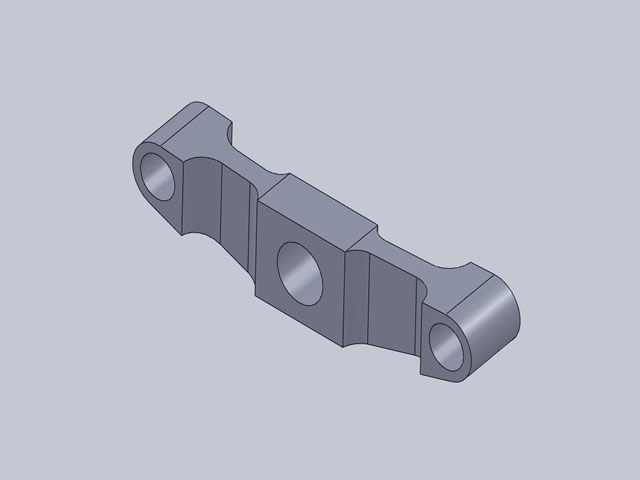 Since the site went down there have been a number of parts cast for the boiler so as a bit of a catch up here are some of them.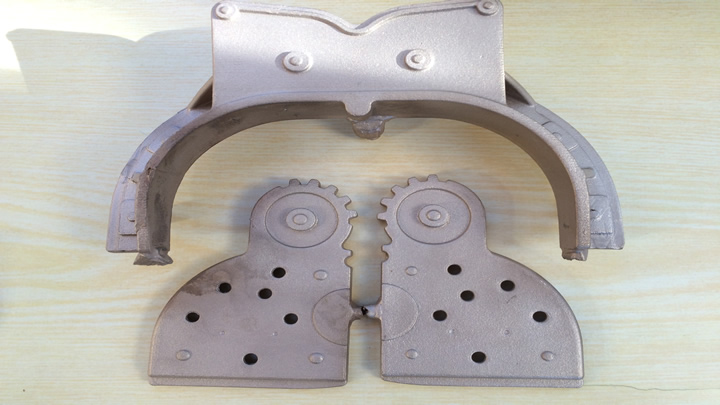 This is the Berkly fire door now cast and ready to machine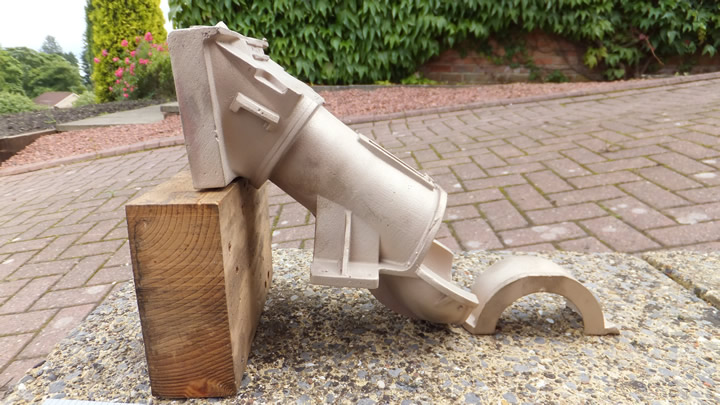 As the fire door only covers part of the fire hole. I had two choices make the fire door a non scale size or fill the hole in. Well the hole is covered by the stoker delivery tube so i had one cast. Its a dummy no I wont be making a working stoker but it will look good when mounted.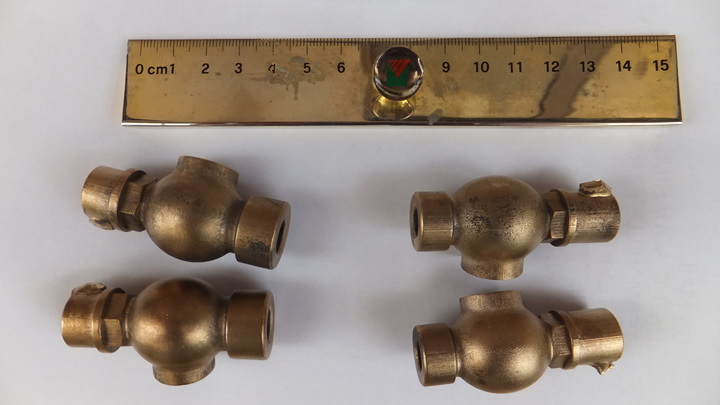 These are part of an order for globe valves for the turret, currently being machined.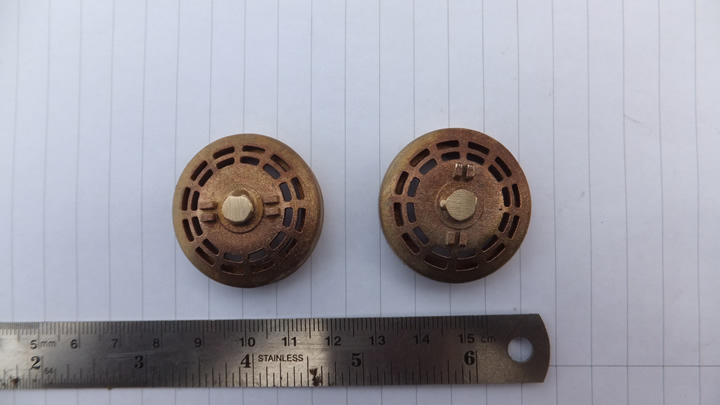 For some reason the 25NC had two Ross and two Hendry safety valves, I am told by ex SA drivers they never heard or saw the Hendrys blow off. The design can be made from stock material but the bonnets were printed direct to wax and cast in bronze.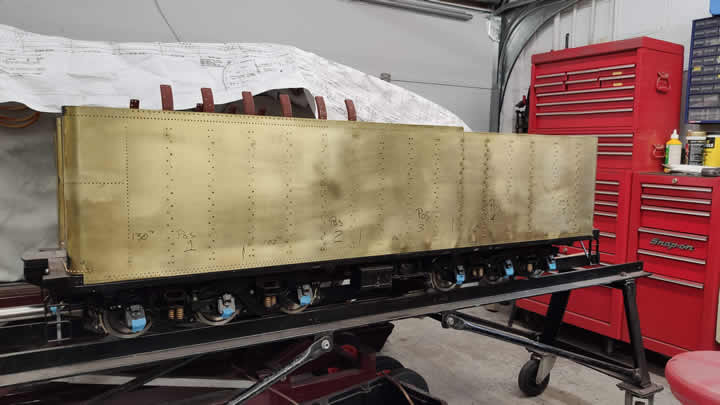 Test fitting tender tank to tender bed