Train Mountain 2009
My fourth visit to Train Mountain, but with a couple of unknowns thrown into the mix. This would be the first since the death of founder Quentin Breen and also was right in the middle of the world financial melt down. I had already seen on the web boards that many owners were not traveling due to "high" fuel costs.So it was going to be interesting to see who turned up and how many.
The main entrance
Generally I need not have worried as there were plenty of locomotives and rolling stock to look at and ride on. In fact because the overall count was down the steamers were more prolific, or at least seemed so. Perhaps not outnumbered to such a great extent by the diesel outlines, So the next few snaps just show a flavor of what was on offer. Reading through some of the web information I see there were 310 locomotives visiting over the week.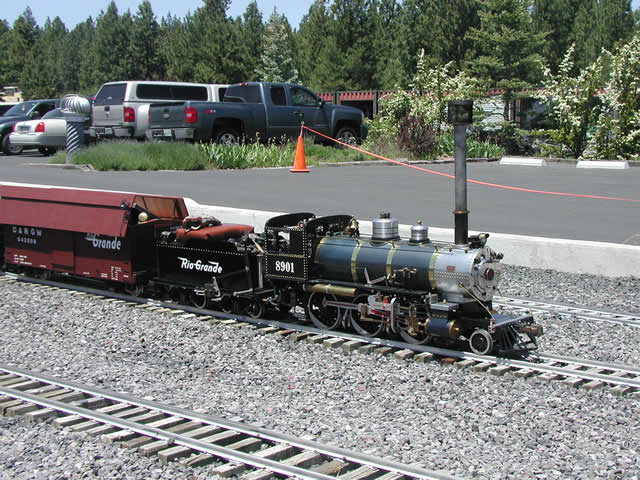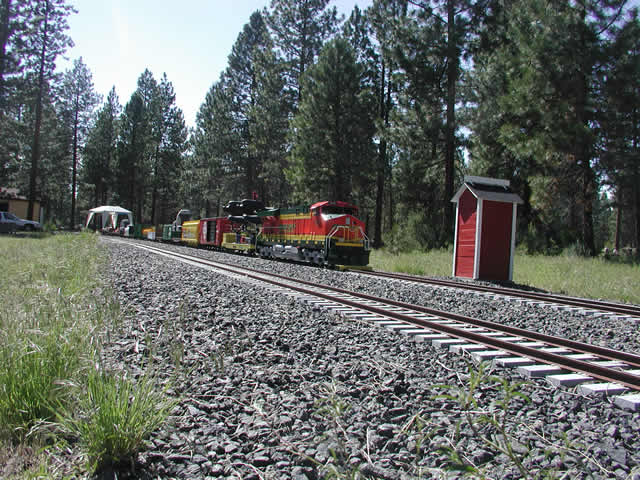 Always plenty of diesels on show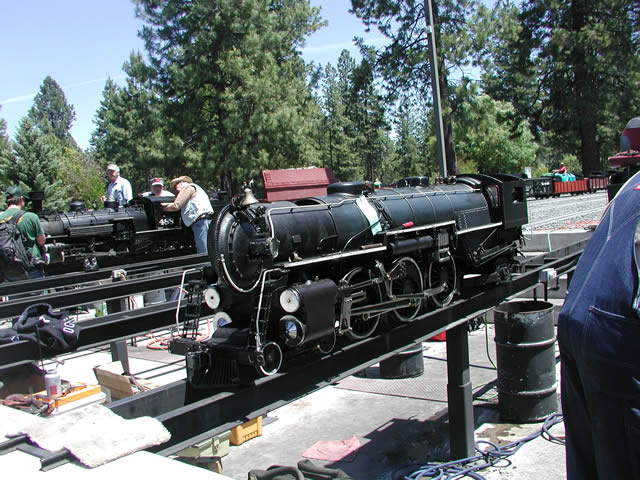 1280 with super heater trouble is from The St Croix club and the loco is owned by Dan Bassonnette and his daughter Dannielle.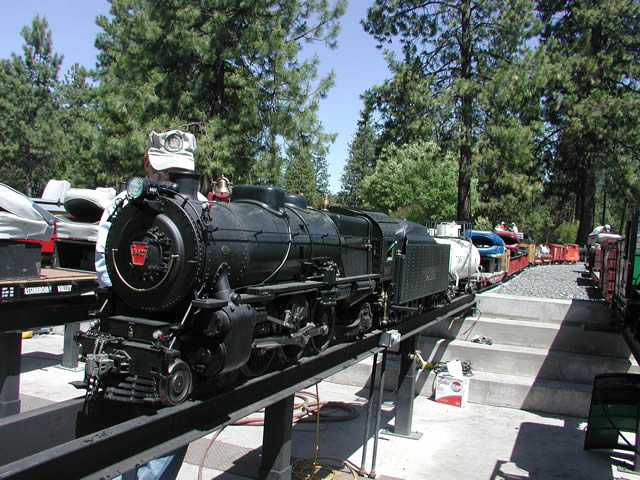 K4 pacific owned by the Assiniboine Valley Railway and completed by Vic St-Germaine, VP of AVR.

One of the biggest locomotives at the meet this Northern Pacific 2-8-8-4 a real beut that unfortunately never ran before 5 at night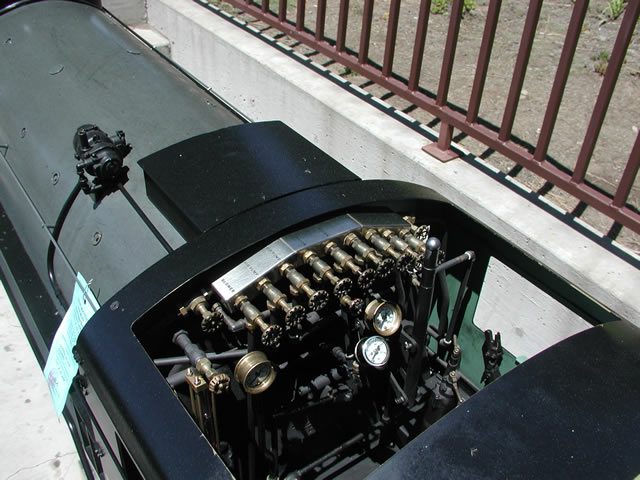 Back head detail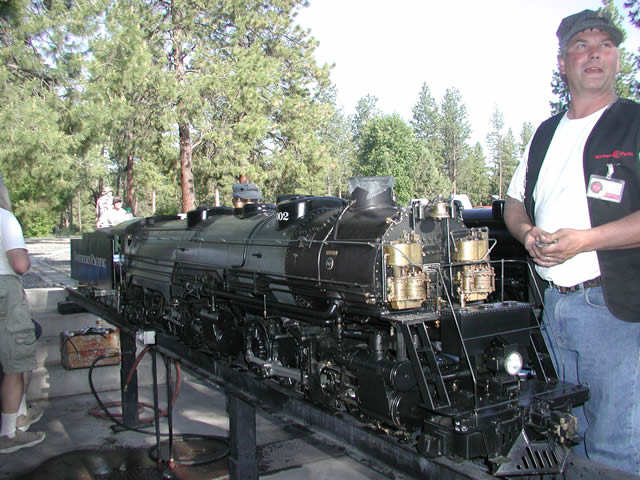 Getting steam up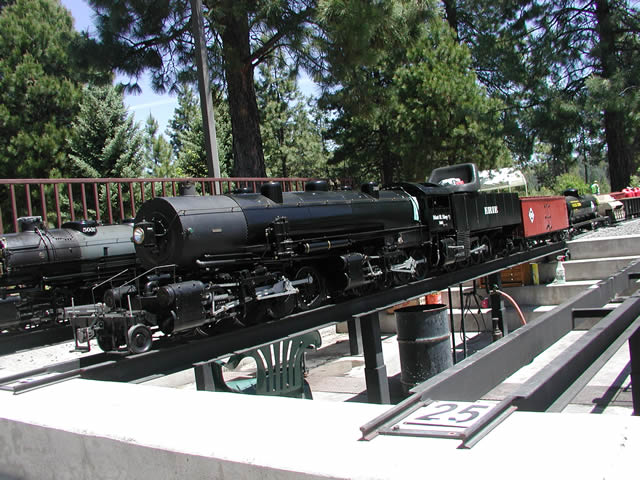 Partnering the NP was this Erie triplex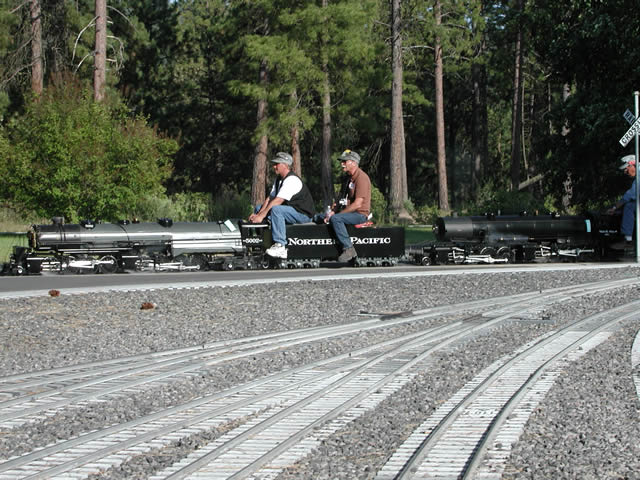 Not leaving too early this day I managed to snap the pair moving out
As a visitor it's often quite hard to get a ride, you would think not, but unfortunately people bring enough cars either to accommodate the people with them or just don't fill up what they have. Of course it could just be my British reserve and not pushing too hard, but sometimes it's quite surprising the excuses you get for not getting one of the 20 spare seats they are riding out with. Never mind enough winging I was lucky enough to get some great trips with the people from the Assinibone Valley Railway. Who had a number of locomotives including this beautiful CP pacific #2365 that was propane fired and when the fire risk escalated were still able to travel to end of track .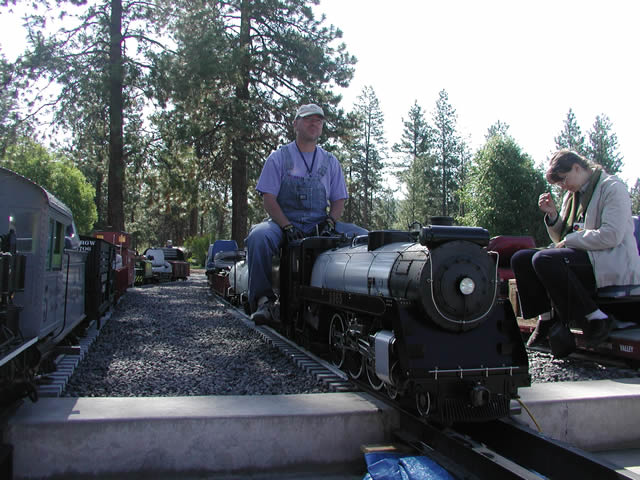 Rob Gearns about to take me out on a steady run to the end of track.On the right is Becky Mendelsohn, all part of the 23 strong Assiniboine Valley Railway team that turned up at TM with with 3 steamers and a box cab to add to the fun.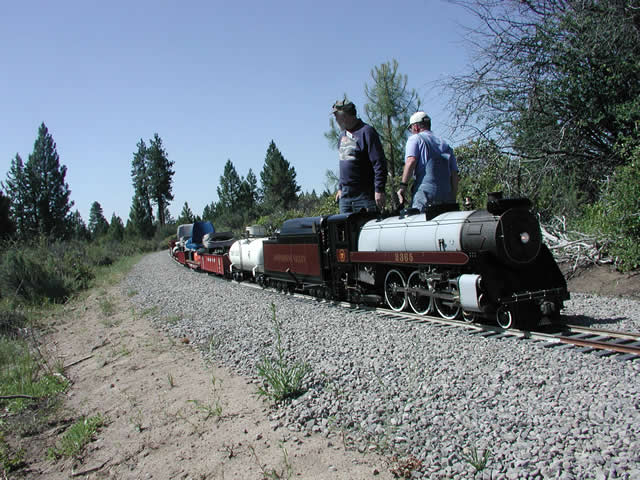 Bill Taylor on the left president of Assiniboine Valley Railway and Owner of AVR Pacific #2365 with Rob accessing the situation prior to backing up on the Y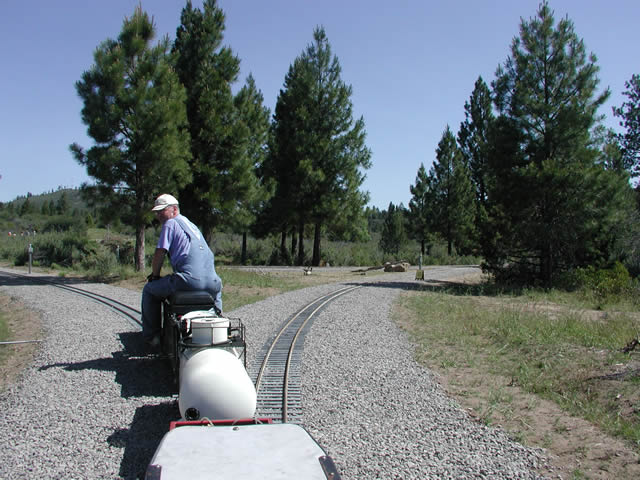 Rob Backing up on the Y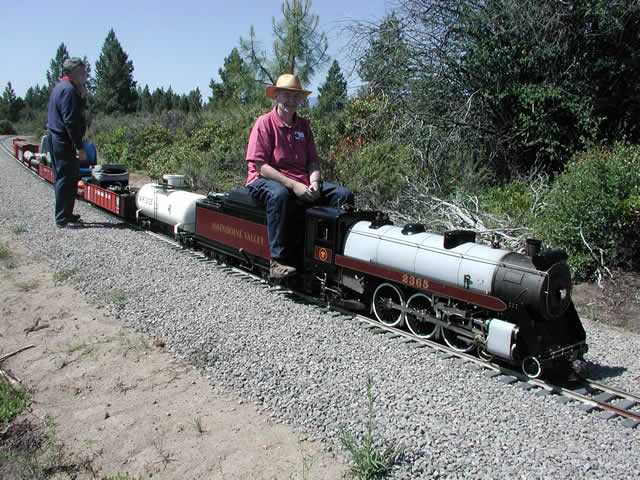 So this is what its like?
I spent the best part of a day with these guys and it was just a great day riding out my thanks Rob and Bill. Bill and I have a bit of history as I managed to go A over T from one of his riding cars at TM2000. Luckily being both subjects of the crown the claims culture just passed us by.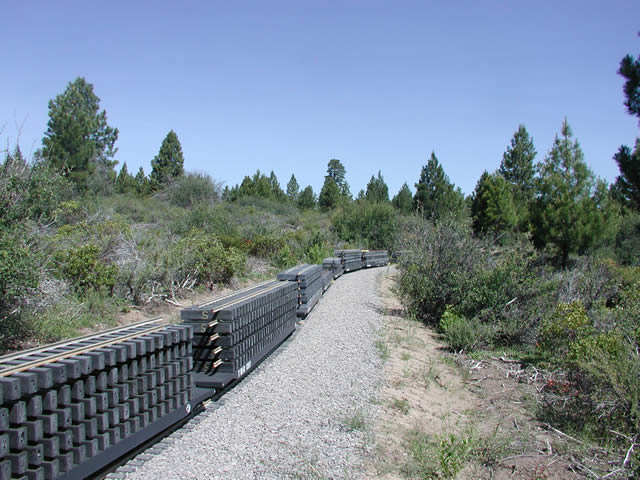 Loads of track panels for the future extensions
The major change since 2006 is the advent of the Friends of Train Mountain. Who seem to have taken over all track extensions. The have also replaced or upgraded a fair amount of the existing track. One can only commend their work however if I had a friend who spent as much effort publicising what he was doing for me it might have strained the relationship. Or in other words did we really need so many signs telling me what they doing for TM. Still should not grumble FOTM have a web site here.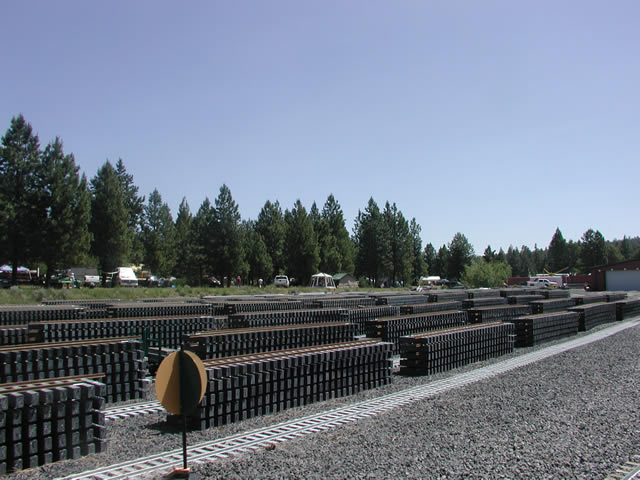 The track panel stock waiting for FOTM to start laying..
The other main rides I managed to blag was with Dean Willoughby owner of UP 4-8-4 #828 and Randy Chase engineer for the most part on 828. these guys just love to ride and were making smoke all day every day. Both guys enjoy working the locomotive and so most shots in the next section were taken 20 cars length back or so.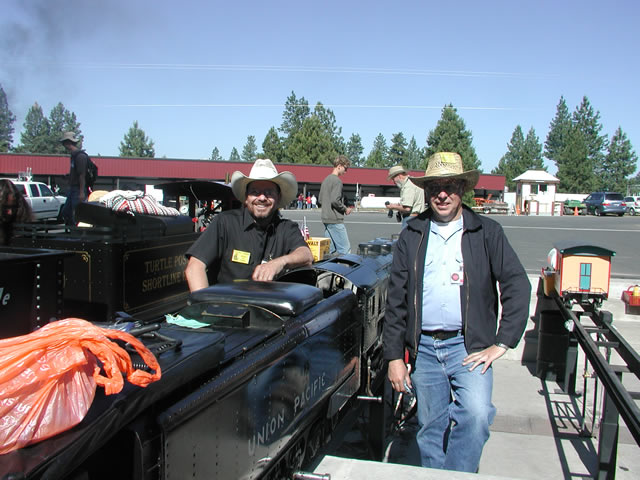 Dean on the camera right and Randy on camera left
Interestingly on the above picture the more observant will notice the Sainsbury's bag made it too Train Mountain as well. My thanks must go out to these guys who gave me two days of superb enjoyment. You just cannot beat riding behind steam and with these guys they know how to drive it hard as well.
So just a few snaps from the rides I took. First day we explored the whole track but after that the fire risk precluded driving under the road so we spent a lot of time round Klamath and western.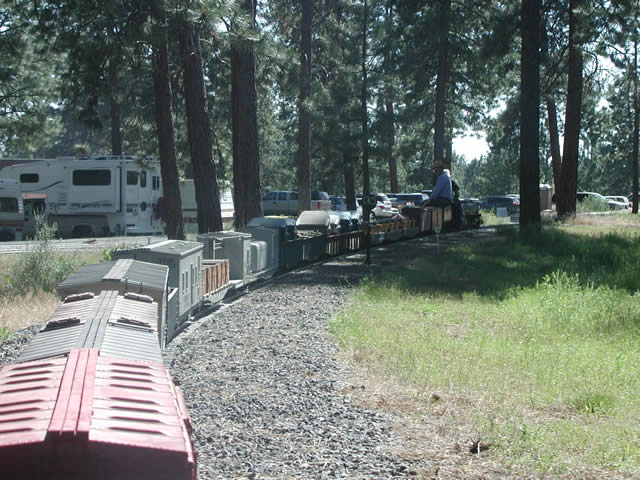 Two shots heading round the serpentine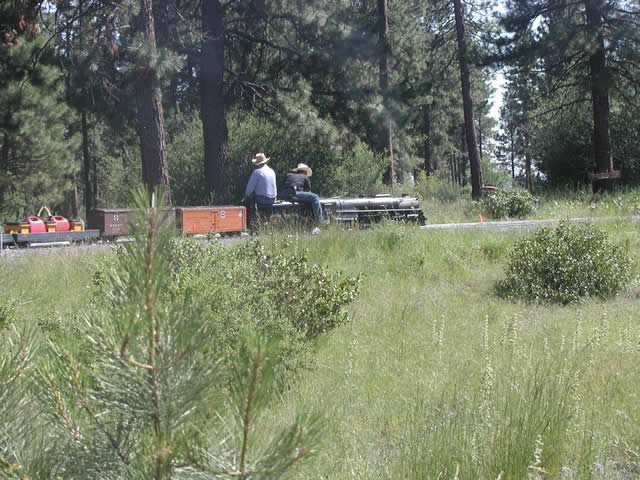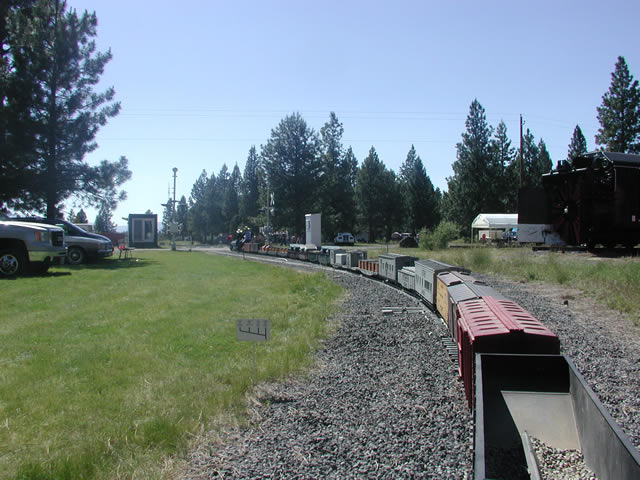 Crossing the road just inside the entrance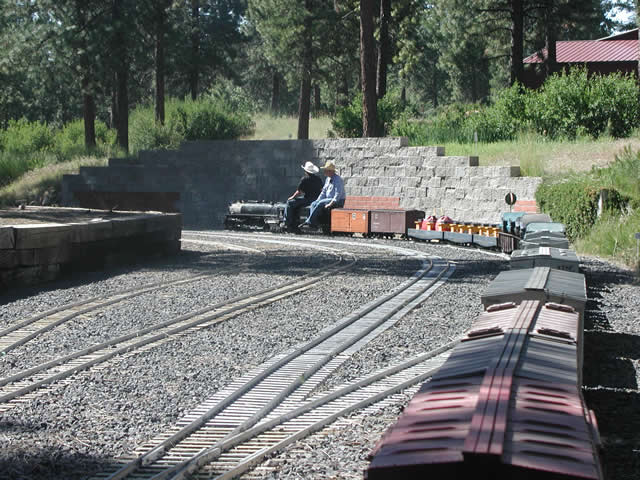 Circling round the serpentine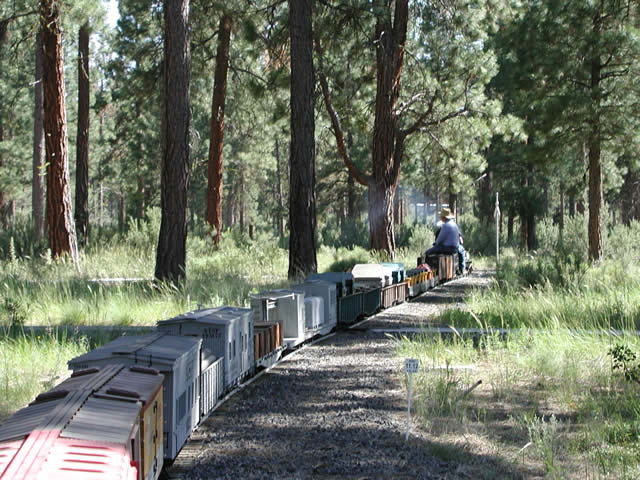 Out in the woods
Two shots pulling hard out of Klamath yard Randy heavy on the burner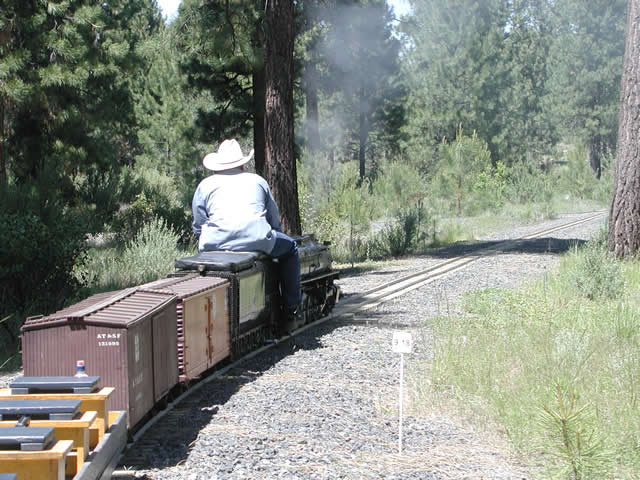 As you can see Randy and Dean work he locomotive and sitting in the back listening to the stack talk on the grades was a real pleasure. On a couple of occasions I rode with two Australians Lloyd and Paul Dannenberg who also commented on what a great sound the big 4-8-4 made. Lloyd showed me some photographs of a 7.25 Berkshire he has been building for 20 years with no castings, what a locomotive that's going to turn out to be.
Finally a couple of shots of what Jim Kreider told me was a model of the first Berkshire ever built in full size.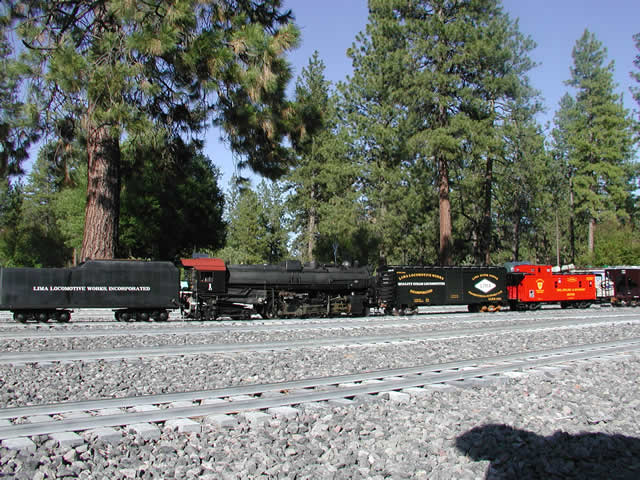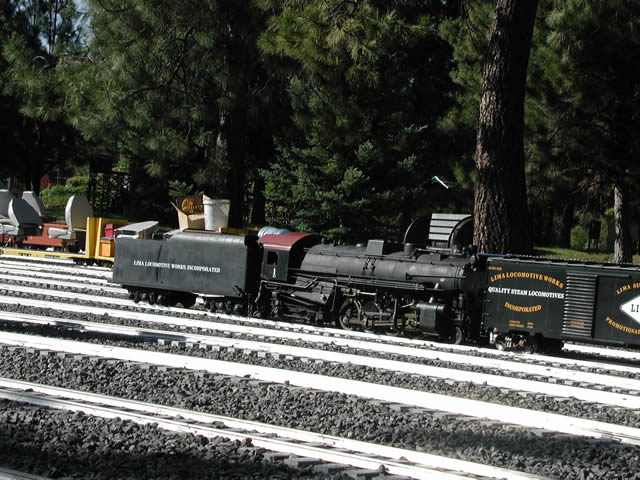 Lastly if your going to be selling CNC built Canadian Pacific Mountains and Selkirk's you probably need a fancy ride and Newwest seem to have it.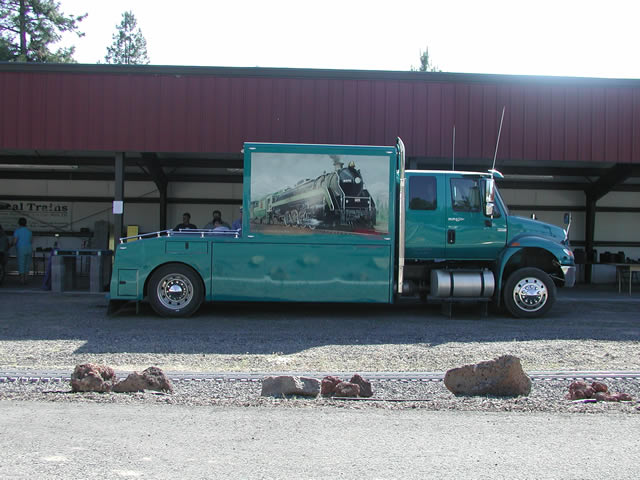 So that's it for another 3 years I had a great week met lots of fine folk and had plenty of good crack. Second week I ended up in A&E in Stockton but that's a whole other story.