Train Mountain 2012
This would be my first trip outside the UK since my 2011 health problems so as the time got nearer for the departure I got colder and colder feet. Re-evaluating if it had been such a good idea to book up for a 10 hour plane trip.
Well as it turned out BA looked after me fine and I arrived bright eyed and bushy tailed in SFO on the Saturday afternoon. This trip was planned to be different as I was not going to follow any of the rambles either side of the TM week but was going to head over into Colorado.To take a ride on the Cumbres and Toltec and Duarango and Silverton narrow gauge lines. This involved a 1200 mile drive to get to Durango from TM and so the plan was to do a bit of siteseeing on the way to break things up a bit. Pretty wimpish I know if your an American who would probably think nothing of driving most of that in day but its a long trip for us geographically challenged islanders. I also decided to fly back from Denver as driving back to SFO was a trip too far and petrol prices are not what they used to be stateside.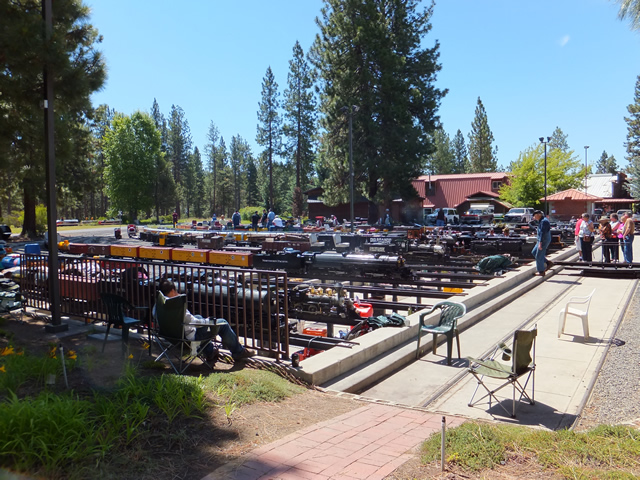 This would be the first meet since the death of Quinten Breen and it also coincided with the ongoing IRS and other litigation issues around the site. It would also be the first all volunteer organized week so there were a few interesting issues in the mix, like would anyone turn up? Prior to the meeting there had been a number of issues relating to registration fees unloading fees etc that would probably not have happened if one man with deep pockets had still been bankrolling the exercise but thankfully all were resolved. After registering in February a regular bulletin was emailed out to prospective visitors detailing the current progress and state of play regarding visitor numbers and the all important equipment tally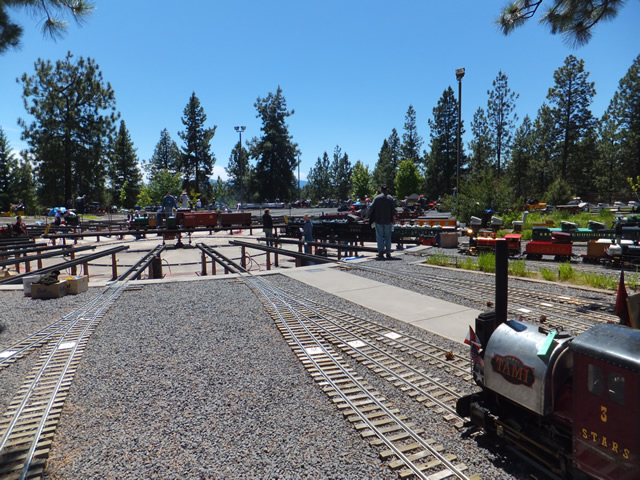 So what were my impressions well for a start it was bloody cold for the first few days temperatures in the 50F range not the 90F+ I had become used to over the last four visits. Train numbers seemed to be on a par with previous Triennials, I thought though there seemed to be more steamers than usual although that might be wrong. On the subject of steamers all the extention to track is taking place over the road and only propane fueled steamers are allowed over there which would seem to be a little pointless. Especially as I was told by a number of drivers that they helped to lay track at various work weeks but were not allowed to drive it. I thought this would be due to fire risk but apparently it is more political than that and salvation would seem to lie in getting track over the road via the incomplete bridge in lue of an agreed solution on the existing track rights.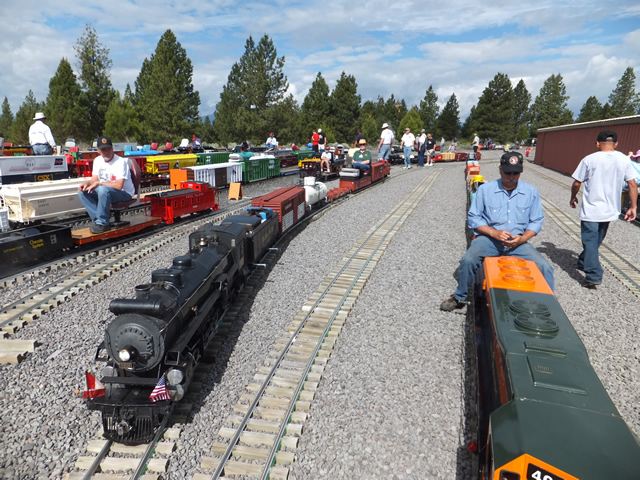 So onto a few more snaps of 2012 I tried not to duplicate anything I had shot before which is not that simple. One other thing that is also not a bother on UK tracks is if you see something and miss it you may never see it again as the track is so large. A train can disappear over the horizon and you may never see it back that day.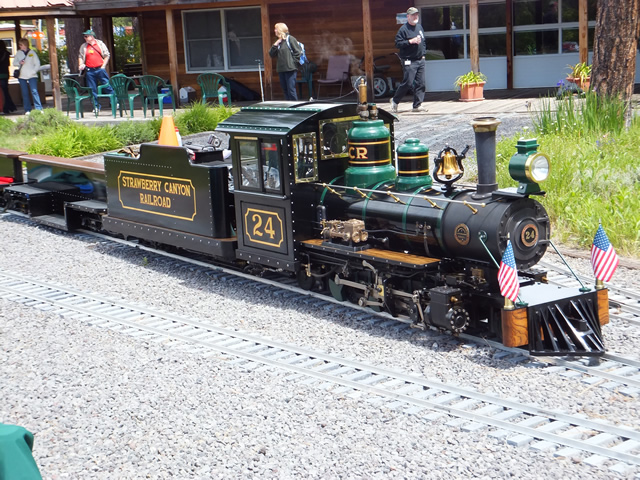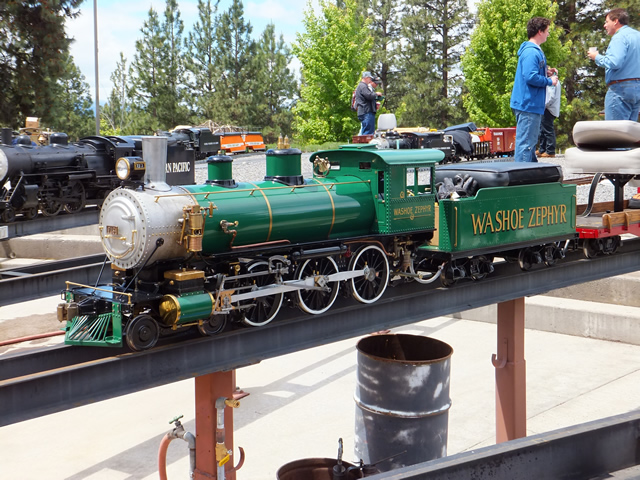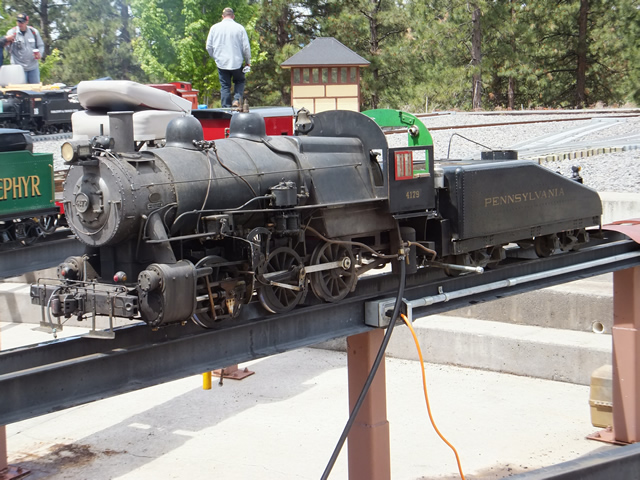 Not everything looks like its just out of the box. This switcher looks like it has had a hard life in the yards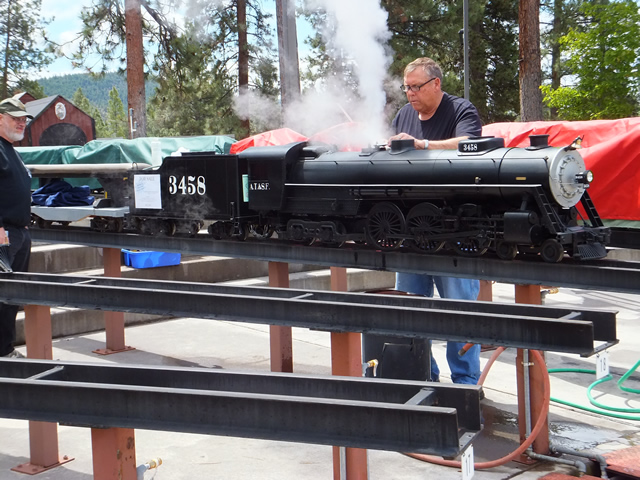 This Hudson (4-6-4) has been rebuilt recently and is currently for sale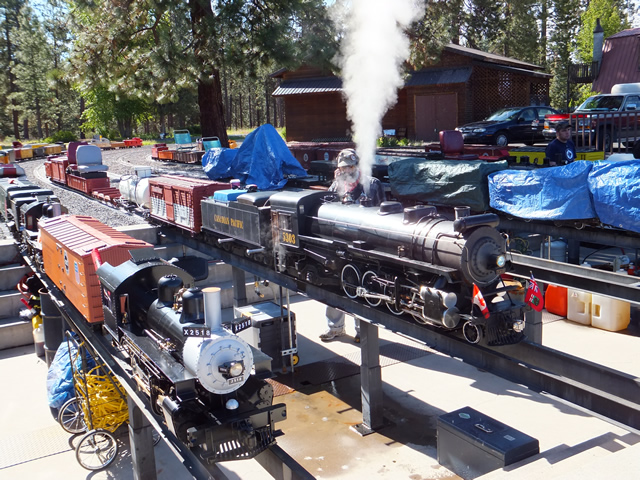 Len getting steam up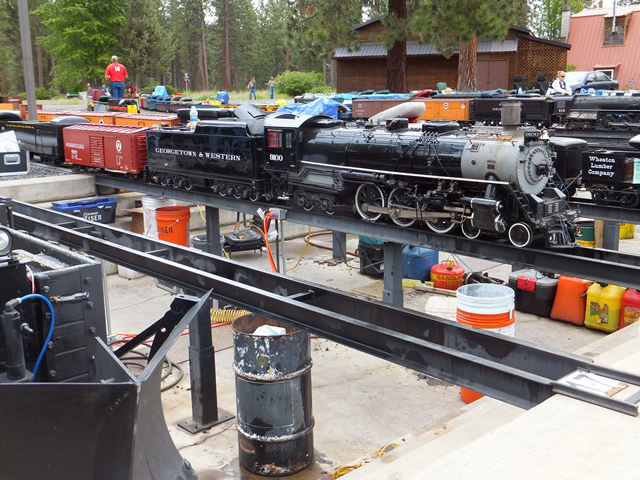 A very nice Hudson with matching rake of varnish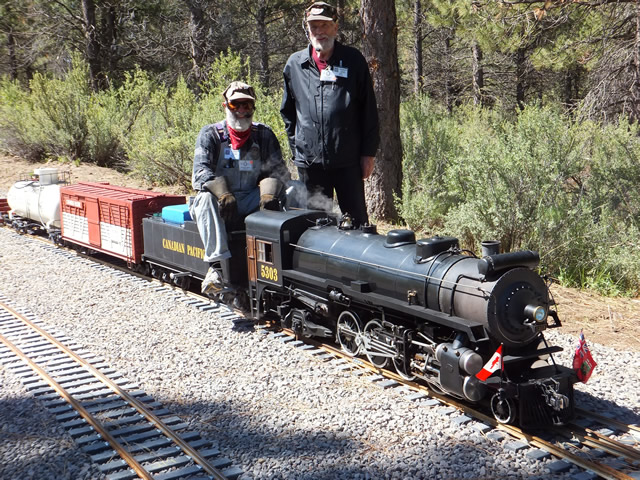 Len and bill
I spent a fair bit of time with Bill Taylor ann Len LaRue over the week and as usual had a splendid time. If you compare Bill's photograph to 2009 you can see how ill he has been. Thankfully he is on the road to a full recovery and like me would probably prefer to forget about 2011.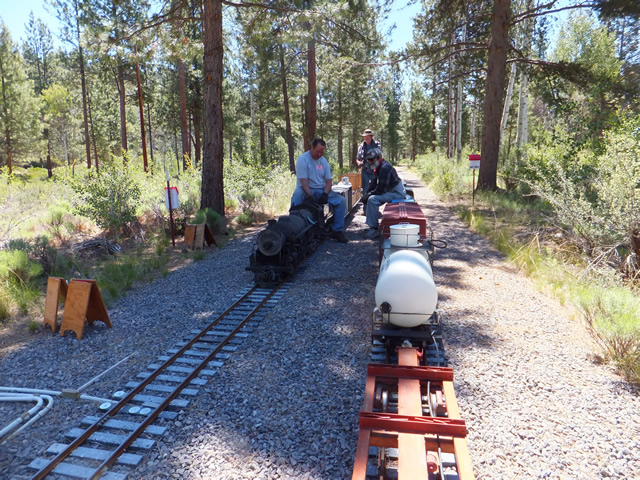 A meet way out on the new track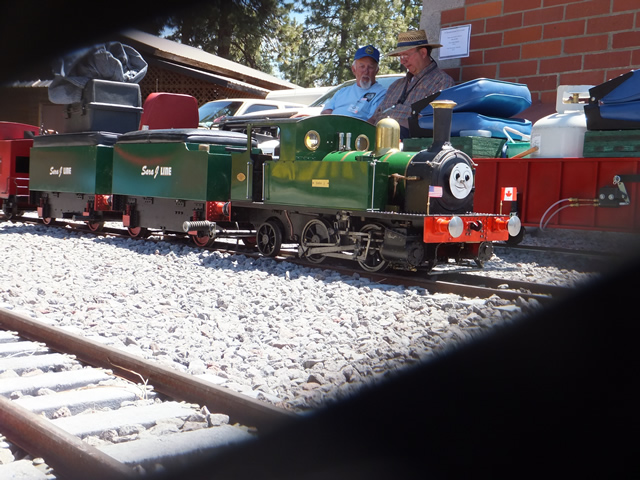 Not everything was to the US loading gauge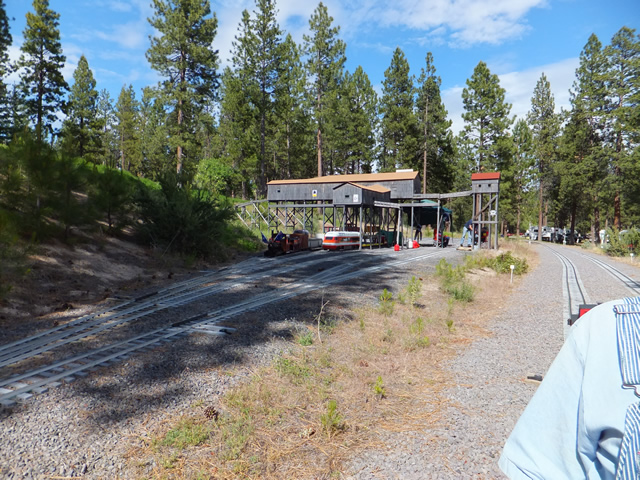 The sidings where the Australians and there imported equipment hung out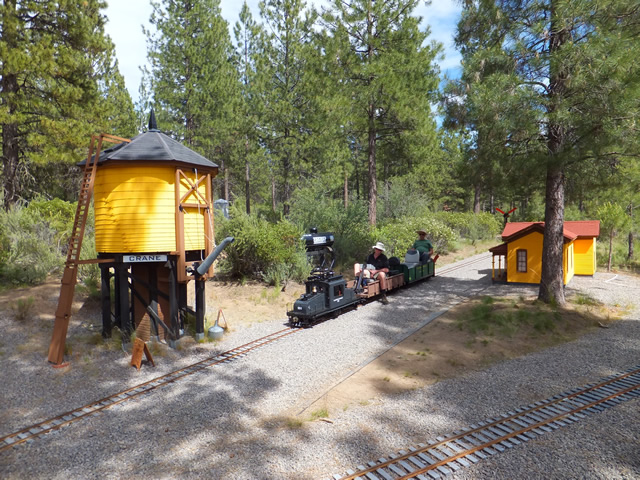 Out with Chris Hollands on the new track
On the subject of new track there was probably five more miles of track than there was in 2009. When I first visited TM in 2000 it was the biggest track in the world then. Now it is probably twice as big. You have to wonder what the motivation is for more and more track especially with the steamer restrictions in place. I am guessing like the rock climbers the answer is because its there, Chris Hollands made a very good point when he said you could drive for hours and never see another train. If your used to the interaction of smaller tracks and higher density's of locomotives it can be a bit lonely out there.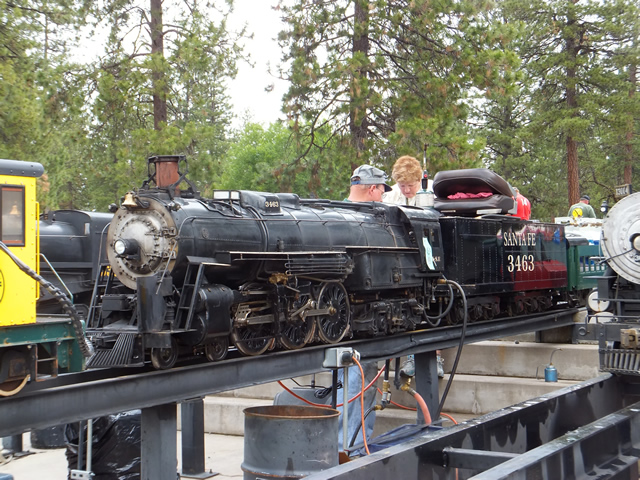 A hard working Santa Fe Hudson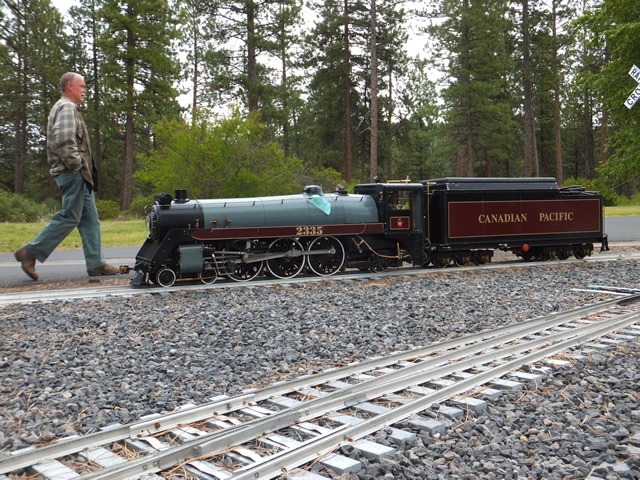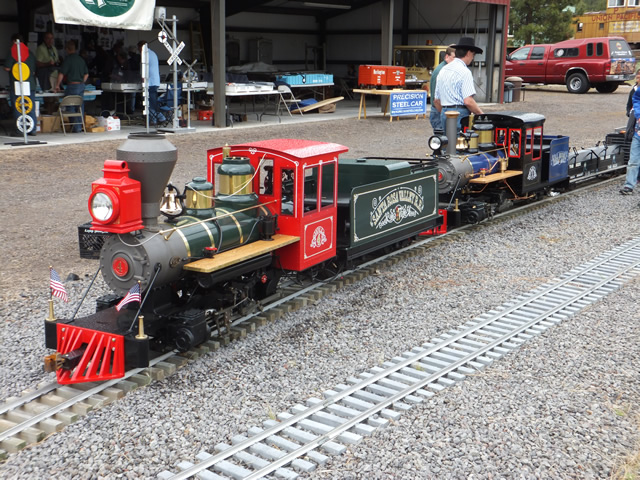 Roll Models product in the Vendor Barn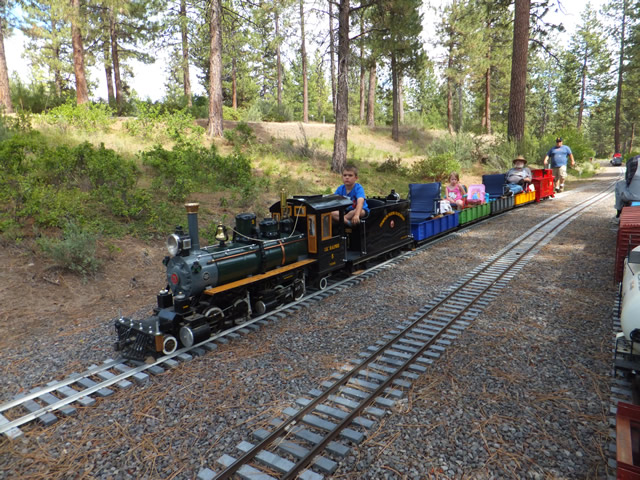 A case in point a locomotive I only passed the once and never saw again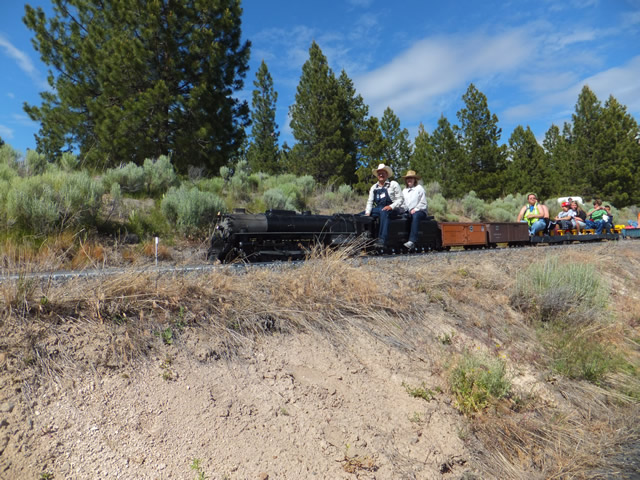 Good friend from 2009 Randy Chase pilots the Northern out of the yard, unfortunately due to it being diesel fired his track rights were severely restricted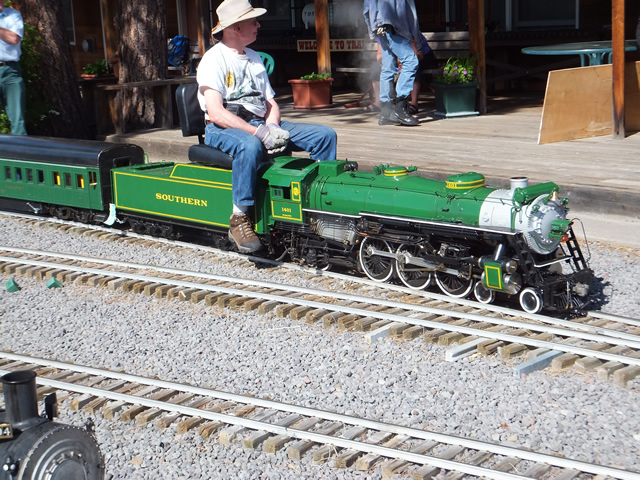 Another engine that I seemed to keep missing this SP Pacific is a work of art taking the owner over 20 years to complete.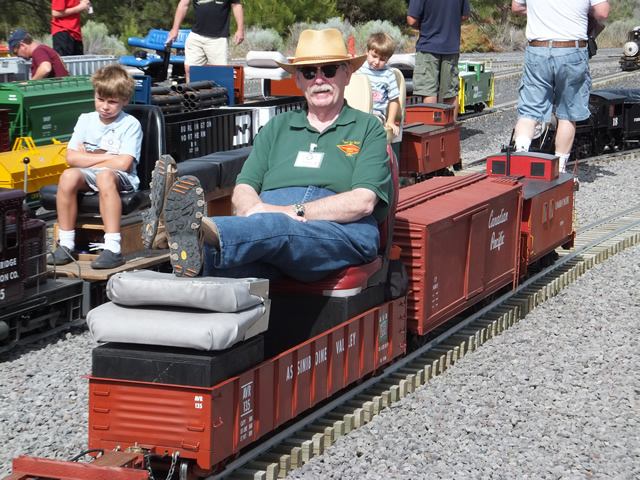 Waiting for the big toot on saturday acting as Len's brakeman for the trip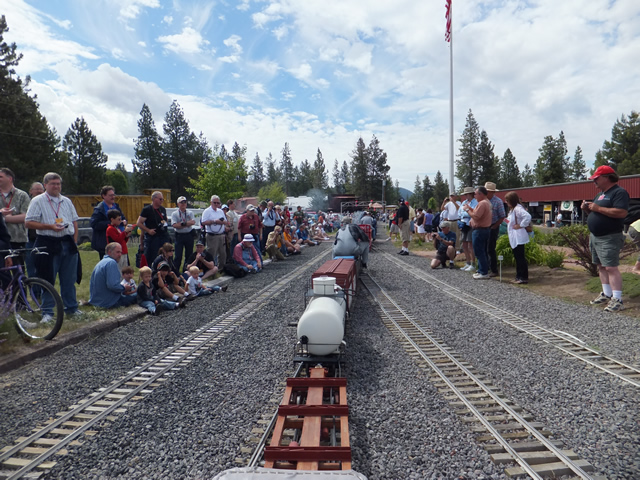 Just prior to the big parade on Saturday 5 coaches of N gauge enthusiasts arrived for the day so riding out of the yard was somewhat akin to a state visit.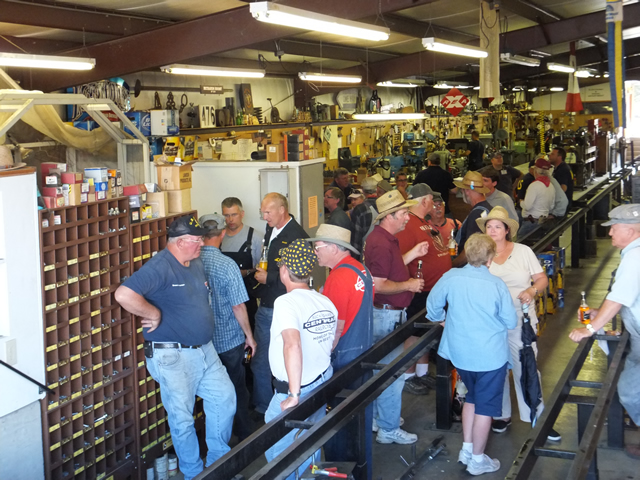 An interesting improvement this year was the beer at a $ a bottle in the backshops. This generally had a high proportion of the Australian contingent in attendance on any given day.
This year was one where I enjoyed meeting up with people from prior meetings Lloyd Dannenberg, Jim Kreider The guys from the Chaski board who met up on Thursday. New this year was Atlantic442 Hans and I hope you get some use from the drawings along with Chris Hollands who's workmanship on the Challenger is outstanding. I also met Ian Welch of MainlineSteam in New Zealand who has saved two 25NC's and offered me look at them any time although that might take a few air miles to get there.
So That ended my 2012 Train Mountain visit and late morning after the parade I took off East The route took me through Salt lake City and onwards via Utah to Durango which I would make my base for the two narrow gauge trips. The Cumbres and Toltec is about 100 miles from Durango so was an easy 1.5hr-ish drive.
On the way I passed Bonneville salt flats so took a short detour to see the raceway. So much history on a bed of salt.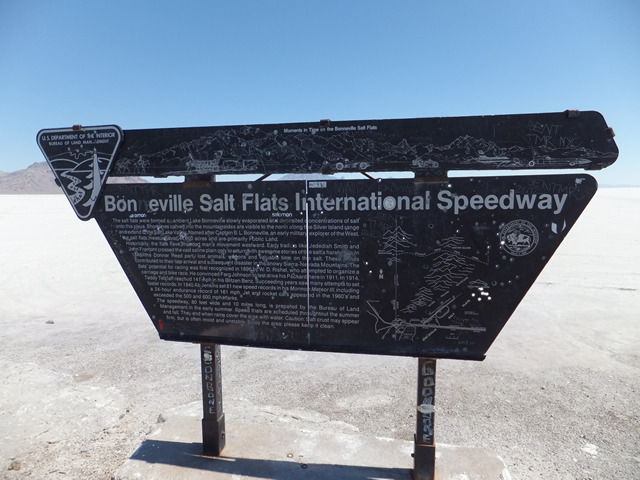 The end of the paved road and the entrance onto the flats for the speedway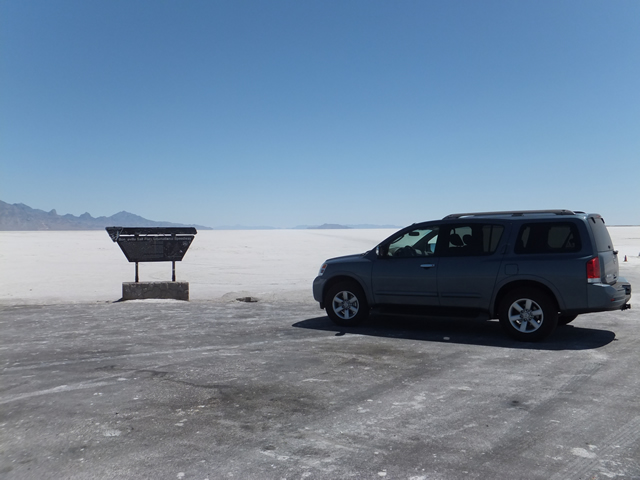 Just at the bottom of the windshield you can see a dark area in the sand which is the route out on the salt. Dire warnings of immediate salt corrosion and penalties from the car hire company kept me from exploring.
Next on the agenda was the two narrow gauge lines of the Cumbres and Toltec and Durango and Silverton. So get ready for loads of out of the window going round curve shots. Which due to the track condition was not as easy as it might seem and needed an industrial strength image stabiliser which my pocket camera is sadly short of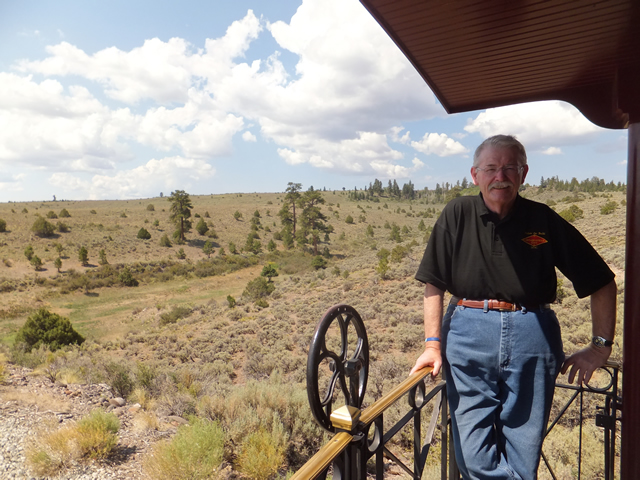 .
Taking in the breeze on the parlor car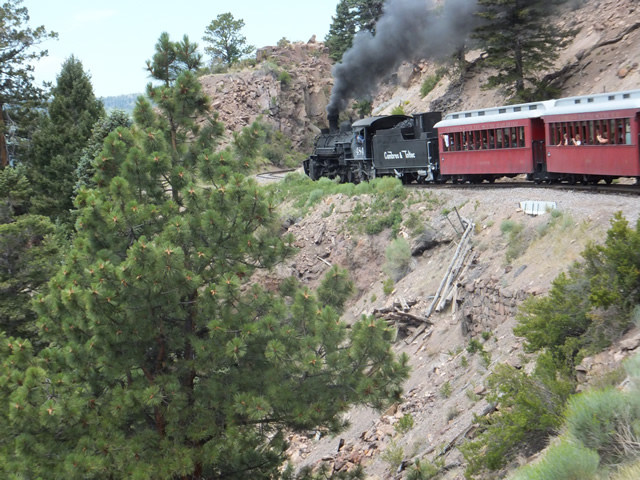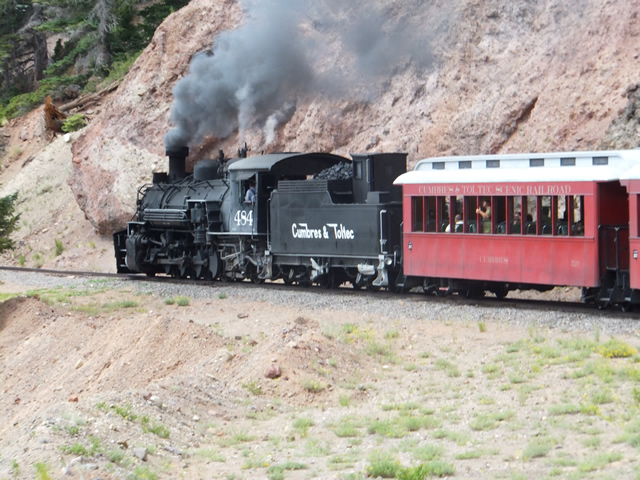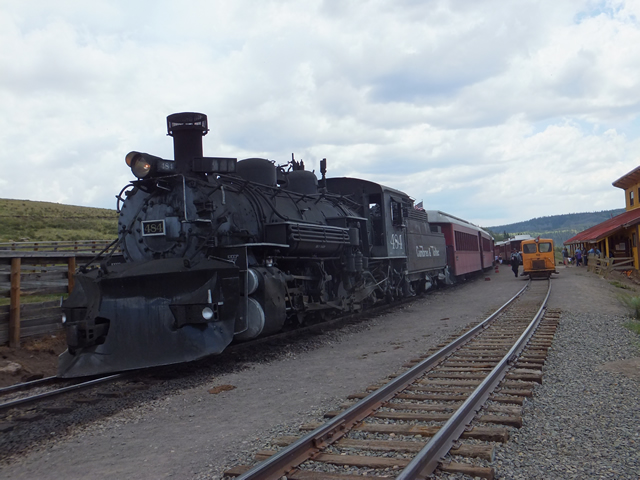 The lunch stop where the tow trains meet and everyone is fed and watered in 40 minutes. The turkey was great and as usual with US portions not short of calories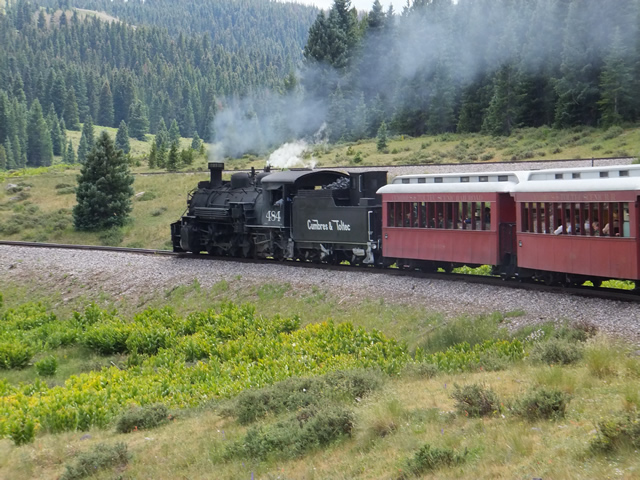 ]
Typical of the many twists and turns as we made our way home
Next It was onto the Durango and Silverton which as you can see the weather had taken a turn for the worse again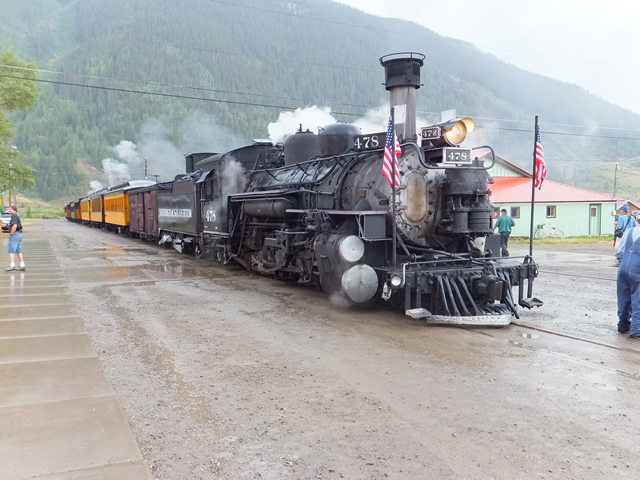 Silverton and its not 4th of July weather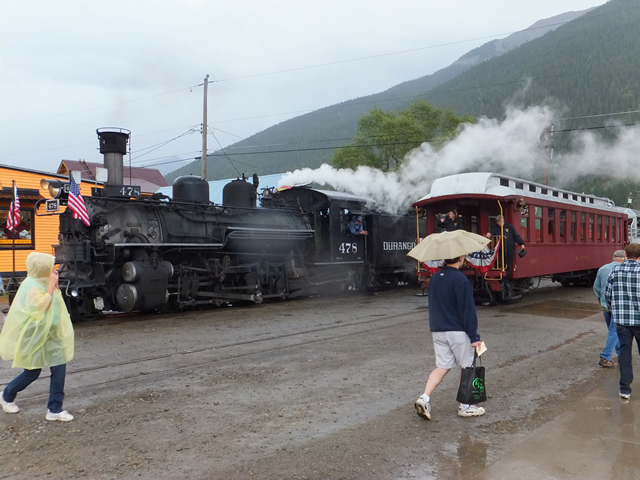 The busy track prior to departure
Taking on water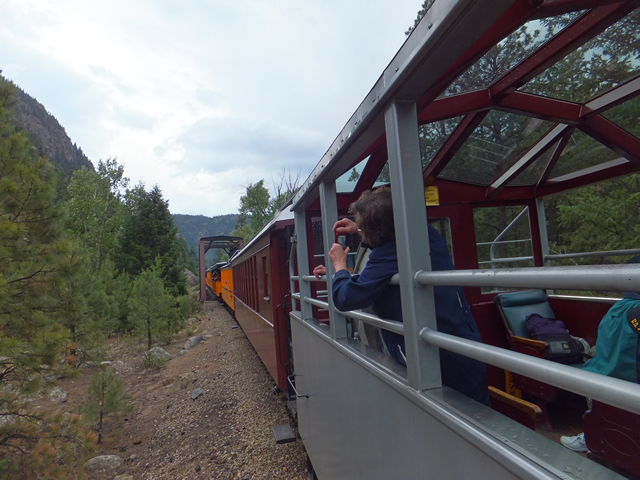 The view from the vistadome not raining at last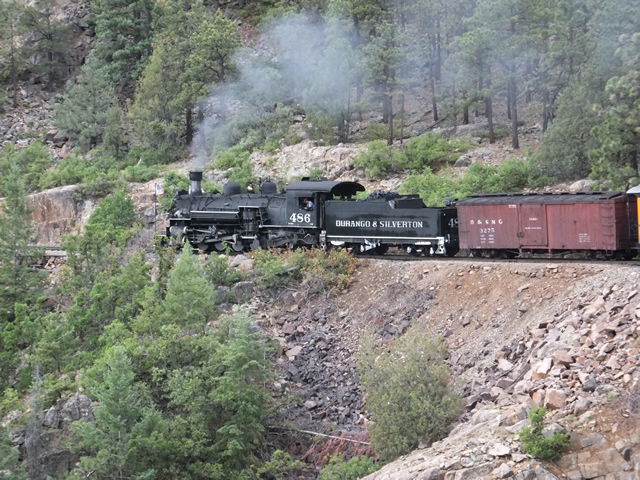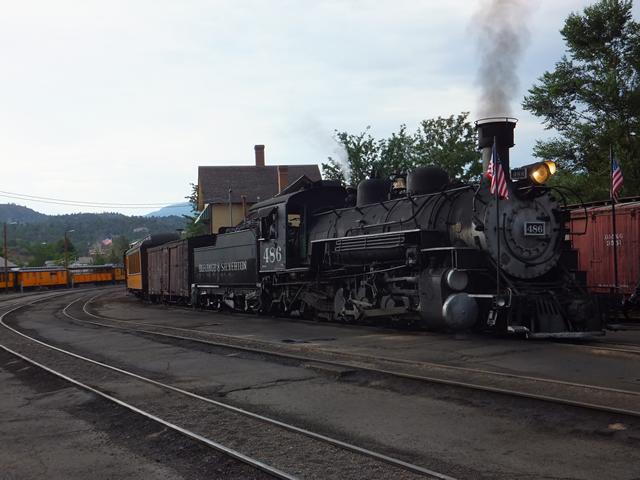 Journeys end Durango
So after that it was on to Denver and a bit of retail therapy before the trip home. Denver after having been in the grip of a heat wave cooled down just enough to spark off a load of thunderstorms. Which when I was sitting in the plane on Saturday night watching the rain cascading off the airbridge and lightening flashing all around. Reminded me of one of the air crash investigation reconstructions on the Discovery channel. However the BA pilot had his head screwed on and after an interesting climb out I snored the whole way home.
Another excellent week at Train Mountain roll on 2015 and as for the narrow gauge trip. If I was you go for the Cumbres and Toltec. A far less slick operation and probably less supported than it could be so it needs riders. The Durango trip apart form the canyon wall bit is hemmed in by trees and it was a bit like a three hour green tunnel ride.