Click on the logo to return to the Home page
Welcome to The Workshop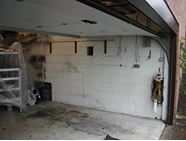 Given I already had a 1/3 full size traction engine and trailer in the garage the addition of a potential 15ft locomotive was starting to stretch the available space. So a start has been made on digging under the house from the garage wall. As the house is built on the side of a hill
and the garage was under one end it seemed to be a good starting point. To see what was waiting for us we knocked a hole in the wall and the answer seems to be sand and more sand!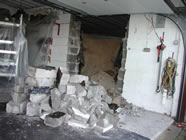 After removal of all the sand, there were a few suprises but while plan "B"s were reviwed, the base course of blocks went in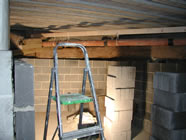 After more blocks and removing a drain that was surplus to requirements it was time for paint and electric's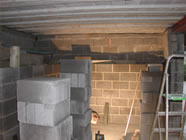 First I fitted the overhead track for the electric hoist I got courtesy of "eBay". After fitting the track and lifting the hoist into position it was time to attack the walls and floor with paint.
After first fix electric's all the work was competed and sockets were fitted to the wall. Probably more than I will ever need but you never know.
So that's about it nearly six months of hard work and not a thing done on the locomotive. Apart form some serious pattern making and casting to keep my spirits up. As it turned out apart form one surprise the work went relatively easily if a bit slower than I wanted. But when you rely on others especially in the building trade who work on a completely different time scale to the rest of us, you just have to wait. The cost surprisingly. Not like "Grand designs" did not go over budget much. The excavation and bricking were very much on par. The things that seemed to take the money were the trips to B&Q for electrical and decorating items.
Once the machines were all back in after a bit of switching of wires everything worked fine. Including the Bantam which I managed to drop off the skids when I first cleared out the workshop. For about two weeks I had loads of space then after all the machines were in place and new benches and shelving made there way from eBay to my garage. The next thing was to bring the traction engine and locomotive back, and suddenly I am filling up all that lovely space I worked so hard to create.
As I write this in early May 2007 I have got a month's work under my belt and the extra space and storage is a boon if only I could remember where I have put everything !